This collector story is in collaboration with Artscapy. Their Art Account provides 5,000 collectors with a complete set of services from collection management to valuations, insurance and advisory.

Over the past two decades, the Munich-based couple Annette and Rainer Stadler have been gathering an art collection that has outgrown their house. As they believe in promoting the artists they collect, they like to show their works in public. The Stadlers are sought-after and enthusiastic lenders, and an exhibition in 2022 at the Neues Museum Nuremberg consisted – for the first time – solely of works from their collection. Mainly large-format, geometric works were on show, which are a focal point of the couple's collection. They spoke to Collectors Agenda about the direction in which the "Stadler Collection" is currently evolving, and what the love of art does to you.
Annette, Rainer, how long have you been involved with art?
Annette (A): For about twenty years. Initially, we bought regional artists...
Rainer (R): I would say that those were our first steps, we grew out of them relatively quickly.
So what was the first "serious" work?
A: The very first one for us was Riverside Wall by Gerold Miller. It is a work consisting of ten large frames, and we thought it was so beautiful. The only problem was about where to put them up, as we don't have that much space! However, Gerold said that while he wanted the series to stay together, they individual frames not necessarily needed to hang together. And that was how we got into art...
How come that you were so attracted to minimalist, conceptual art?
A: I had never seen anything like it at home! Suddenly, there was this canvas made of aluminum, sprayed with car paint... We found it exciting because it was so reduced. We would not be able to bear it in our Bavarian country house were it not for this kind of minimalist art (laughs). The contrast is just so beautiful!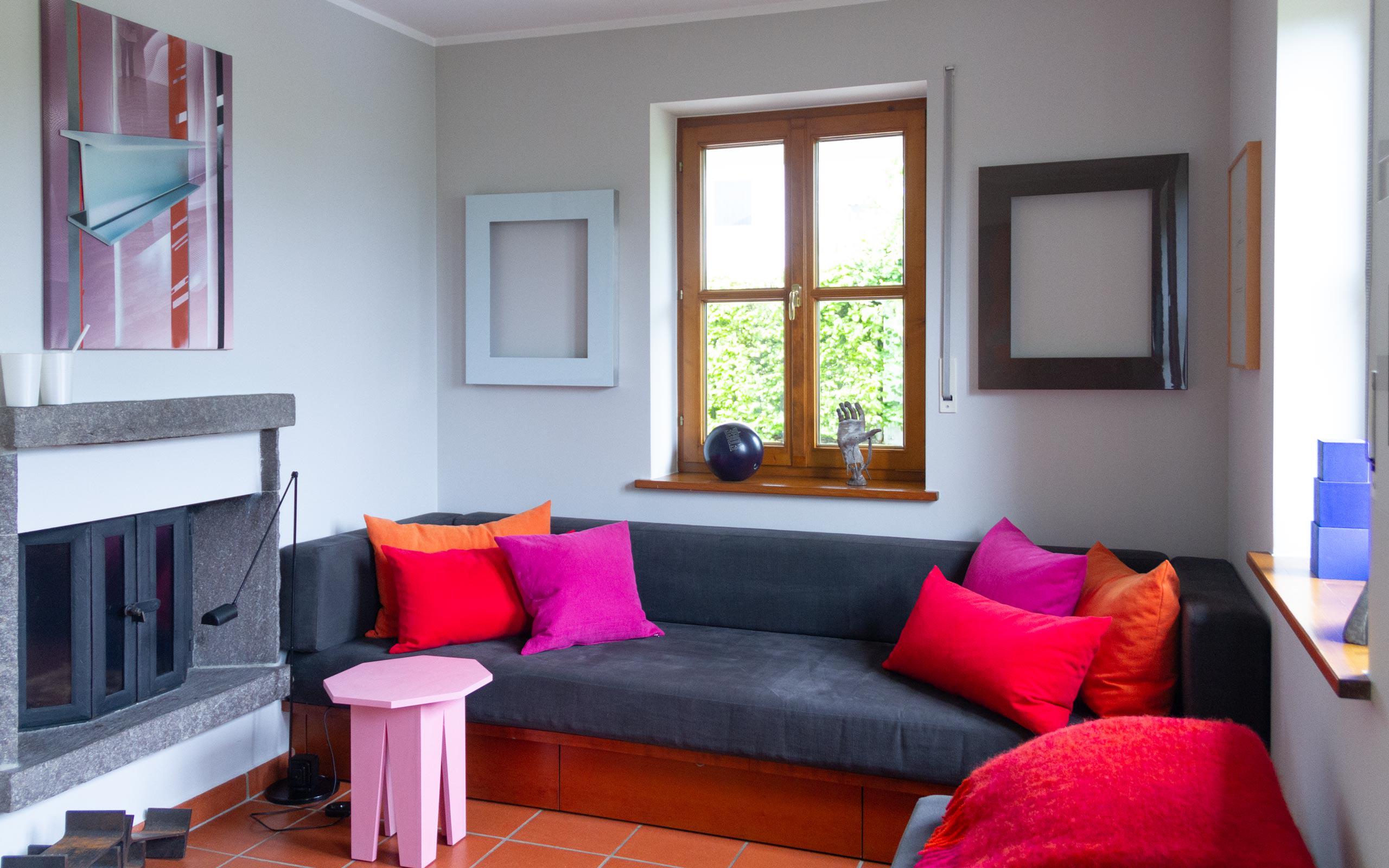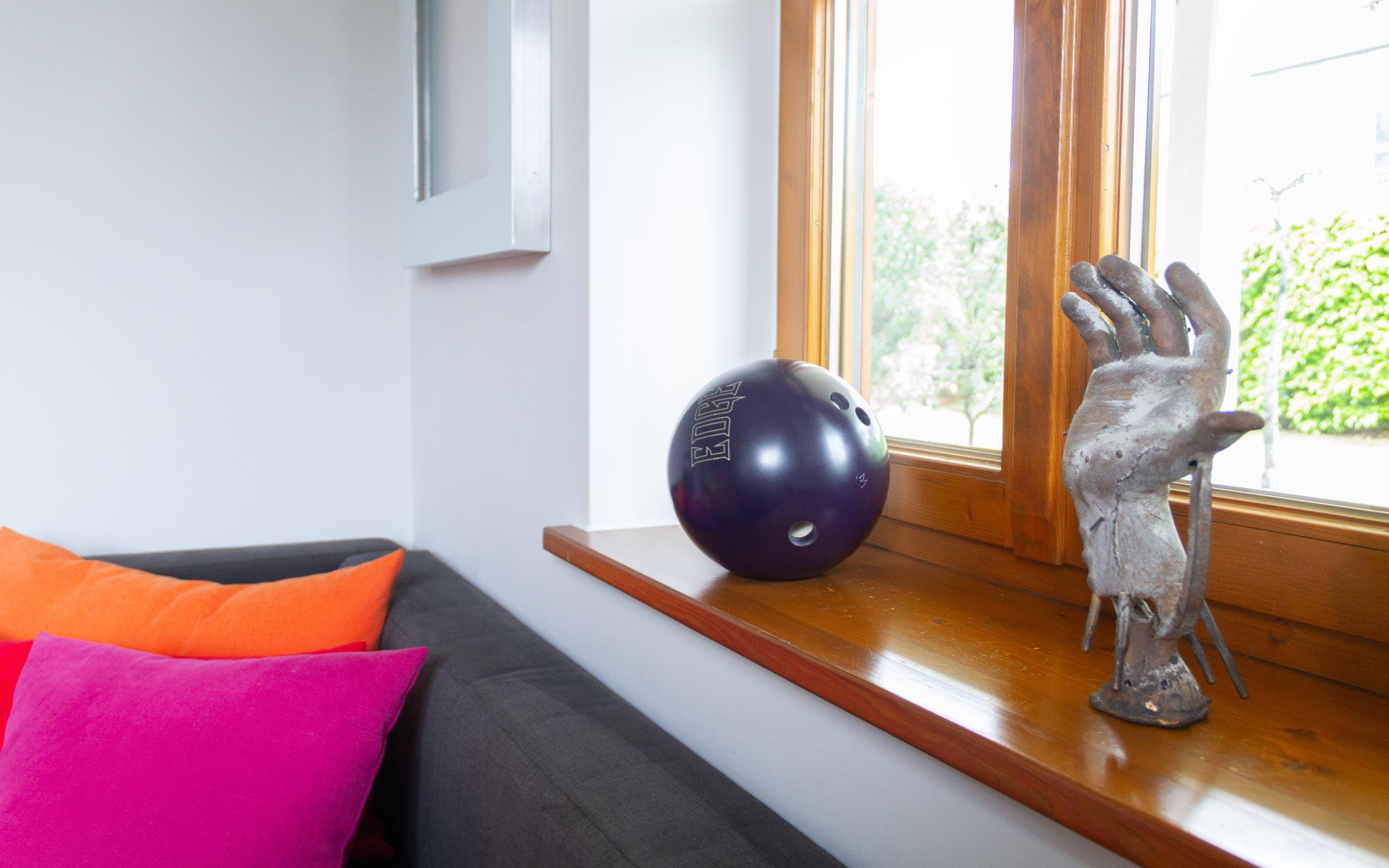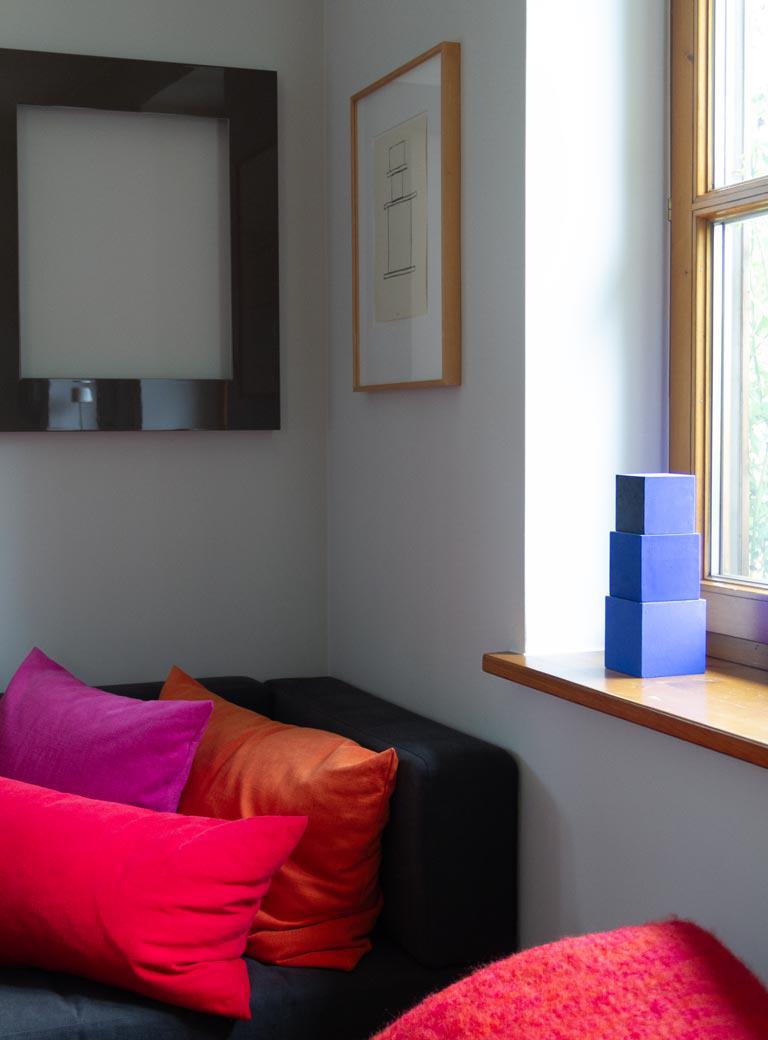 Annette, you mentioned growing up with art. What kind of art did you know from home?
A: What you might call "classical art": editions, drawings, canvas works. At home, there were pictures everywhere, in the so-called Petersburg or salon hang. There were works by Horst Antes (the cephalopods), a bit of Beuys, Baselitz, conceptual art. First and foremost, there were works on paper and many prints. The art that Rainer and I then bought was really something else.
Rainer, did you grow up with art?
R: No, not at all, my wife got me into art.
A: Gerold Miller helped with that! When we saw one of his works for the first time, Rainer said: "That must be Gerold Miller from the Miller gang! As a little boy, I roamed the woods with him!"
R: (aughs) Yes, he was a grade above me at my school back home in Altshausen. An awakening experience! And so his work became our first real purchase.
How many works do you have in your collection by now?
A: Well, in addition to what is put up in our house and in our children's homes, we also have a large storage. Anyone who has seen the 2022 exhibition in Nuremberg knows that we own numerous large-format works, some of which were exhibited there.
Do you prefer to go into depth or width with your collection?
A & R: Definitely into depth!
R: For a while, we also bought a bit on the broader spectrum, but then we realized that it is important for us to collect individual artists in depth. This applies above all to young artists whom we discovered early on, because we want to follow their path for as long as it is financially feasible. Some, however, shot through the roof, and then it's hard to keep up. We discovered and bought Katharina Grosse, for example, early on.
A: She is the most prominent example! We didn't like her work that much right away, but when I saw her second exhibition – I was so impressed! But for us, it is now over with Katharina Grosse, her prices having moved into a different sphere.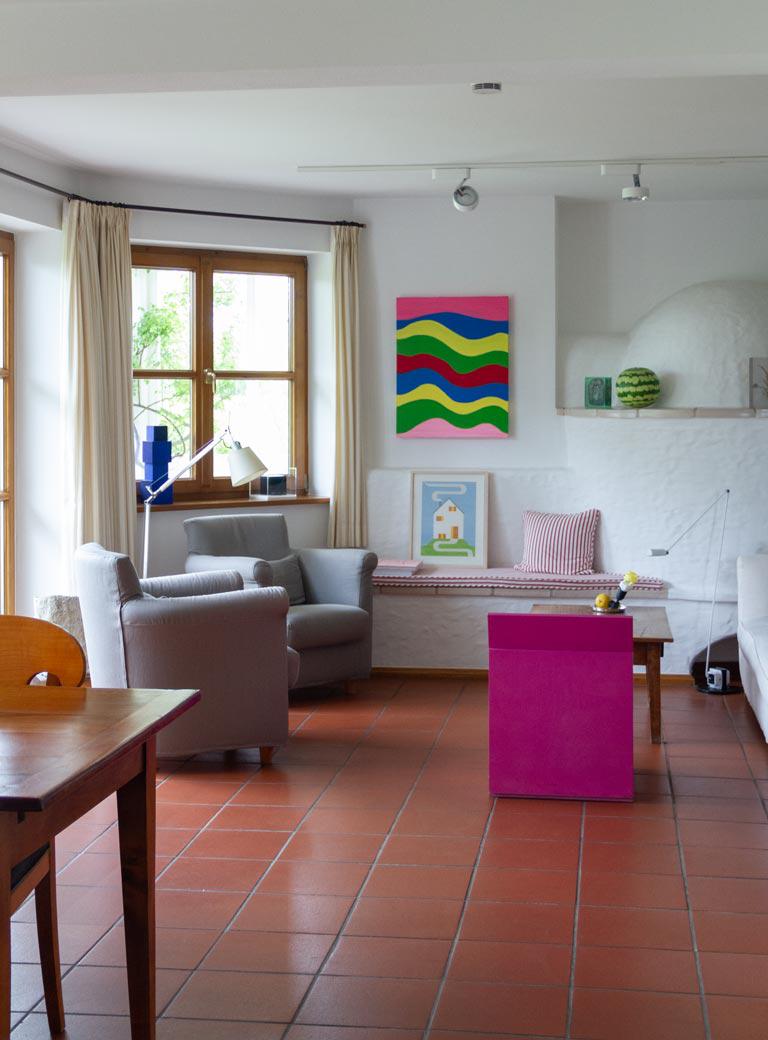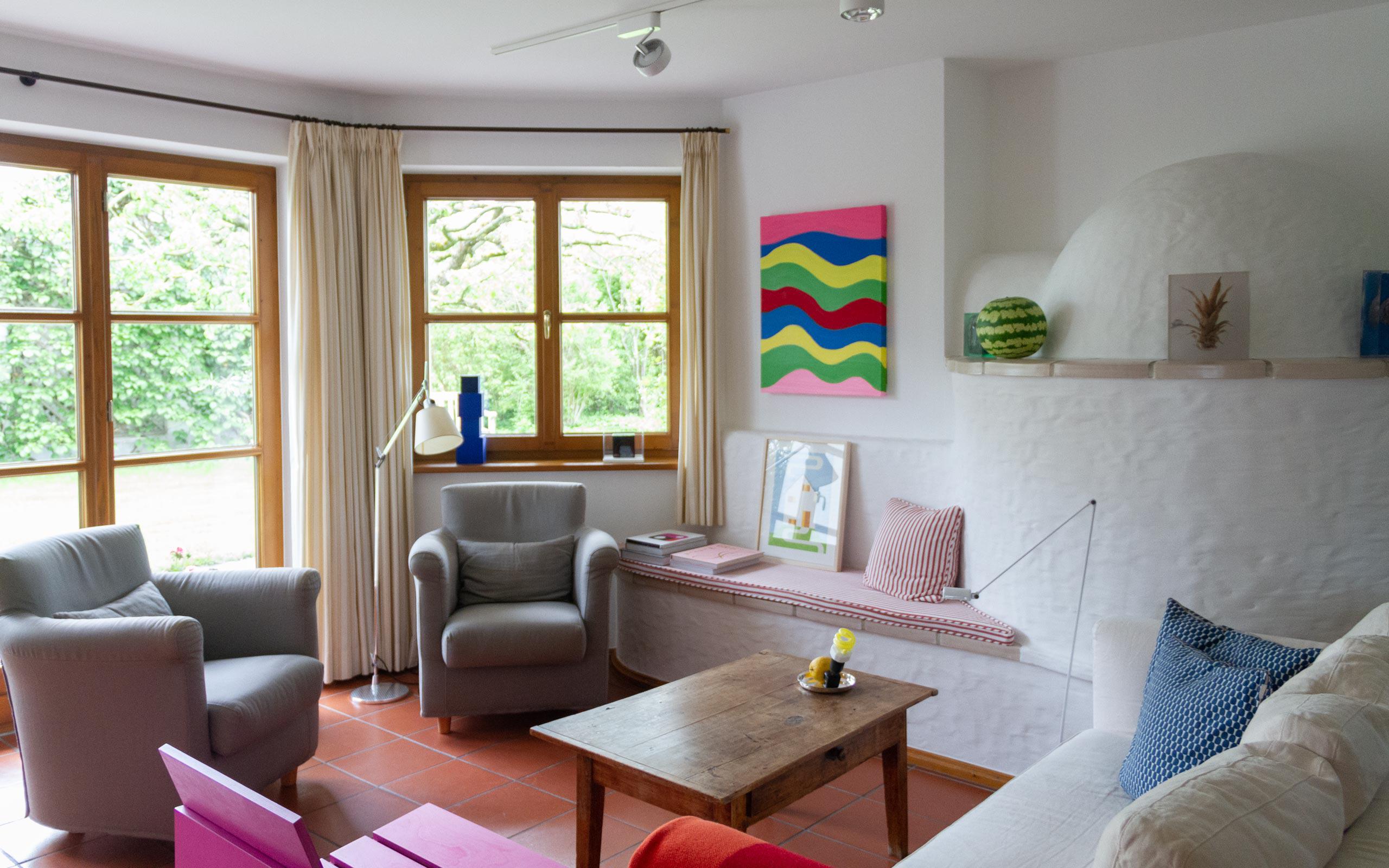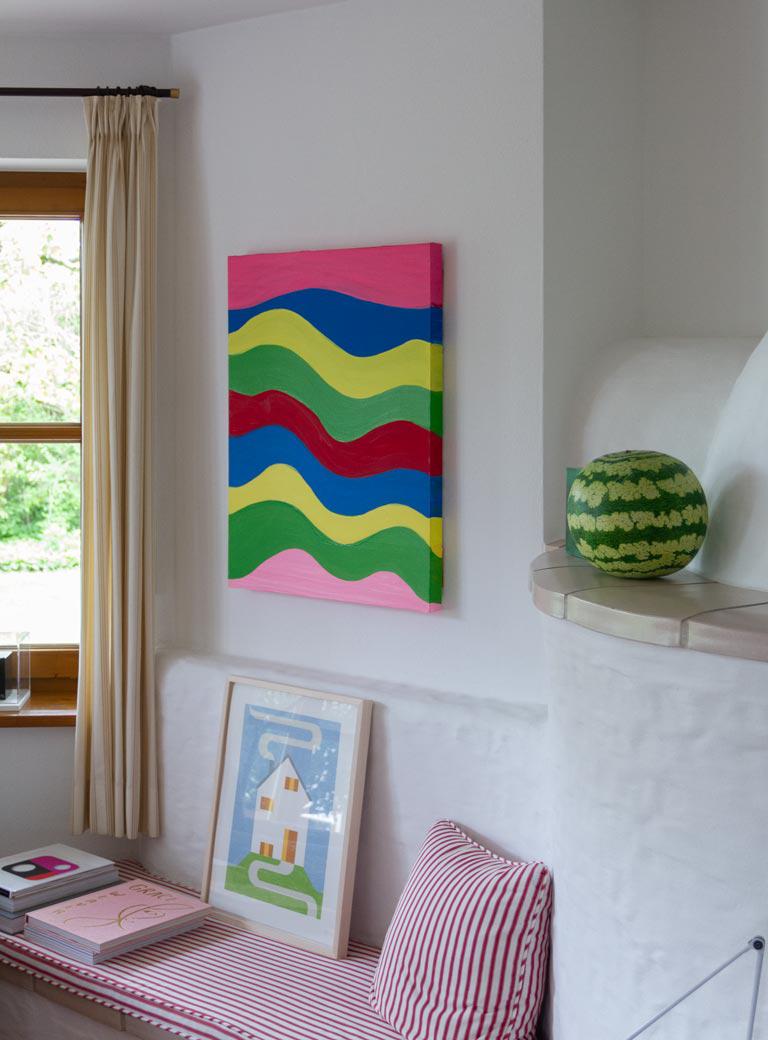 Which brings us to the question: What do you think about art as an investment? Do you also sell?
R: So far we have only sold two works...
A: One was by Günther Förg. It was really beautiful, it even hung in our bedroom. But it was not a large work, and so I said: One Förg is no Förg. And it was a good time to sell it, allowing us to spend the money on other artists.
R: In any case, we are not art flippers or speculators, we have never bought art that way.
A: You just start by buying art, with no particular intention behind it. Our collection has evolved slowly. But I know that some people are interested in investing in art. At art fairs or exhibitions, I see people who photograph everything and see nothing. Many listen to trendy names and to what goes well at auctions... Unknown artists have a hard time. We see it this way: You can go to a well-known, starred restaurant. But to discover one that does not yet have a star – that is truly a feat!
And how do you discover such a jewel? How does one become knowledgeable?
A: You have to have seen a lot, I think, but in the first place this special piece of art must get stuck in your head. For example, when we visit an exhibition at the Academy, we see a lot of young artists. Some of their work we may not like, some of it we may not understand – but then we ask questions, have them explain it to us. There are no stupid questions! When it comes to art, I find that the works you might not have access to initially will be the ones you remember most.
So is it true that works you don't understand at first help you move forward?
A: Yes, and that is how we felt with Grace Weaver, for example. At first, I didn't know if it was art or comics. We then discovered her through her charcoal drawings, and understood what she can do, what power she has. So yes, sometimes art must seem impassable and unwieldy before you can find access. After all, a work of art does something to you, it is deeply personal; I may see things that someone else may not.
Did you become bolder collecting art over time?
A: Probably! And today we certainly question more what a gallery owner tells us.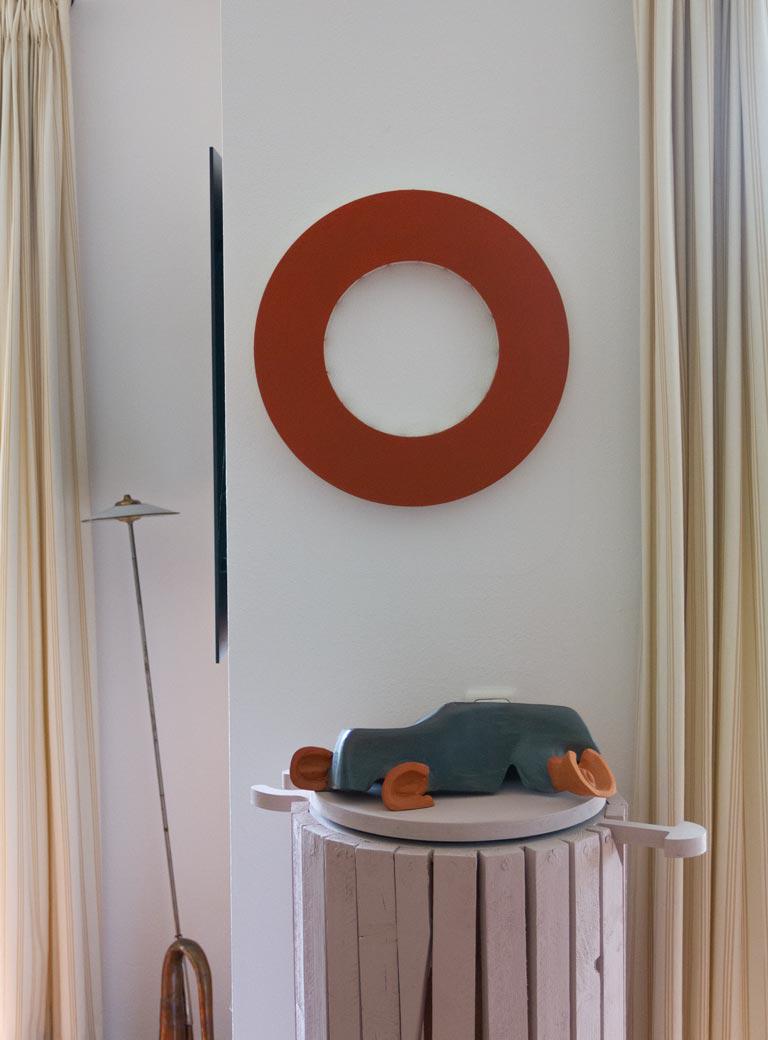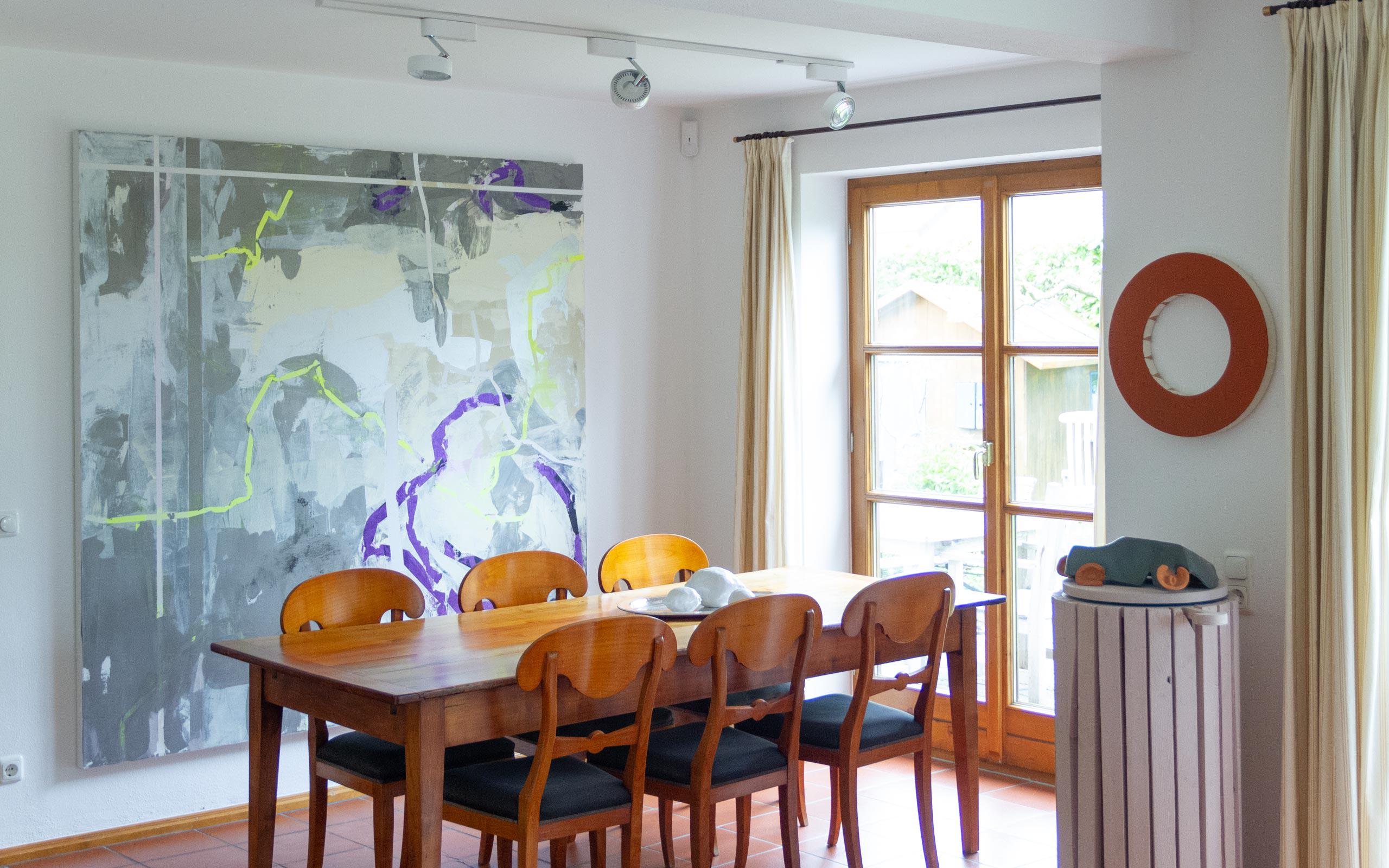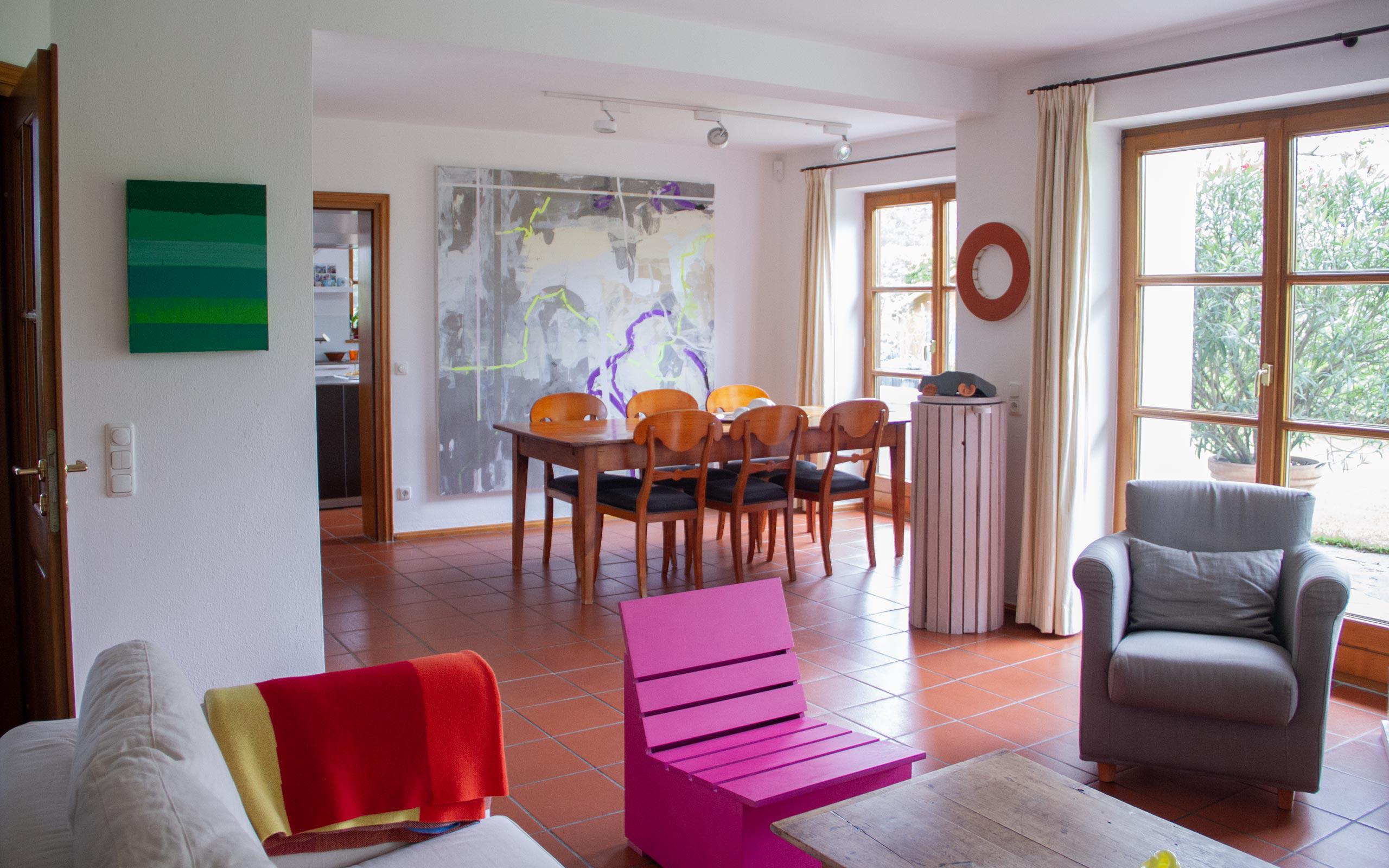 When building up the collection, have you ever thought about working with a professional art consultant?
A: A few years ago, we thought about bringing in someone else to help us. But it was difficult, there was perhaps one person who we considered...
R: And we didn't dare to ask… But then we had several conversations during which people kept telling us: "You're doing it right, just keep up the good work". And so this is what we do!
What is the common thread that runs through your collection?
A: Color, clarity, concept and the stories behind a work of art play an important role for us, no matter whether it is concrete, minimalist, abstract art or a figurative painting. Because the latter is also about sharp contours and precision; these criteria remain the same. The works in our collection do not compete, they rather complement each other.
R: Our motto is "Listen to your eyes"! This neon by Maurizio Nannucci hangs in our kitchen, and that is how we see artwork. Our collection stands for what we find exciting, what appeals to us.
A: Yes, first of all, we must really like the work, and then it should not exceed a certain size.
R: That is true! We once bought a work by Gerold Miller, and it was way too large! We then endowed it to the Museum of Concrete Art in Ingolstadt. We could not put it up here and thought it would be a shame to store it.
How do you make purchasing decisions?
A: We come to all the decisions together, but there were situations in which Rainer rushed ahead and I said no, but that was more due to financial aspects.
So there is a budget that is then exceeded?
R: (laughs) Yes, exactly. For example, before the Gallery Weekend in Berlin, you decide to buy little, and yet you end up buying a lot.
What is a lot?
R: In this case, four works. We get excited when it comes to works by new artists or even by those who we already collect.
Who is the more impulsive one when it comes to buying art?
R: Me! Once a year we go to the Berlin Gallery Weekend together, and if there are really interesting works, I will say yes. But it does not happen often because I'm not around that much. So it is more about Annette discussing ideas with me. And then we sleep on it at least once.
A: At least!
R: Even if the gallery owner tells us that it is the last piece or that there are three other buyers around the corner! (laughs)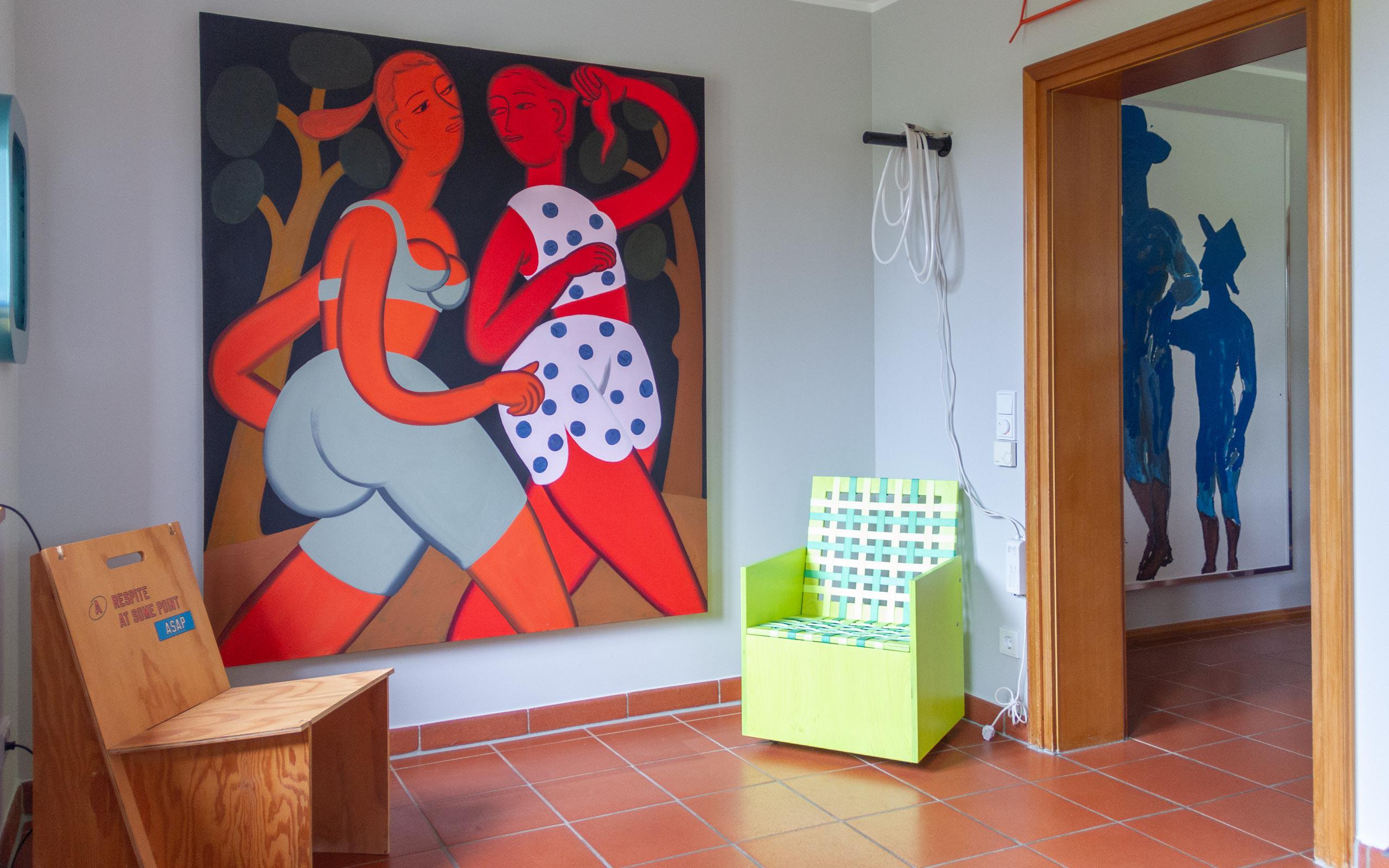 You are always happy to loan works to museums and in 2022 a whole exhibition was put together – for the first time – exclusively with works from your collection. Do you feel a responsibility towards "your" artists to make their work accessible to the public?
R: Absolutely. We talk a lot with museum directors and curators, artists or gallery owners, they know that we are happy to loan.
A: We are now receiving a lot of loan requests from museums. The most important thing is that the works are being shown and seen publicly.
After the show in Nuremberg, it was said that you had really stepped forward as collectors. Was that a drastic move?
A: Well, it started with a lot of loans. Then, about 10 years ago, through Gerold Miller, I met Simone Schimpf, the current director of the Neues Museum Nuremberg. She said she would like to work with our collection...
R: Up to that point, it was like this: when we loaned individual works to a museum, the description would just mention "Private Collection Munich". But at the exhibition in the Neues Museum Nuremberg, we had to put our cards on the table. After all, we do stand behind it!
A: And so we had to think about what to call ourselves! We deliberated a lot: initials, children's first names... And then simply ended up with "Sammlung Stadler"; that way our four children are also included.
R: We didn't want it an English name either, "Stadler Collection" or something, that sounded a bit too grand for us.
Do you think you've been perceived differently since?
A: Yes, definitely.
R: Really? I don't know.
A: I think it does help us when buying art. As we are obviously committed to ensuring that our works are shown publicly, we are getting access to good works! Now I hear: "We didn't really want to sell this work, but we know that you are making it available to the public." Gallerists sell us works because they know they won't just disappear in the ether.
If your collection had a title, what would it be?
R: In any case, the exhibition in Nuremberg was called In erster Linie (In the first instance) – it is a play of words in German about lines – because it mainly showed works in which form and line play a special role. But this title does not describe our entire collection...
A: We also came up with The Colored Square – because it's all in there: color means life, variety! Also in the sense that our collection is about different artists, materials, media (sculpture, ceramics, neon) and also about different styles, geometric, abstract and figurative. And the square is the shape of the precise. However, Rainer doesn't quite agree...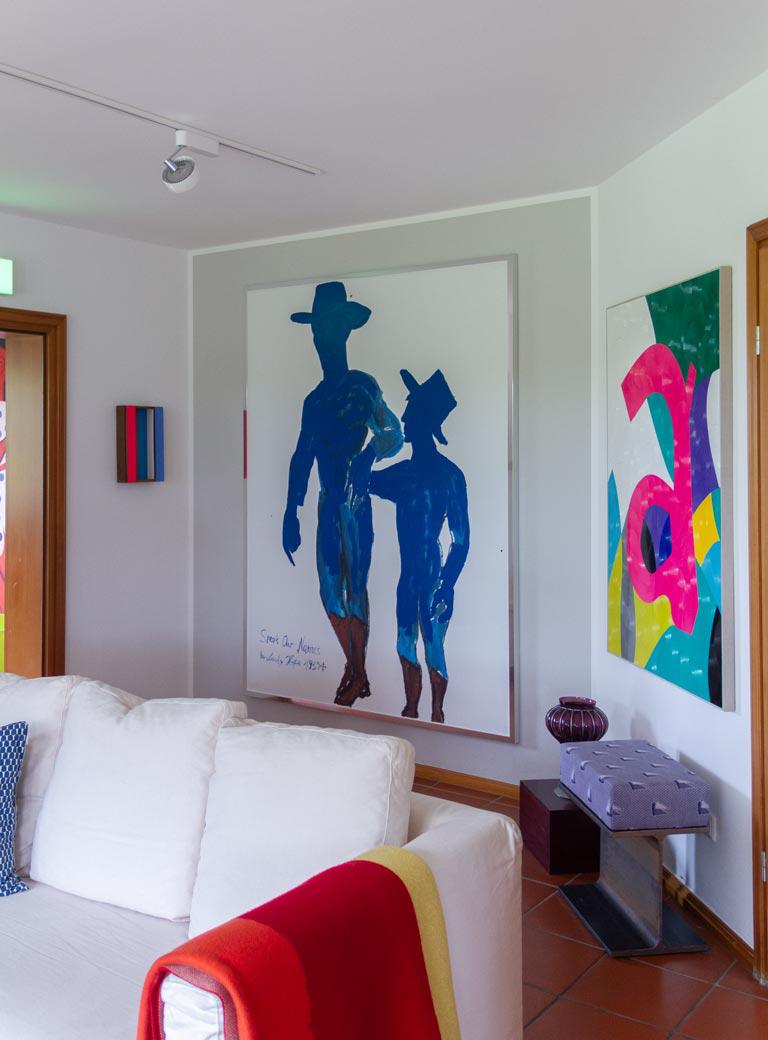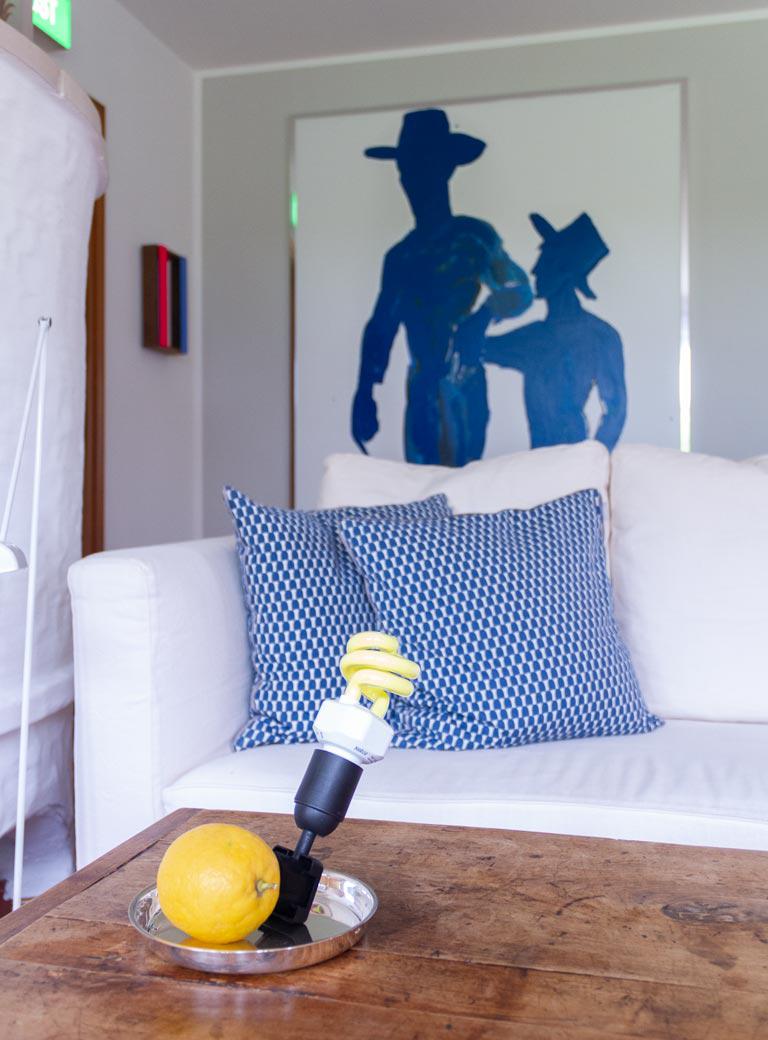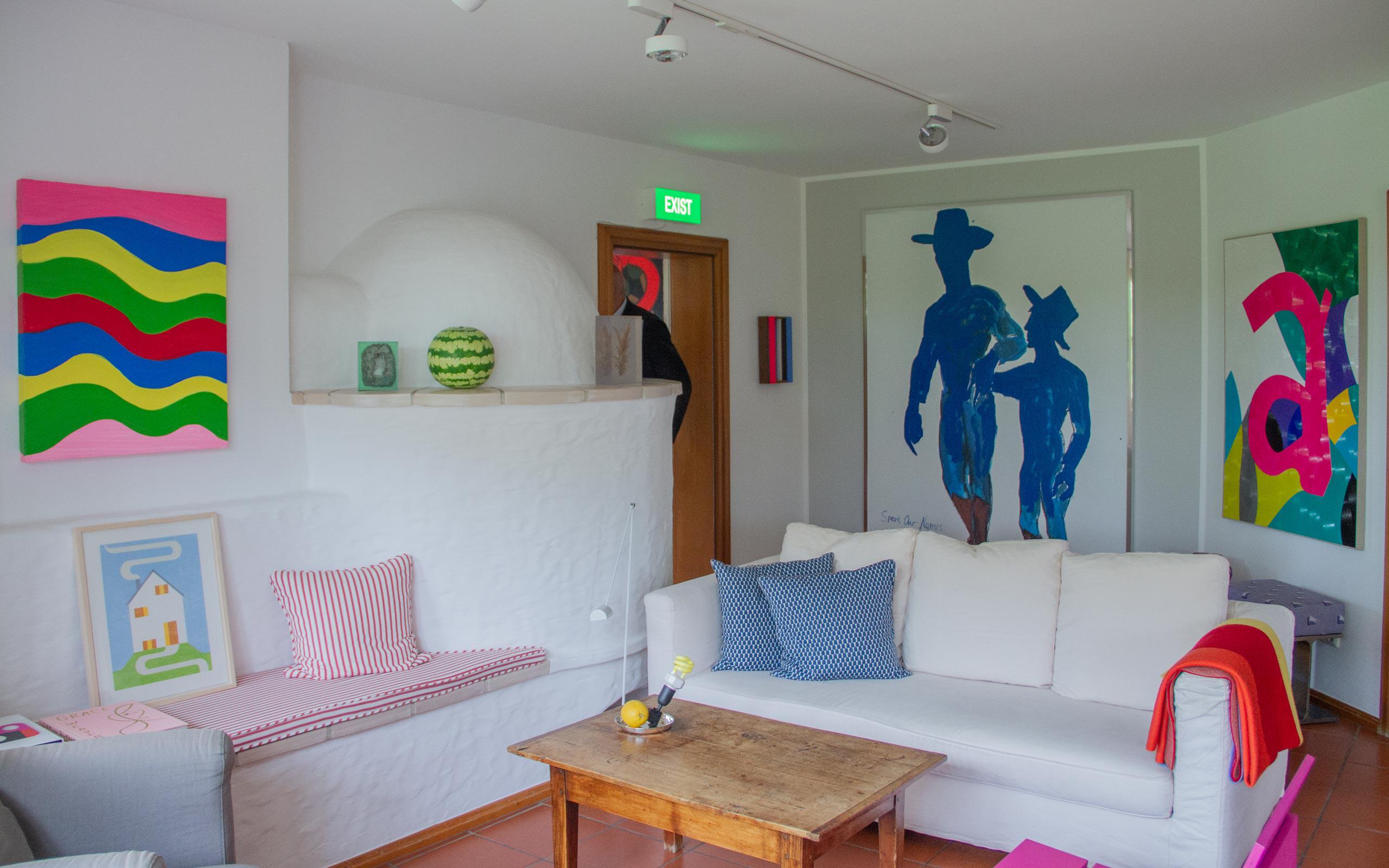 Rainer, you said that the title In erster Linie (In the first instance) doesn't quite suit you anymore. How has your collection evolved over the years?
R: Five to six years ago, we started being interested in figurative work. At some point – in retrospect – we developed a longing for something different in our house, not just strict forms.
A: And there was the input of a younger generation: our children on the one hand and the young artists on the other. When I go to the academy, I see young artists and therefore new ideas.
How important is the personal contact with artists to you?
R: Very important – and it is becoming more and more significant. This is also because we increasingly support and collect young artists. It is exciting and enriching to talk to them; watching their development keeps you young. And they still really appreciate it when you buy a work from them – unlike some of the more established artists! My impression is that young artists at the beginning of their careers like to spend time with you, and they are happy about the exchange about and our interest in their work.
What do you think your collection says about you?
A: When I look at the artists: that we are getting younger! (they both laugh)
R: Art keeps you young! It opens you up. This is important throughout life, not only at work, but also in private life. Artists do give you impulses to think about things that you don't want to reflect about on your own or don't even think you should ponder about! We find that exciting. And instead of an expensive work by an already established artist we would rather buy works by five young ones.
Do you have a guideline for hanging and placing the works in your house?
A: The nice thing is that in private you can put things wherever you want. As a curator, you are not so free, but here it doesn't matter. When I'm putting art up, I often ponder whether there is a gap somewhere, whether something is missing, whether it complements the view into the countryside.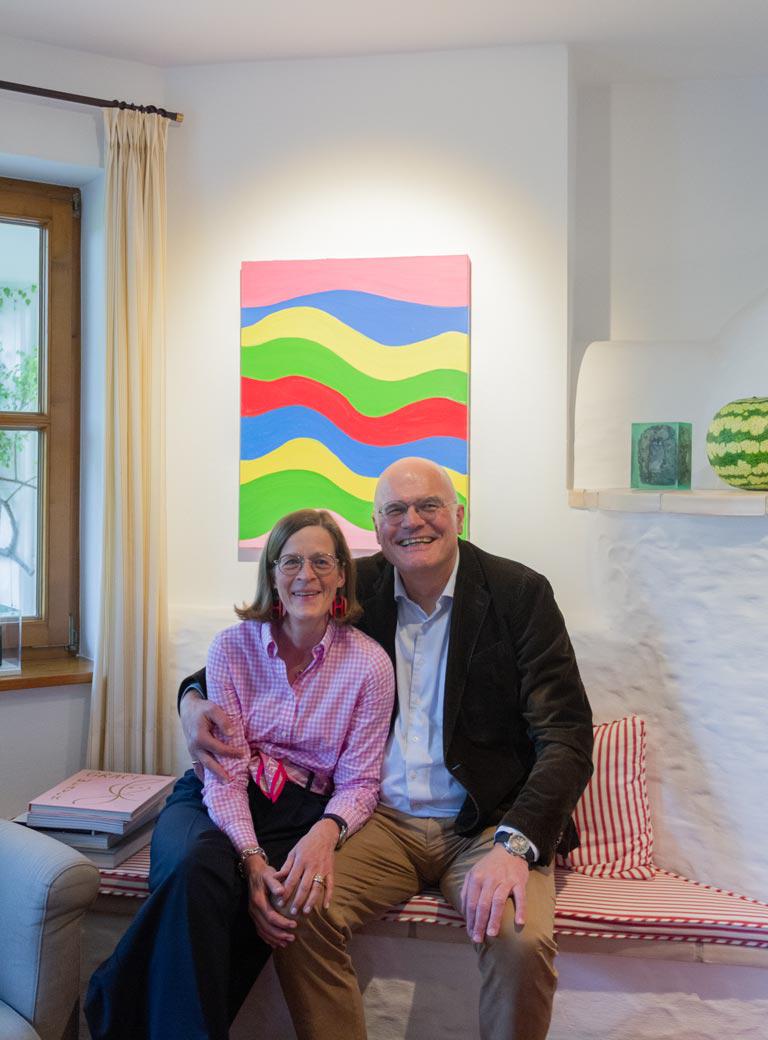 Speaking of private life: You have four children and have always surrounded yourself with art – how does it work? In other words, how much life is allowed to take place here?
A: Everything! We have raised our children according to some rules. Can one still say that? (laughs) And no is no – somehow it worked. At that time, however, we didn't have that much art, as we started small.
R: But they were careful, they just grew up with it.
A: And at some point the rooms here were filled with art... and we asked them, "Can we hang something in your children's rooms?" The first work was one by Brigitte Kowanz, huge in size, which went into the room of our eldest. All the other kids were thrilled, envied her. And so, little by little, the others also chose something.
Did they have free choice?
R: Absolutely! And we now have an art pool from which the children can help themselves, and everyone is very glad to do that.
A: They are happy when they get something. Even though their apartments are of course not museums, more people might see the art there than at our house!
Last question: If you could choose one work – no matter what, no matter where – what would it be?
A: Flipper by Blinky Palermo! That's it – just really great!
Interview: Alexandra Markl
Photos: Florian Langhammer