It seems as though Nina Gscheider and Franz Ihm have found the perfect blend of work, passion, and leisure: Not only are they passionate about collecting art, but they also want to bring art insurance into the twenty-first century by offering insurance for works of art and other important items online via their platform Segurio. During a conversation in their Viennese apartment the two provide insight into their life between policies, international fairs – and above all – works of art.

Entering this apartment, one becomes immediately aware that the occupants are people who consciously design their space for both living and working.
NG: I think our guests are for the most part positively surprised. (laughs) Art certainly plays a big role, but I am just as interested in materiality. I really like beautiful curtains, cushions, carpets, and things like that. So I try to create a very colorful atmosphere. I think one notices that quite quickly as one enters. We want our apartment to be a place where there is a positive atmosphere; we personally feel very comfortable here.
FI: We like to entertain here, but we also like to invite business partners and have meetings in the apartment. It should be a nice combination of life and work activity. We do not want to separate the two areas so absolutely.

What should be the first impression that guests get when they come in?
NG: That one feels comfortable, that a positive feeling is induced, and that one becomes curious. I want our guests to think: I really like this place, and I want to look at absolutely everything!
FI: Sometimes one is a bit afraid when one comes into a place that one might knock something over, or drop something, we intentionally try to alleviate any sense of anxiety in this regard.
NG: We are not in a White Cube. Someone actually lives here!
What task does art fulfill for you in this interplay of life and work?
NG: Sometimes we see to it that everything fits together, but sometimes the art also provides a surprise effect.
FI: With us, art should bring thoughts close to life again. That's the great thing about having art in the work place: it reminds you time and again that there are more important things than what we're dealing with right now. It connects past and future and lets us experience the moment more consciously.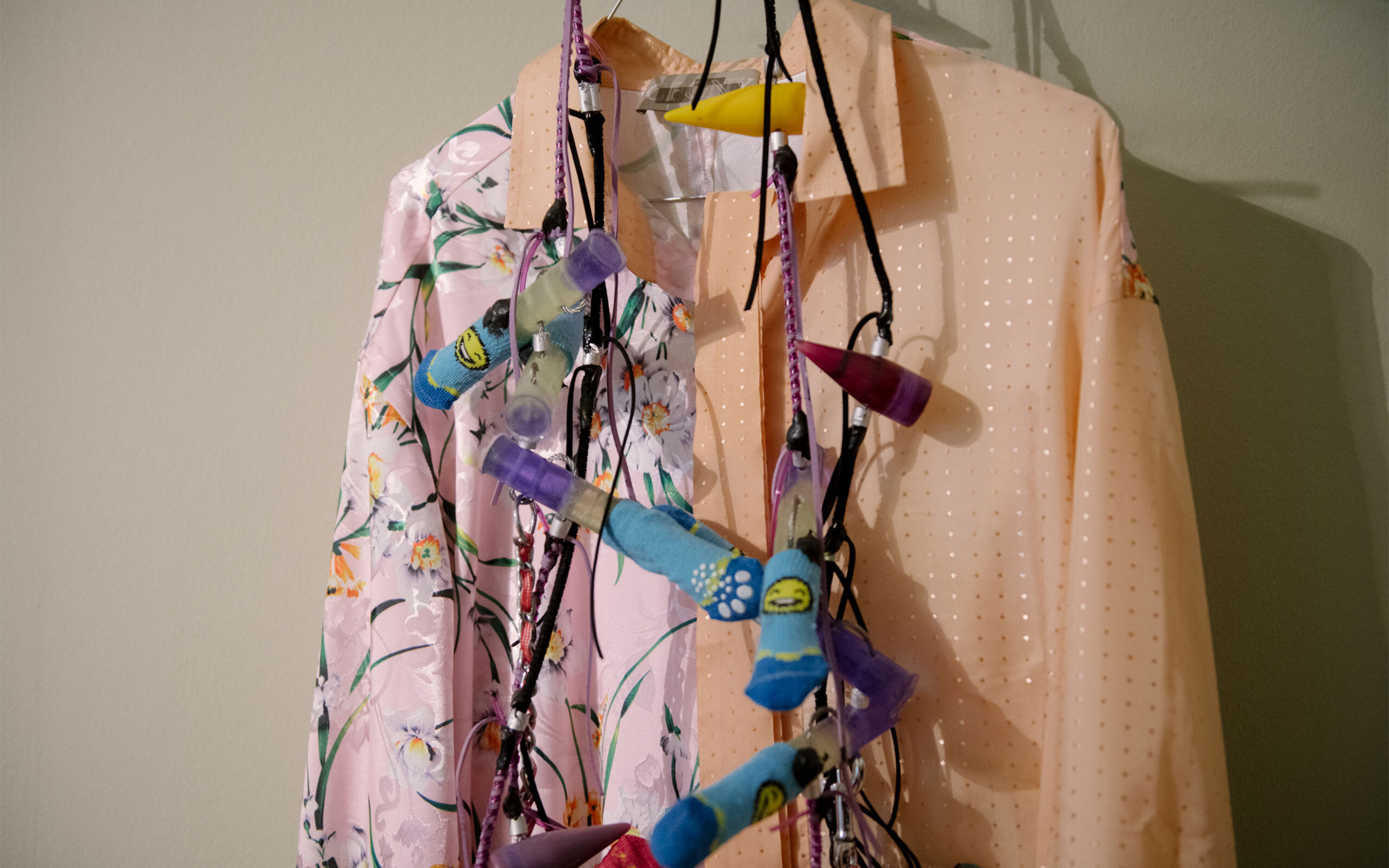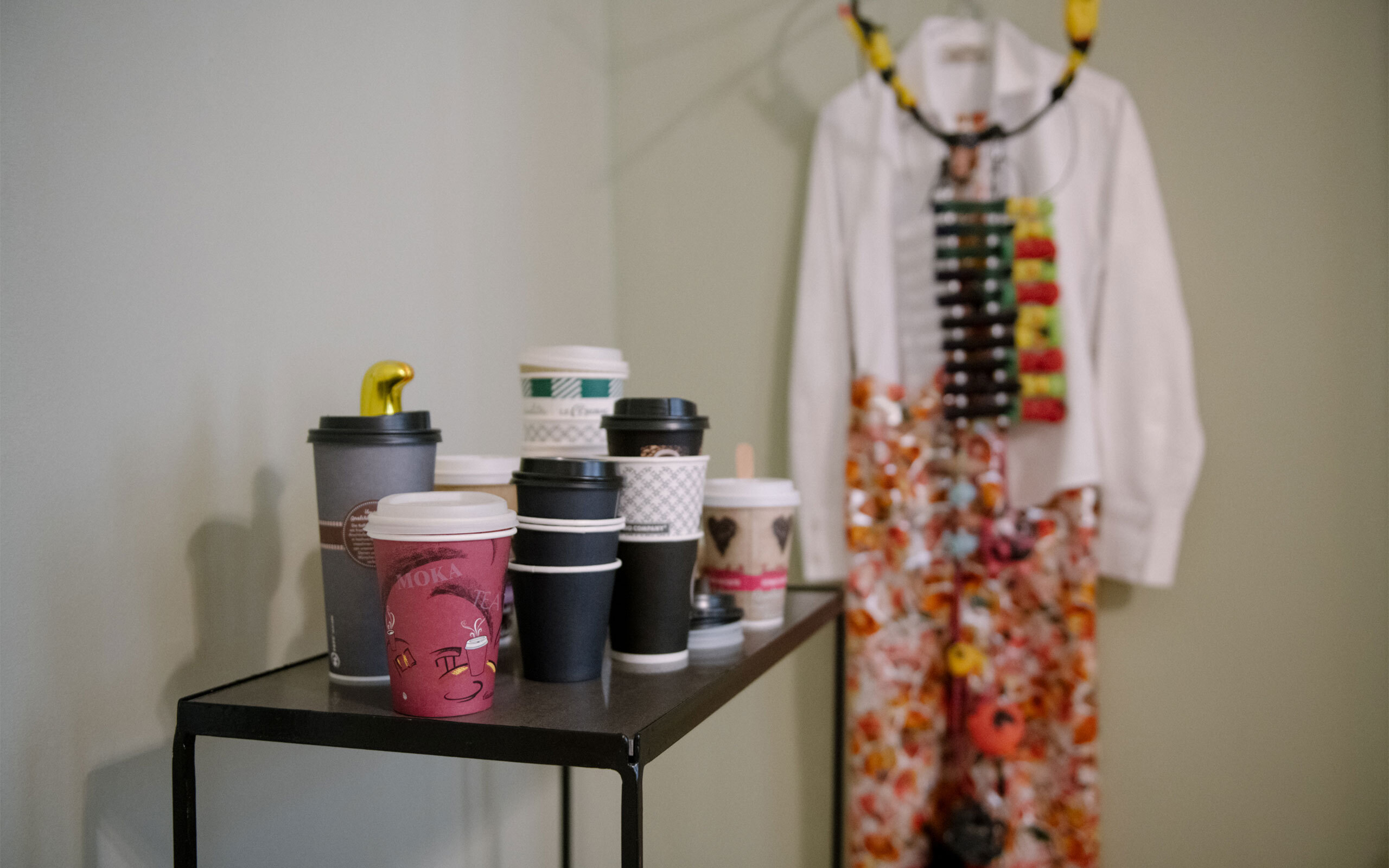 How do you actually implement this in the individual rooms?
FI: When we acquire a work, we have no preconceived idea of where to place it. The work should be in the foreground. Sometimes you buy something and it disturbs the entire room – that's something beautiful.
NG: First and foremost, a work must have a powerful presence and must have made an immediate impression upon us. It must have convinced us right from the beginning! It is also very important to me who the artist is and not just what the work looks like. Beyond the visual, I want to know who is behind it. I think knowing the person responsible for its creation has a profound effect on the impact a work has. That's why contemporary art is so exciting: it's possible to get to know the artist personally.

Especially aspiring collectors will certainly be interested in how you establish these – sometimes close – contacts with artists.
NG: We travel a lot. We attend almost every art fair in order to meet clients and friends. We are specialists in art and in mediating between clients and insurance companies. It is crucial to stay in contact with collectors, museum people, gallery owners, art dealers, and of course artists. As a collector you definitely need to go out and talk to people; one introduces one to another, and such networks develop naturally.
FI: I find not only the artists themselves totally exciting, but also the enthusiasm of the gallery owners when they talk about their artists. They see things as an insider that an artist would never confide. A gallery that we particularly appreciate is the Galerie Société in Berlin. The gallery owner Daniel Wichelhaus always infects us with enthusiasm when he passionately tells us about the projects and works of his artists. For example, we have long been following the artist Bunny Rogers, who is currently performing a brilliant show at the Kunsthaus Bregenz.
Starting from the relationship between gallery owner and artist, the position of the collector is again quite different. How much do you feel a part of the art business?
NG: I think we are totally part of the whole thing – also because of the insurance! If an artist wants to realize something super-crazy and the work all of a sudden weighs five tons, but has to be in Miami tomorrow, we naturally support as much as we can.
FI: Thanks to our involvement in the insurance aspect, we may have a little more insight behind the scenes than if we were just collectors.
NG: And at the same time it helps us to ensure that we are really close to the scene, because as collectors – on a small scale – we have a real interest in art and enjoy traveling with artists.
So you would say that you are better art insurers because you also collect, and better collectors because you also insure?
FI: Insurance is a relatively uninspiring topic that nobody finds sexy. But because we have a lot to do with art through collecting, we have a familiarity with the specific issues. With car insurance, it's clear that a small dent will be repaired and then you just keep using the car. But an artist might consider that a painting is no longer valid and therefore worthless, just because of a damaged corner. We don't want to see such cases only from the point of view of the insurance company, which of course wants to pay as little as possible, but try to understand with the experience of a collector how one can help and how one can make it possible that people really live with their art.
What do the collectors in you say to the insurers in you? What gives a sometimes quite banal object both a high emotional and also high material value? What elevates it to the status of a work of art?
FI: One thing is that the work of art, as it hangs there, embodies not only its execution, but it also incorporates everything that caused the artist create it in that way. What is the work's prehistory? What is the artist's training, and how has their work developed over time? Then there is materiality: does the artist work with found objects or with expensive, or otherwise valuable materials? All of these things combine to make the artwork a unique piece. Then it becomes clear that many objects cannot simply be bought back.
NG: Our task is to somehow break this down to a "meaningful dialogue" that insurers can understand. At the same time, we want everyone to understand our product! In the past there were 60 pages of insurance related terms and conditions, which no one understood, those times are now over. The industry is insanely old-school and it is high time for a new beginning. That's what we want to achieve with Segurio –high-speed, digital, and without those typical insurance concepts like commitment periods for example.
Art is one of the most complex, multilayered, and individual things in existence, and one assumes presents particular difficulties in the area of insurance?
FI: Yes, that's probably true. But in the end, it still boils down to something we've learned: There are two sides to the equation – the client and the insurance company. And as with any other contract, there has to be a certain amount of trust for it to work. But now the attitude of the insurance companies is that the customer only wants to get as much money as possible in the event of a claim. At the same time, customers think that despite regular contributions, if a claim becomes necessary, the insurance company will be reluctant to make adequate payment. The contract should actually be concerned with alleviating these fears for both the insured parties and the insurer.
NG: Our secret is that we can mediate relatively well. The most important thing is to make it as easy as possible for each side. That's why we try to define the framework conditions in very concrete terms by saying, here are ten possibilities, in the event of which there is no coverage – everything else is covered by insurance.
FI: It's really quite simple, but we still have to deal with it every day. (laughs)
NG: Something I am proud of in this context: We have developed an insurance package for art associations, artist run spaces, and other non-profit organizers. It consists of a little bit of art insurance, but also event liability insurance so you can have a great party, and electronics insurance. This solution is cheap and we don't make much money on it, but it's important that even the little ones, who have little money and don't usually think about insurance, can be covered. For example if the beamer is stolen, it can quickly become an unpleasant problem for an off-space...
Small art initiatives are certainly also interesting for you as a collectors.
FI: Following young galleries and young artists is actually the most exciting thing there is. You can experience the whole development, get into the process and be where new ideas are born.
NG: In any case, I believe that it is very good for our eyes to see many different things in many different contexts. But it also takes away a bit of the illusion when you see the same thing at Art Basel in Hong Kong, for example, that you saw in Miami four months earlier. That gives you a healthily objective view of the art market and how it works. We personally are automatically drawn to the artists' studios and young galleries where there are always fresh works to see.
Is this freshness also something you find here in Vienna?
FI: I think it's great how the Viennese art scene has developed in the last few years, including galleries like Croy Nielsen, Gianni Manhattan, Sophie Tappeiner, Emanuel Layr, or Zeller Van Almsick. Something is happening! You can really feel how the gallery owners have new ideas and how they are realizing exciting things with the artists. And they are looking for cooperation. That is very important.
NG: Furthermore, there is support for the galleries to position themselves internationally at art fairs. That is something really great. In Germany, for example, it doesn't work at all. In Vienna, you simply still have the feeling that you can help shape things.
How is it between collectors? Is there also cooperation and exchange? Or do they prefer to keep their own discoveries to themselves?
NG: There are excellent networks. We get so many WhatsApp messages where both fellow collectors and clients ask for advice. Should I buy this? Or should I not? There are also good initiatives from the galleries. At the "Side Program" off the fairs you can often meet the best people, when visits to collectors are organized or you have lunch together.
FI: People talk about artists and call when a new exhibition comes up. What I like is that the art world is so international and the artists are just as international!
What about Instagram? Does it really matter as much as it's said to?
FI: It is still very important for us to meet and to see work in real life. Interestingly enough, we recently bought our first work through Instagram. But honestly, we're looking forward to meeting the gallery owners in person soon. It's also important for insurance companies to invest the time they gain in administration through digitalization of personal contacts.
NG: At the same time, Instagram is very practical because you can see who is where at any given time and you can meet them.
Is there a guide for you in your collection or a theme that you follow?
NG: Post-Internet and digitalization are topics that interest us. An example would be Timur Si-Qin's Lightbox with this completely digital landscape. I also find materiality interesting and also everyday objects like this work from coffee cups and waving cat arms by Nina Beier.
Finally, do you have any tips for prospective collectors? What is the best way to start?
FI: Go to exhibitions, go to galleries, and simply ask the gallery owner what you want to know. A lot of people are afraid to ask what they fear may be a stupid question. You see something and you don't even know what you're looking at without any prior knowledge. But if you approach it openly, you have the chance to learn and understand.
NG: Another good source are art associations that publish special annual editions and editions. In Austria this is perhaps not as common as in Germany, for example in Munich or Düsseldorf, but the editions offered by museums often are also a good introduction to collecting.
FI: I am a big fan of not doing too much planning and simply just getting started. You have to be a little loose and leave room for coincidences. If you plan everything too thoroughly, you may not receive the surprise of an unanticipated coincidence.
NG: In order to avoid a complete melt-down, you should perhaps consider a budget before.