Born into an artistic family, Nuriel Molcho was early to detect his affinity for art and design. Driven by entrepreneurial ideas all his life, Nuriel helped his mother open restaurant NENI am Naschmarkt in Vienna, together with his three brothers. Since then, he has been restless to pursue new ideas for the family business, many of which have been inspired on his travels. We talk to Nuriel how art entered his life and what his own art collection means to him personally.
Nuriel, before we talk about art and your collection, would you mind talking a bit about yourself for those who don't know you. In Vienna, of course, many know you for your restaurant NENI am Naschmarkt or the Tel Aviv Beach by the Danube canal.
I am a family person and I feel like an integral part of my family. I don't regard myself as an individual, but as someone who belongs to something bigger. That is very important to me personally. I am the oldest of four brothers. I work together very closely with two of my brothers. We run NENI in Vienna, Berlin and Zurich, as well as the Tel Aviv Beach by the Danube canal, which probably most will know of. My youngest brother is an actor living and working in LA and London. We are just back from visiting him in London. His movie "History of Now" has been screened at the "Raindance Festival".
Did you always know what profession you would take up?
Before I started working I studied in London and Barcelona. Somehow I had always known that I wanted to become a "business man". I had no idea in which business though. To be honest I was never keen on studying. At the age of eighteen, I wanted to travel the world and find something in Hong Kong, which I could sell in Australia – or something in Tokyo, which would then fly in the States. Whether it was a catering concept, a product or an idea, I didn't care at the time. All I wanted was to start a business of my own.
Did your parents approve of your plans?
My parents felt that not only was it important to have a business idea, but also that one needed to acquire a certain know-how of running a business. It was clear to them that I first needed to complete a degree. This is how I entered my studies in London and Barcelona. Right after, I had planned to go on a trip around the world, but then my mom called me from Vienna and broke the news that she was itching to open a restaurant in Vienna and that she needed my help with it. I told myself that it might be a chance to apply some of the things I had learnt at management school. So I talked myself out of the idea of travelling, telling myself that I could still hit the road a year later. Turns out that I fell so much in love with my work that, one year later, I blew off the idea of the world trip. Now I travel once or twice a month in order to take in ideas and inspiration, which we work into our own business. NENI ART Collective or the Food Truck, which we just bought, have all been inspirations from trips, which we turned into reality in Vienna.
You have never studied Art, right?
Well I did create art when completing my International Baccalaureate. At the time I curated an exhibition showing abstract art. It was my contribution in that particular school year. Everyone else painted or did sculptures. My work was just a creative process. Nothing blended in with the other. Everything was pretty colourful if you will. My teacher gave me a 7/7 as a mark, which was rather good. The second judge, who was crucial for the final mark, gave me a 4/7, which was not so good. I think I was intimidated by that experience, which held me back from studying art, among other things. I also didn't have a clue what exactly I should study. But this never lowered my interest to engage in art by any means.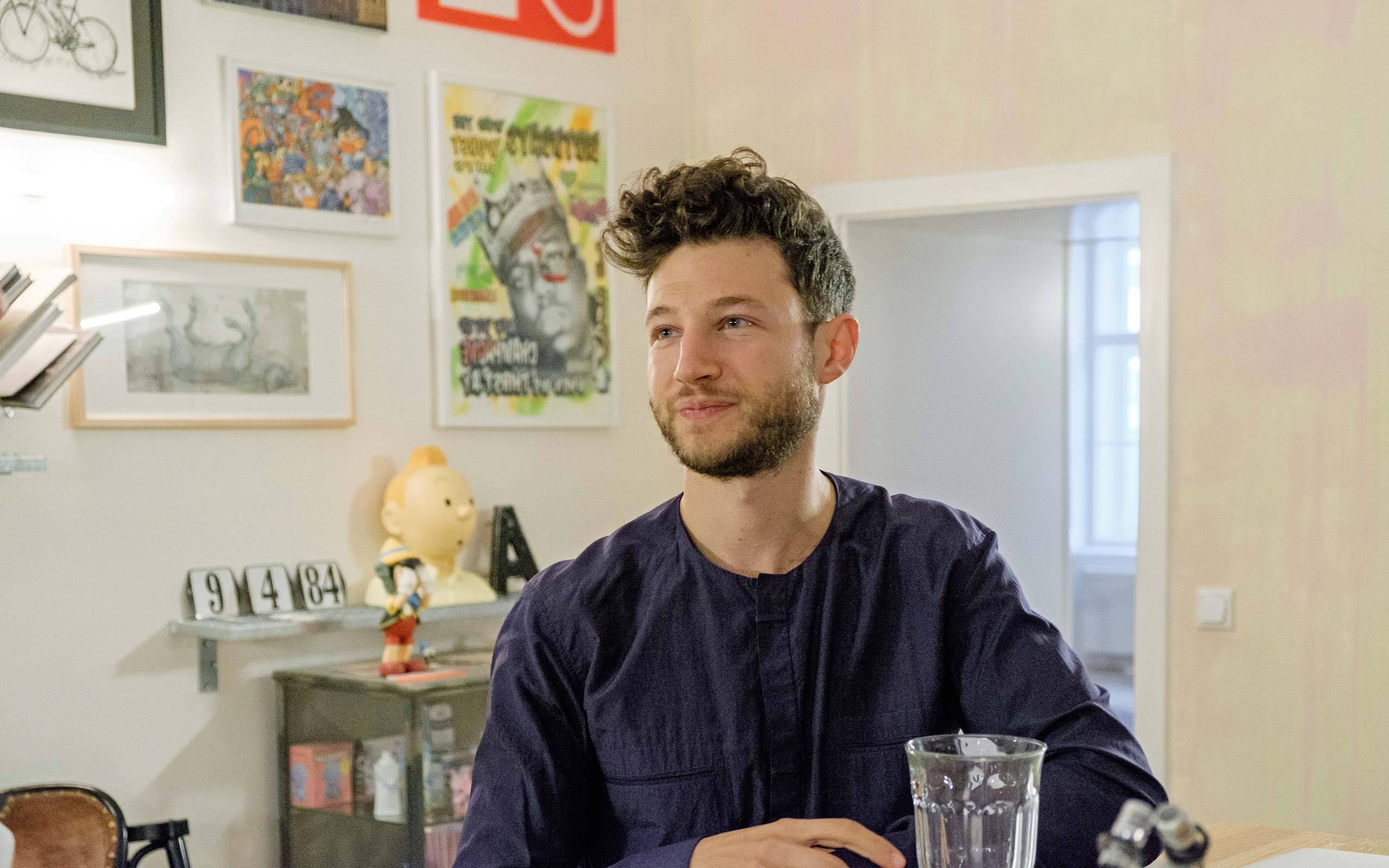 What led you into buying your first work of art?
My two passions have always been art and interior architecture. Even my student dorm was decorated quite in style. I have always liked setting the scene effectively for things, no matter whether it was an oriental carpet or a cool vintage chair from a flea market. It was never an option for me to hang posters or art prints. I have always wanted original art on my walls. Accidentally, I came across an artist whose pictures I thought were really cool. He sold me one of his works for a hundred Euros. This is how it all started.
Who is the artist of this first work of yours?
Boicut. I met his sister who told me that her brother was an artist. Of course that immediately caught my attention. I loved two particular motifs of his. They were actually meant for a flyer promoting an event series in a nightclub. The original designs were available for sale at the end of the year, I remember this as if it were today. I turned up half an hour earlier at the venue before the club opened, because I absolutely wanted this original design by Boicut. Lucky me I was the only one to arrive and I ended up holding it in my hands. The artist was very happy, and so was I.
What kind of art do you collect?
I do like street-art, and I am a huge fan of the Belgian artist ROA. I discovered him for myself at an exhibition many years ago. Unfortunately, I could not afford the artwork which I had cast my eye on, so I ended up buying a smaller work done by him. After I got the chance to meet ROA personally I developed a better understanding and intuition for his work. I helped him find a few free walls in Vienna, on which he was allowed to spray, and raised awareness of his work among a couple of collectors. At some point, after a couple of barter trades, I was able to afford a "big ROA".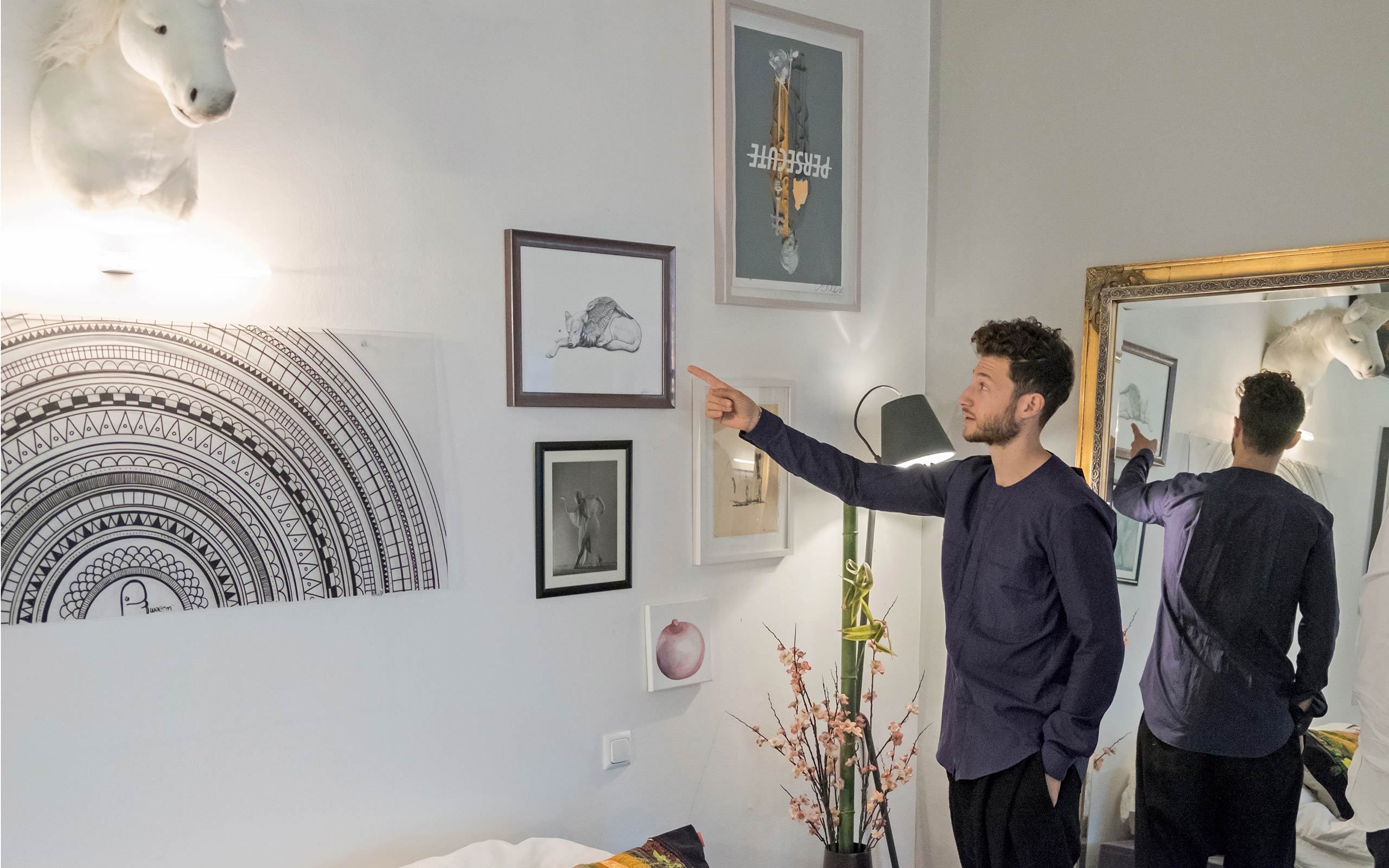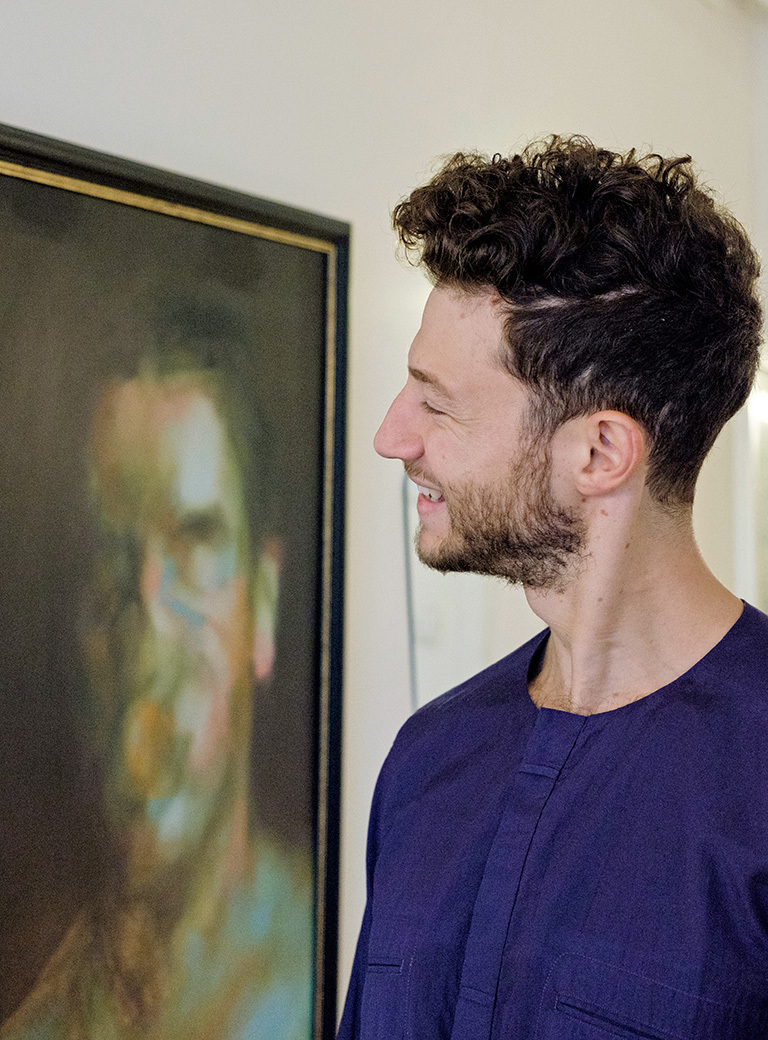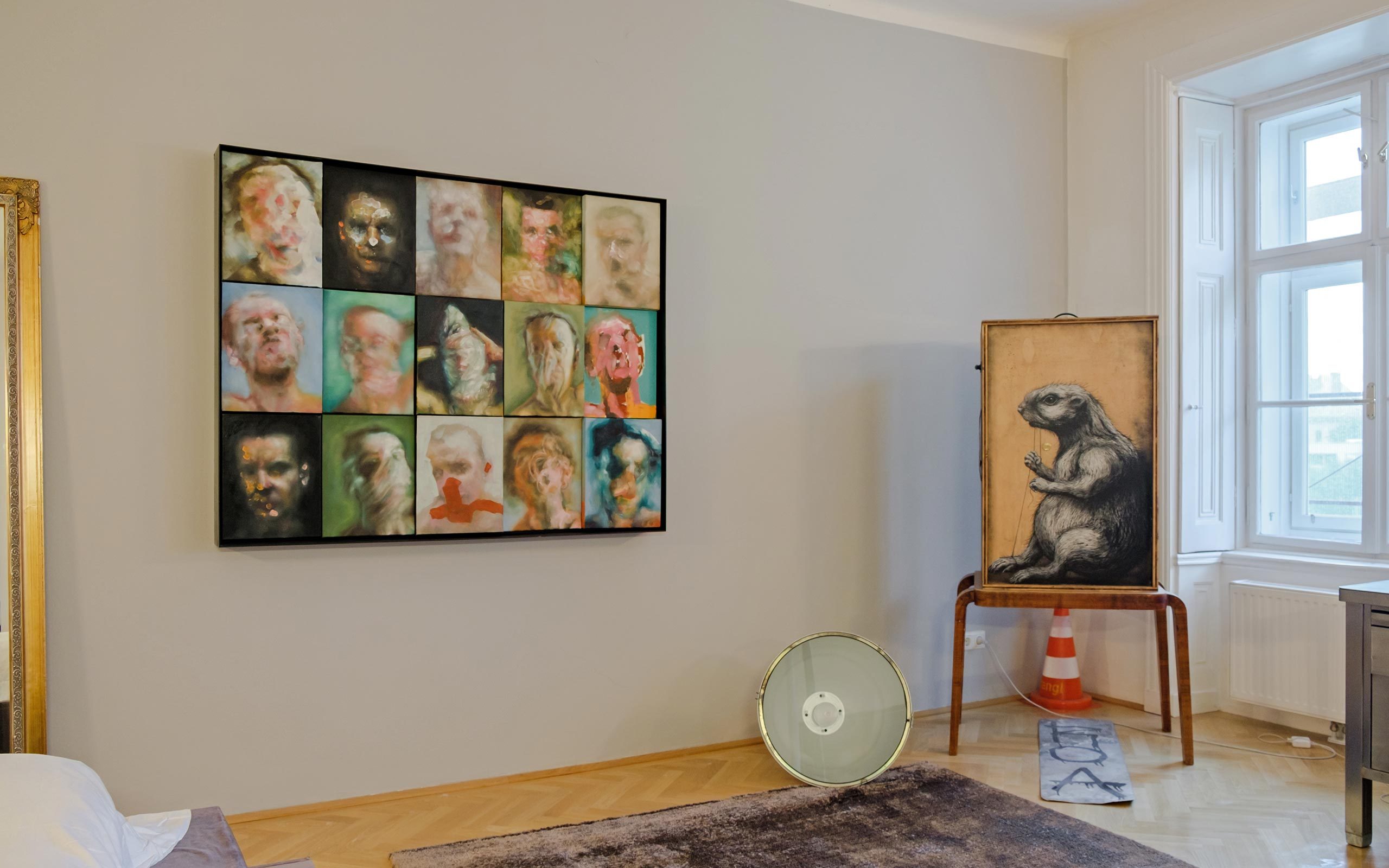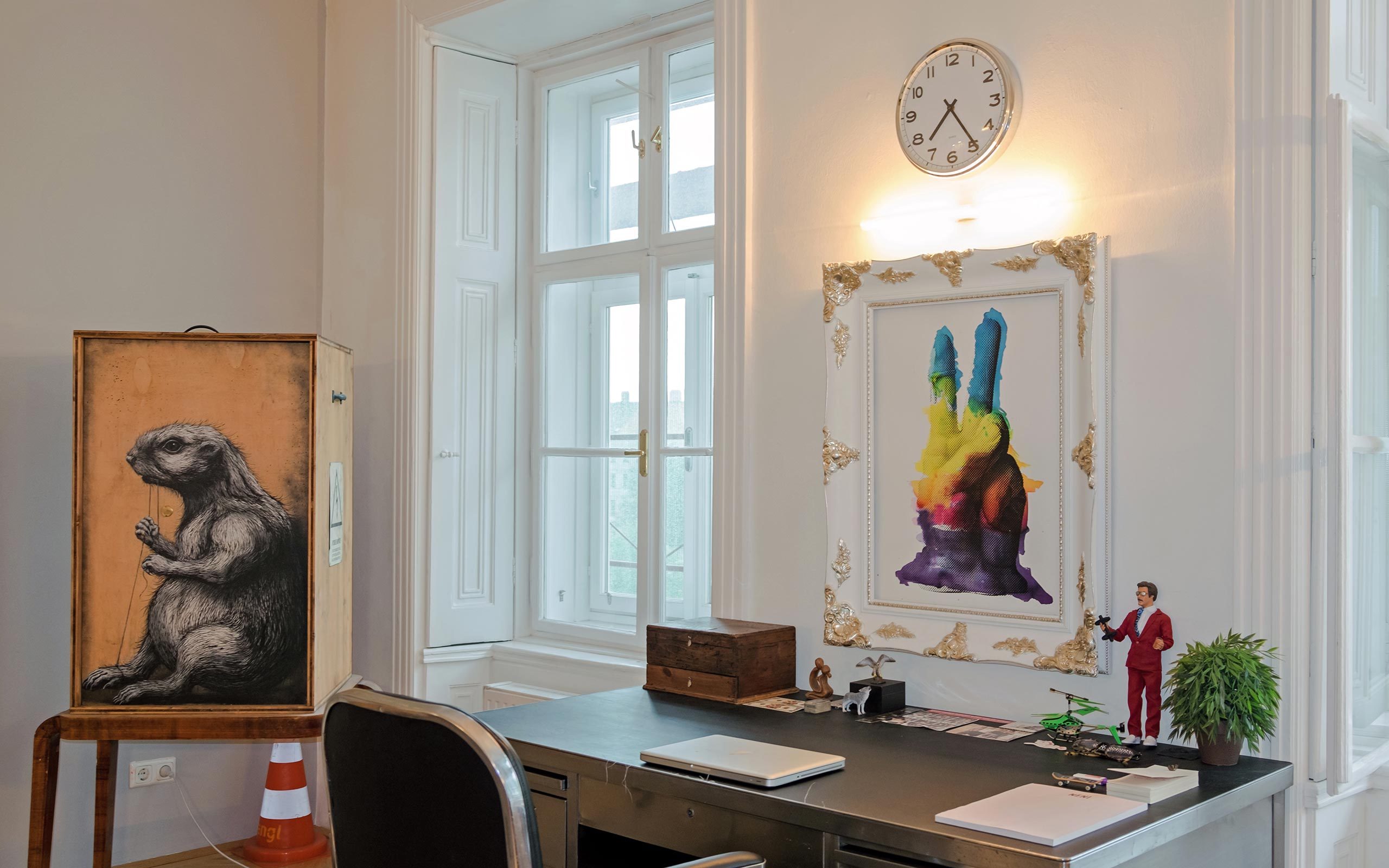 If one visualises a collector by the book, an elderly man in a suit comes to mind. One might say you are the exact opposite. Why do you engage in art?
I am surrounded by lots of people every day at work and even in my spare time. I love it and it is important to me. As a counterbalance I discovered music and art. I think I could not exist without art. It serves as an inspiration to me. It allows me to get away and to be just by myself. When I was younger, I enjoyed going to the museum on my own. And I still like it today. For example, I went to Viennacontemporary, which took place the other day here in Vienna, just by myself. I don't need anyone in such places to deter me.
You don't want anyone joining you?
If at all, my girlfriend Audrey joins me. Whenever I buy art, I want to be sure she agrees with it, as we live together. However I prefer to be alone when visiting a museum. Even if somebody joins me I prefer to break away and find my own tempo, to be able to spend more time with some pictures or to skip entire rooms, if they don't awake my interest.
Recently there have been quite a couple of art fairs: the abc Berlin, Viennacontemporary and now the Frieze London. Are you a regular art fair goer?
I have been busy lately catching up with my workload. Last year, I did get a chance to see lots of art at the Art Basel and the Fiac in Paris. This year, I am so much consumed by my work that I only managed to go to the Viennacontemporary. I even had to pass on the abc Berlin and the Frieze. In the past, I went to art fairs more often and to as many openings as possible, because I was looking towards building my collection. You see, buying art turns into an addiction – you buy one picture, you hang it, it looks awesome, and it's yours! You discover new artists, you follow how they develop artistically, and financially. Then you realize there is more to your purchase than aesthetic appeal, buying art can also be an investment.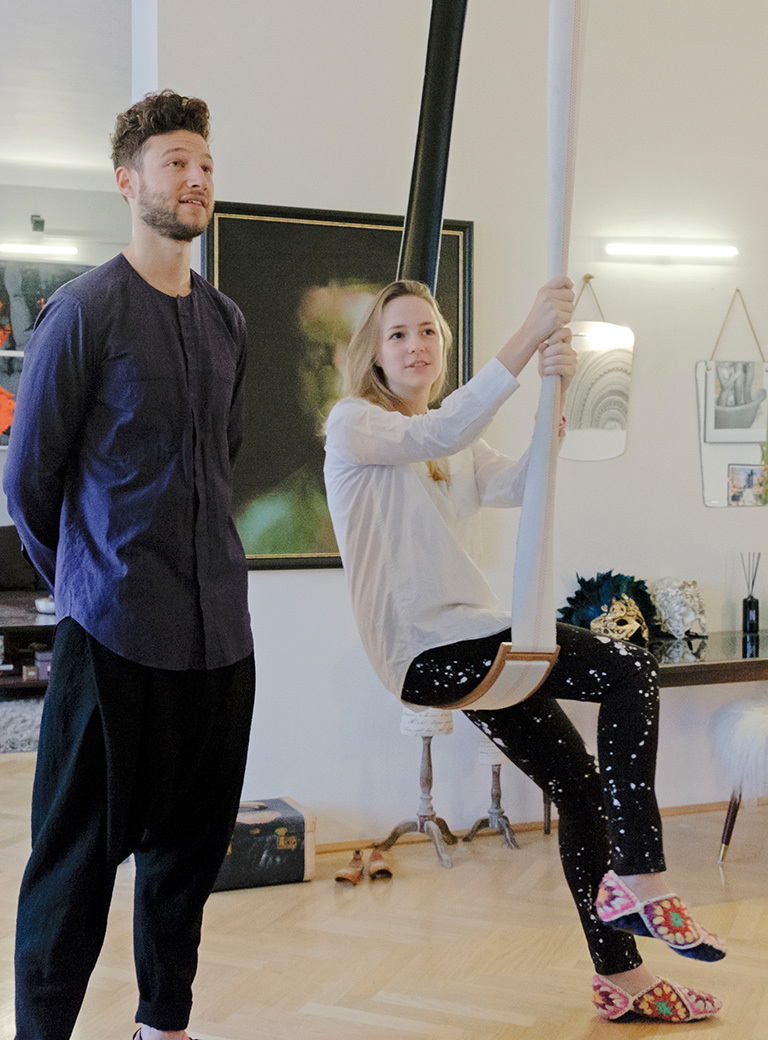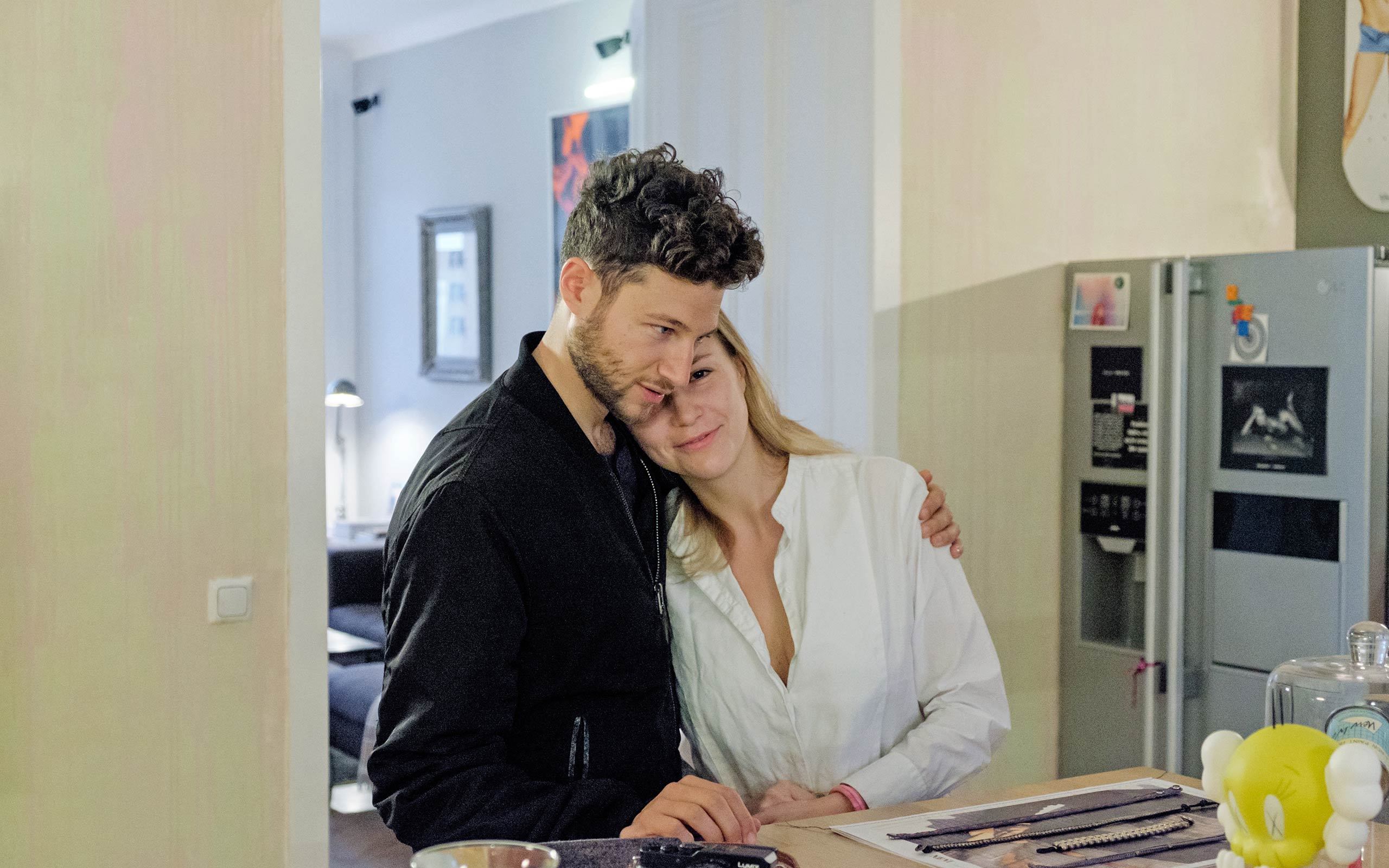 There are collectors who are – other than by financial investment – driven by the idea of possessing art. How do you feel about that?
I don't have to own every picture I feel attracted to. If I discover a particular work of art, which really involves me, I would not purchase it immediately and rather take the time to let my decision mature. I have purchased a lot of art in the meantime and my wall space is running low. (laughs) I am not the kind of collector who outsources the art in his collection. I want to live with it.
So, it is important to you to surround yourself with the art you collect.
Yes, I want to be able to see it every day. Every picture is a piece of memory. Whether it reminds me of a specific moment or a particular stage in my life. My apartment is a space full of memories and milestones, which mark my life.
Would you ever sell a picture in your collection?
Besides art, I feel attracted to wristband watches. I love wearing vintage watches. I am fascinated by the thought that a watch has been in someone else's possession before me, that it has a story of its own. It should be the same with art to my mind. For example, if I came across another huge fan of ROA, or a fan of other artists in my collection, the thought that some works might be passed on to have another life together with someone else would make me happy. I believe art has to change hands occasionally, to be hung in new environments and to make other people happy. If I were able to finance the purchase of a larger work, which I really longed for, by selling off some works in my collection, I would probably do it.
Is there one particular piece you would never part with?
As I said, I have a close emotional relationship with many of the pictures I collect. It's not about material value. I bought my first pictures for around hundred Euros. They are very important to me emotionally. I could never give them away.
Would you rather call yourself a "young, fast collector" who discovers art on his iPhone, or as someone who seeks out a gallery for advice?
As a matter of fact, we have bought art via Instagram. We were following an artist who draws extraordinary hybrid designs of animals. Amy Dover is an illustrator in Britain and has seen much success there already. We wrote to her and asked her whether she would agree to draw a particular picture for us as a commission work. Audrey and I call us by our nicknames "Wolf" and "Hawk". We asked Amy whether she would draw a picture of a wolf, a hawk and a bee. She did some sketches for us and we transferred her the money without every knowing whether the finished work would ever arrive. We were very happy in the end! We would have never come across Amy were it not for Instagram.
Is she not represented in a gallery?
No, she is not well known enough to be represented by a gallery. It was sheer coincidence that we discovered her, as she does not even have that many followers on Instagram. For many younger artists it is difficult to find a gallery these days to represent them, to give them a voice. That is also the reason why we created NENI ART Collective.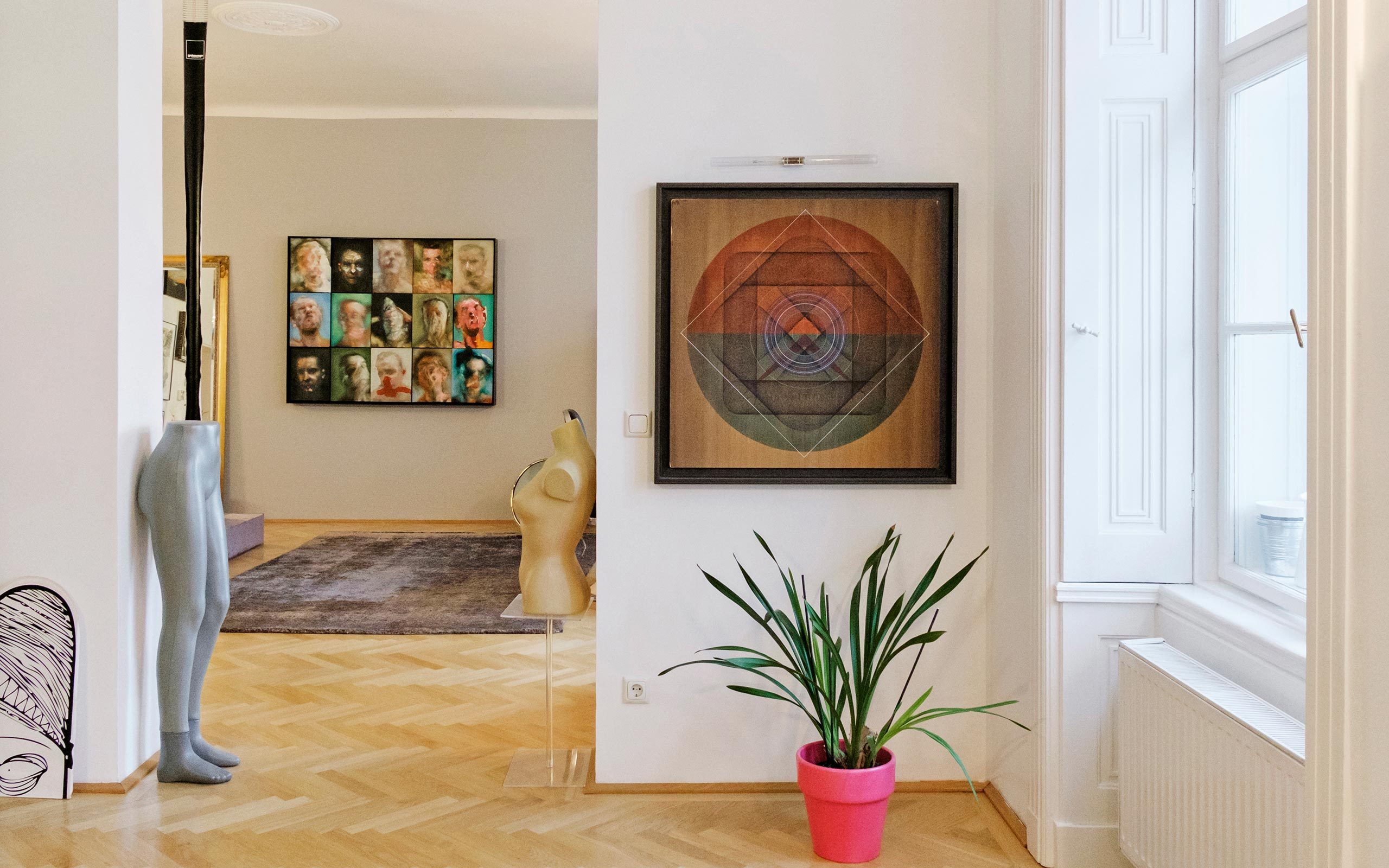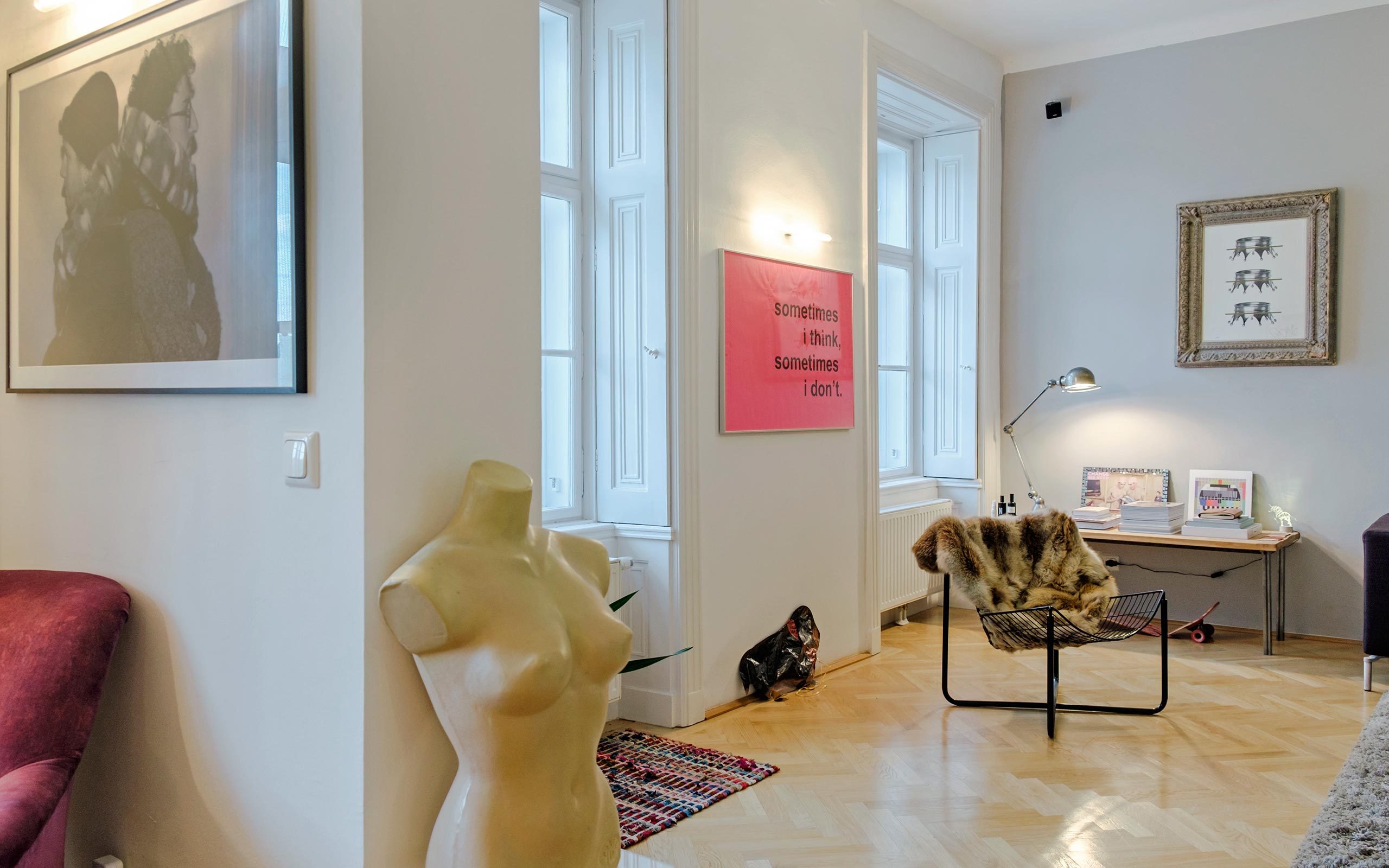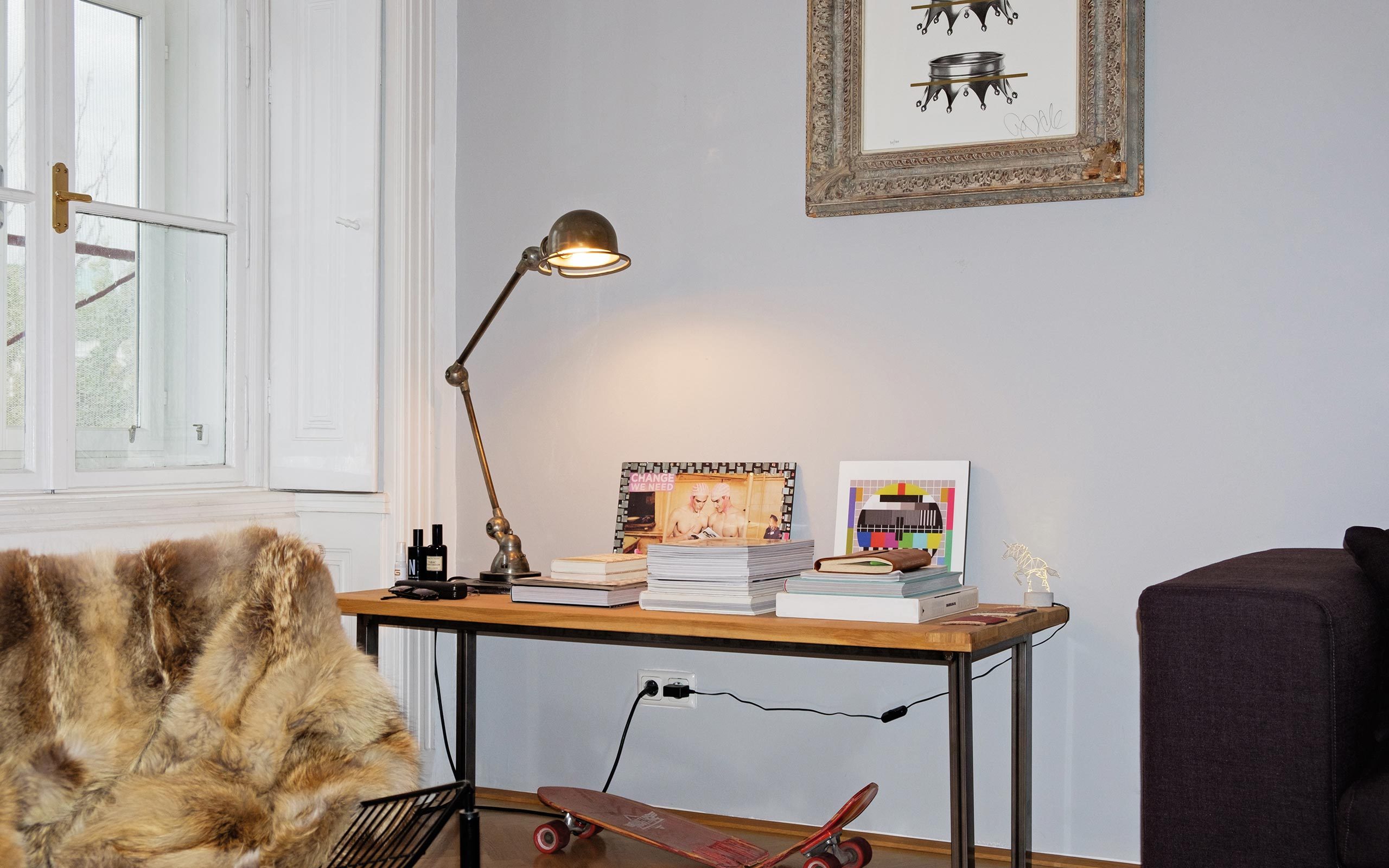 In Vienna we know NENI ART Collective of course. Could you explain briefly what it is all about for those outside Vienna?
The idea is to give talented artists a voice and to give them access to a network. The artists we put on show are recommendations, or I find them on Instagram, or on the Web. It does not have to be art which I personally feel attracted to.
So you operate as an open platform, not as a classic gallery space?
Exactly, we are not a gallery – even though the work is for sale. What is most important to me though, is that we give artists this platform to present themselves. All revenues go to the artist. At the end of each event some artists may pass one of their pictures to me as a gesture of gratitude. But why we really do this is for the love of art. It is pretty straight-forward: once a month we present art in an after work-clubbing environment with well-known DJs in alternating locations. We want young people to see art they can afford.
So far NENI ART Collective only takes place in Vienna.
Who knows, we might do it in other cities, in which we have NENI branches, in the future. We are poised to open a restaurant in the new 25hrs Hotel in the "HafenCity" in January, a new neighbourhood close to the warehouse district in Hamburg. In summer 2016, another 25hrs Hotel is due to open in Munich in a former post office. This is going to be exciting. Who knows, NENI ART Collective might pop up there one day.
You get around around quite a bit. You travel much and see much. Which city has most to offer in terms of art in your opinion?
Street-art has come to the forefront as a topic of interest and is much in demand especially among younger people. On the one hand it is art we are all exposed to on the street level, on the other hand it has emerged as a serious art form. That includes the relevance of street-art in collections. I seriously believe that there is still upside potential. The classic example is Banksy. If one had bought a Banksy ten years ago, it would be worth a fortune today. There are many artists out there still to be discovered. To me London remains the vanguard in that respect.
Can you give us a piece of advice where to buy street-art in London?
In Shoreditch, Brick Lane or Soho you can find many small galleries which sell really cool and affordably-priced street-art. There is no reason to be afraid to walk into a gallery. I find it extremely exciting to listen to gallerists as they share their knowledge about an artist. Just walk in. If something catches your eye, just ask the gallerist. If the picture you had cast an eye on is out of your range, just ask for other works from the same artist.
Is there an artist whose work you would like to be represented in your own collection?
Damien Hirst has been fascinating me for a long time. I am impressed by how he himself attained the status of a brand. Unfortunately he is not quite in my budget range. It is the same with Banksy. As a student I once had the chance to buy a Banksy for only a couple of hundreds of GBP. Speaking in relative terms, by today's standards it would have been awfully cheap. At the time it was a lot of money for me.
I guess frustration is a companion in one's passion for collecting.
Sure. I have often been to galleries who had already sold the works I coveted. Gone is gone! It's part of it.