Esther Stocker, Jacob Dahlgren
»Rules of Abstraction«
5 – 27 Juni, 2020

With the juxtaposition of the works of Esther Stocker and Jacob Dahlgren, the exhibition Rules of Abstraction presents two international contemporary positions that deal with geometric forms and color systems.
While Esther Stocker's Creased Sculptures and her wall works play with ordered systems in black and white that are typically characterized by visual disturbances and breaks, the multi-colored works of the Biennale artist Jacob Dahlgren continue the tradition of geometric constructivism and the Op Art movement of the 1960s by means of repeated forms borrowed from everyday life. Their performative-media character transfers them into the context of
our present.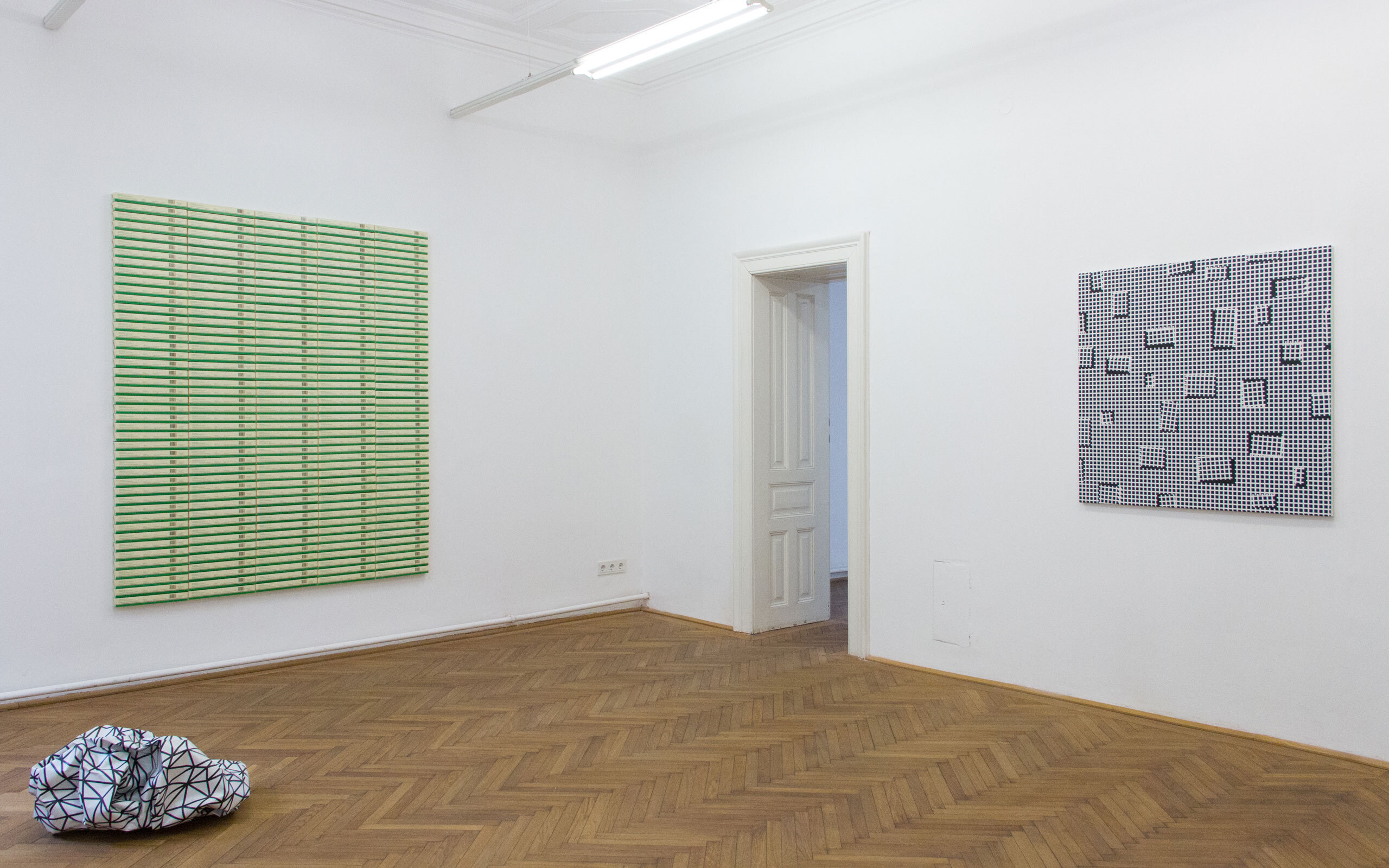 An example of this is Jacob Dahlgren's 14-part series No Stars, But Stripes (2018), in which he ironically offers alternative formal representations of the American flag. These works that are also on show here were preceded by a digital perfor-mance on Dahlgren's Instagram feed: on each of the posted images, the artist wore a different T-shirt every day. In the performance, both his shirts and the artist himself became works of art in the public space. To wear striped T-shirts in all conceivable situations in life, even at weddings or funerals, is one of Dahlgren's trademarks and has often been the starting point for new art projects for the past 20 years.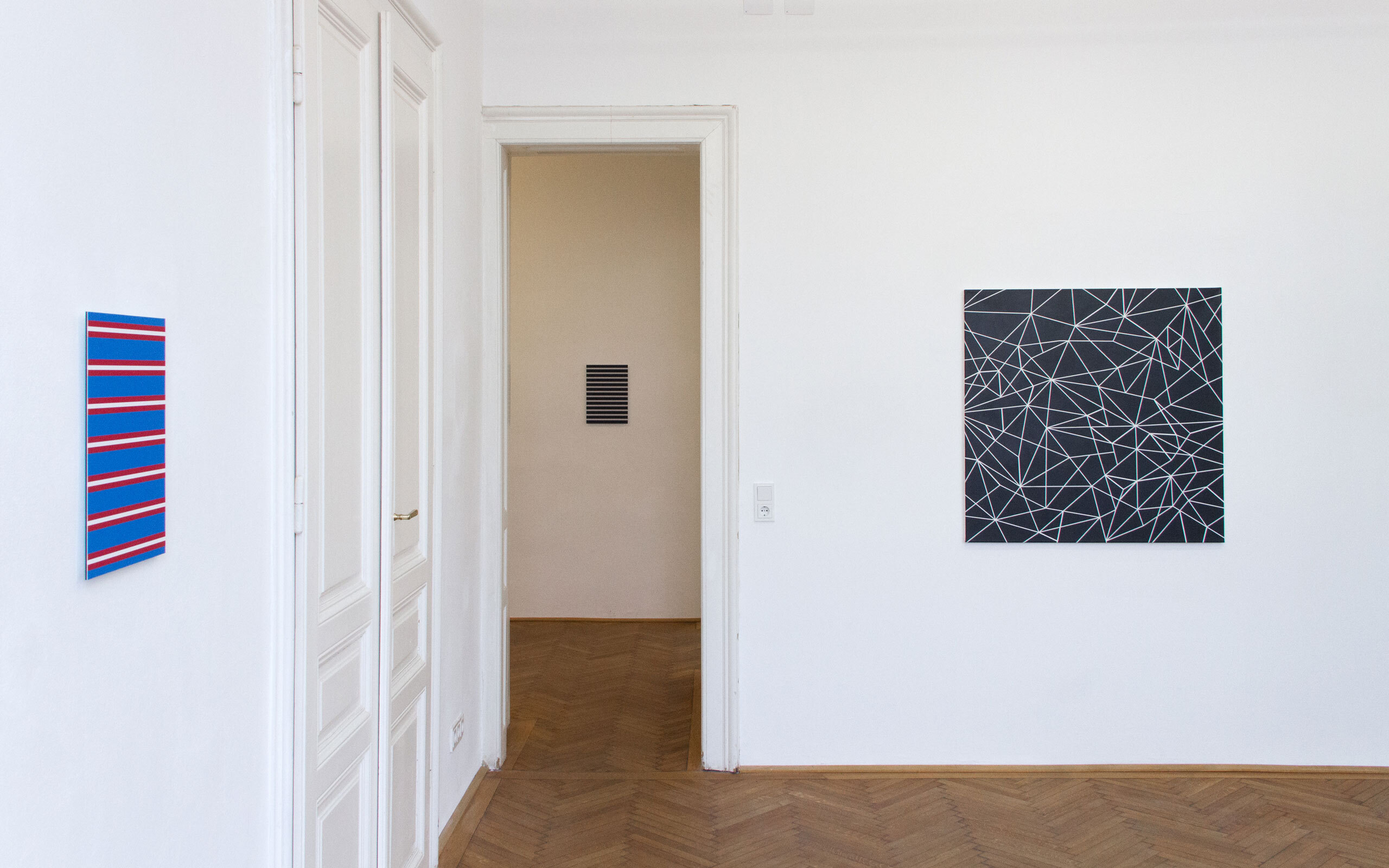 In her works, Esther Stocker takes a completely different approach to the transfer of abstraction into the sculptural body and spatial experience. She is interested in complex visual systems based on grids. The reduction to black and white grids is characteristic and can be found in her paintings as well as in her installations and spatial interventions, which the artist understands as "participatory worlds of perception". Behind her seemingly randomly crumpled works there is a certain order that intentionally breaks through the chaos and thus creates exciting irritations.

Stocker's works, which move freely in space and sometimes even sit in a corner like spiders, pursue the idea of changing our view of the world. By breaking up the geometry of modernist forms, the artist questions the rigidity of existing systems of order. At the same time she challenges the perception of the viewer.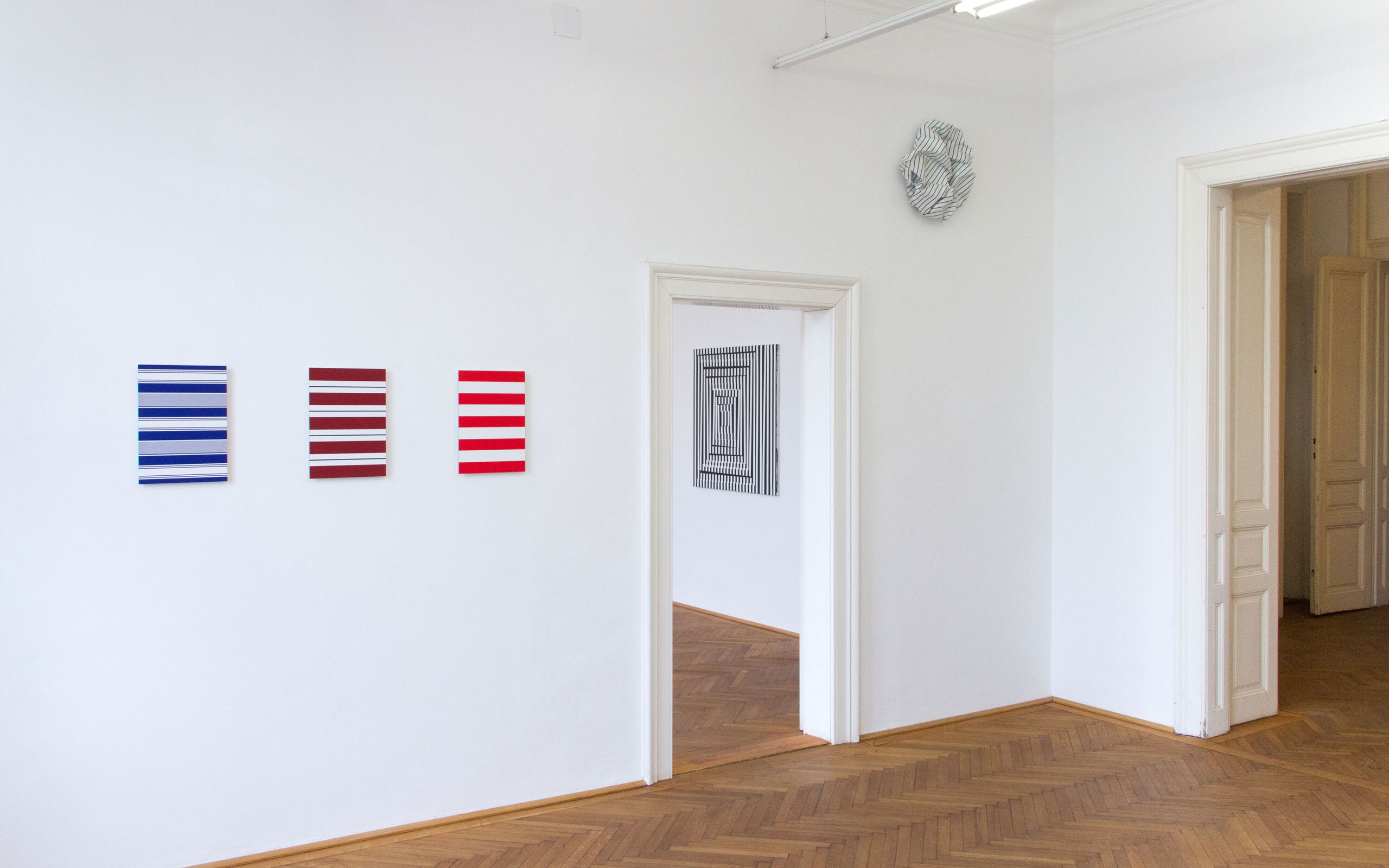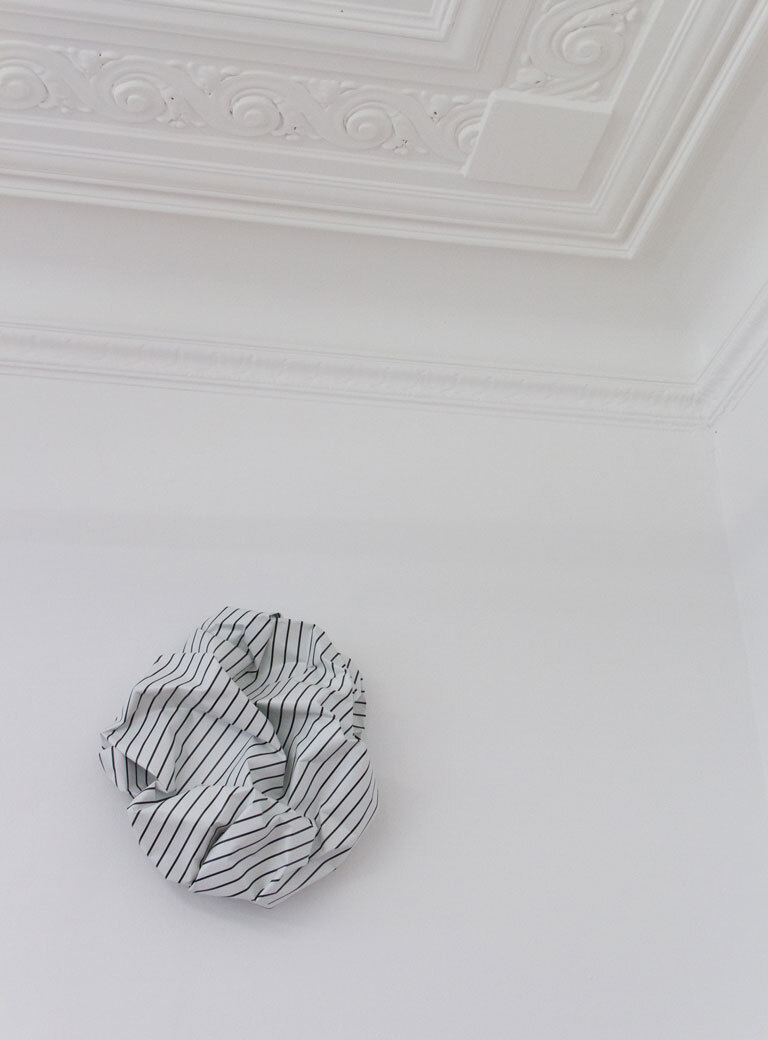 Like Jacob Dahlgren, Esther Stocker belongs to a generation of contemporary positions that has taken the constructive-geometric tradition
a logical step further and thus arrived at completely new approaches. Whereas Stocker's artistic forms of abstraction are based on already abstract background knowledge such as mathematical formulas, Dahlgren develops his works from the observation of the everyday. In his work, with almost obsessive care, ordered pharmaceutical packages become pictures just like geometrically arranged folding rules. The repetition of the motif plays a decisive role here – similar to Esther Stocker.
In the juxtaposition of these two exciting artistic positions, a unique dialogue develops about the contemporary "rules" of abstraction, insofar as they exist at all.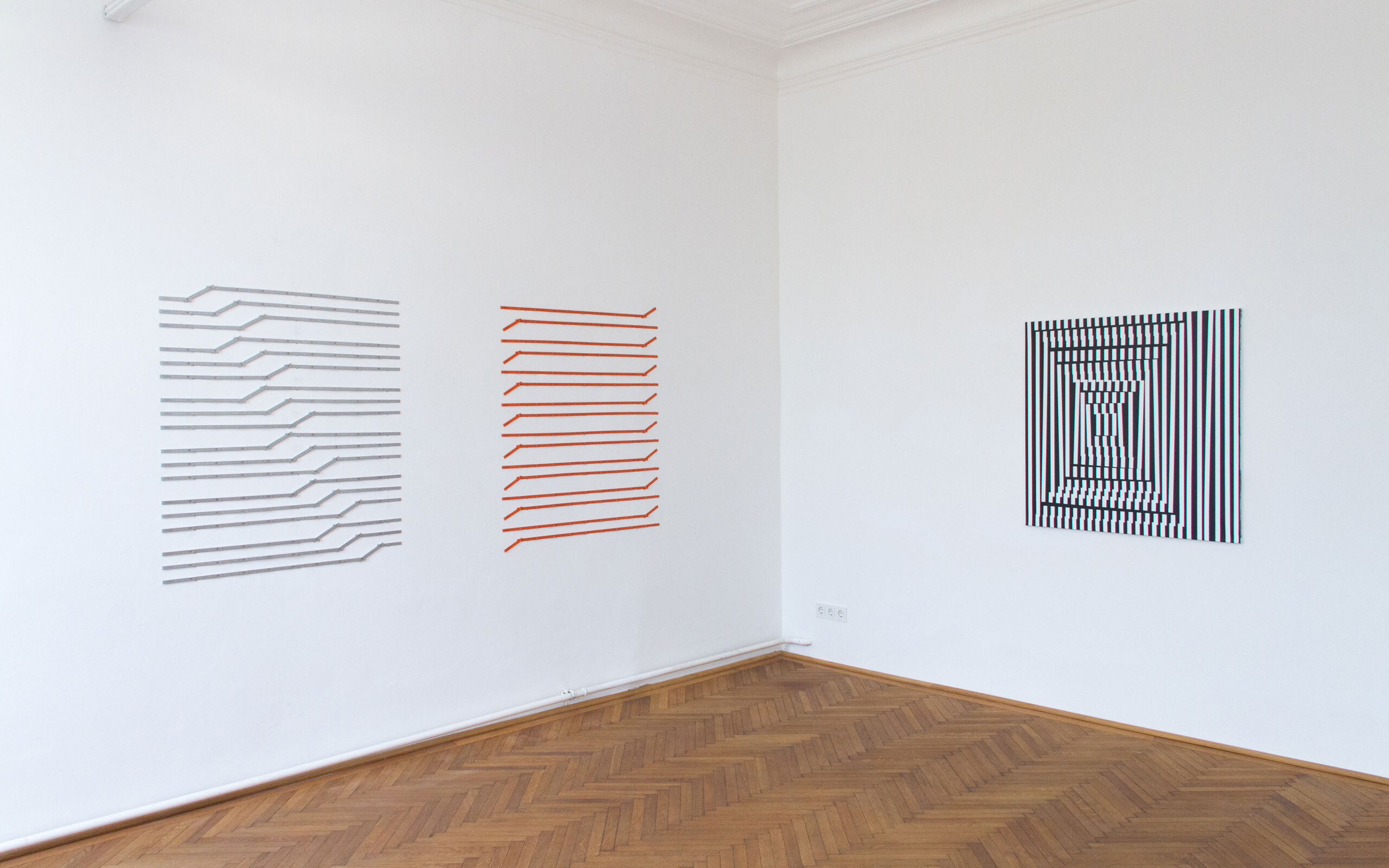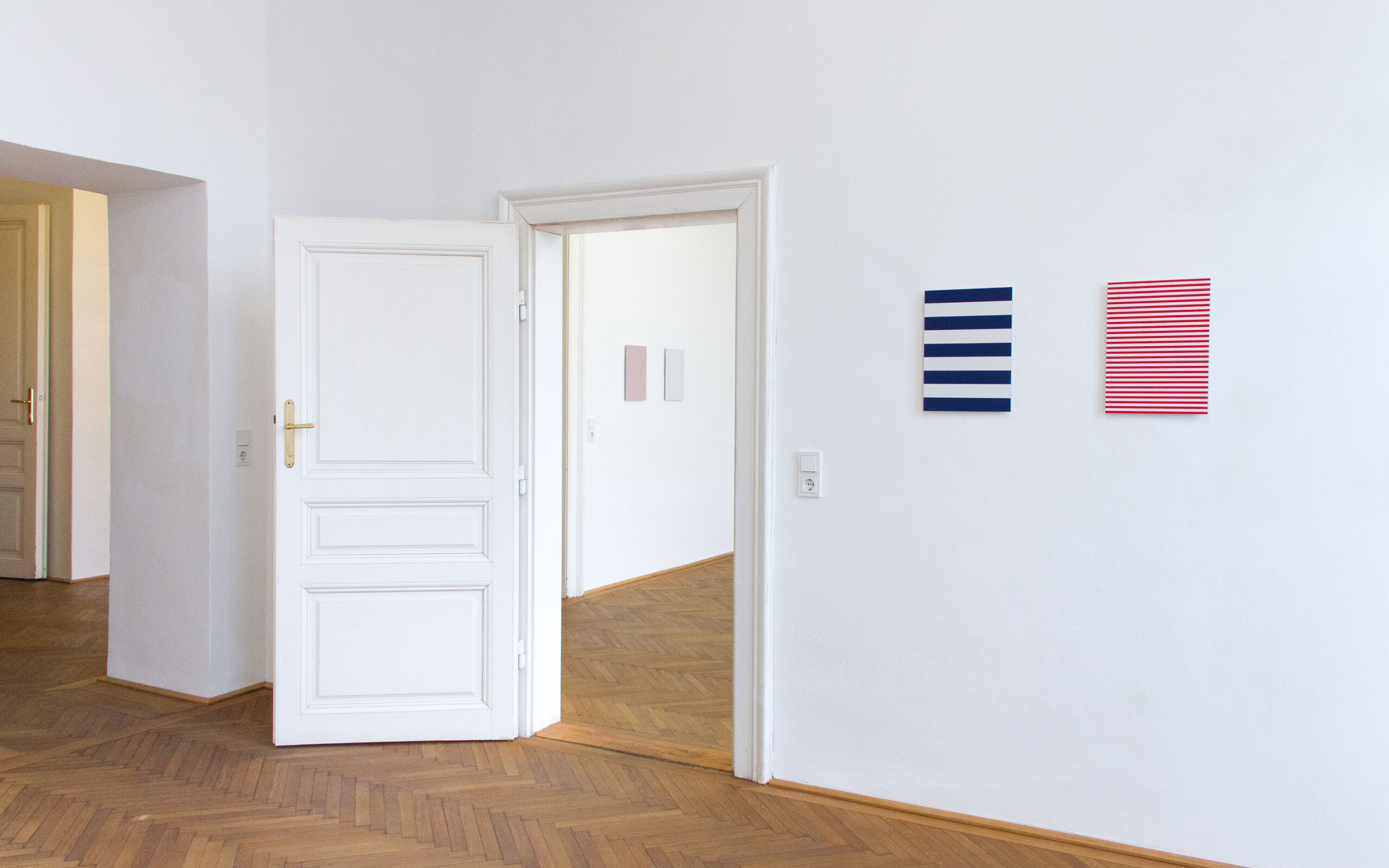 Jacob Dahlgren (b. 1970) lives and works in Stockholm Sweden. He studied between 1994-99 at The Royal Institute of Fine Art Stockholm, receiving his M.F.A. in 1999, and made use of the Nordic Pavillon at the 52nd Venice Biennale di Venezia.
Jacob Dahlgren's work is concerned with a dialogue between the authoritative singularity of pure formal abstraction and its position within a variable, complex and social shared culture. Dahlgren's repetitious collections of ubiquitous and ordinary objects, often domestic, industrially manufactured; stand in their gestalt form as proxy for High Modernist Abstract Painting and for all of the ideological territory that Twentieth Century Art Theory has staked out for it. The contributing objects, however, signify a collective and human aspect of society, each representing an individual choice, to be used or consumed in a unique way by its consumer. Together these objects stand for the group or community, and as such they become democratic rather than authored.
Among other exhibitions Museum Ritter, Sammlung Marli Hoppe-Ritter, Waldenbuch (2017) MAGASIN – Centre National d'Art Contemporain, Grenoble (2016) KIASMA, Museum of Contemporary Art in Helsinki (2013, 2011, 2010), Henry Art Gallery, Seattle (2010, 2013), Collective Gallery Edinburgh (2013), Galleri Andrehn-Schiptjenko Stockholm (2013, 2009), Galerie Anhava, Helsinki (2015, 2013, 2009, 2002), Gallery 400 at University of Illinois at Chicago (2012), Workplace Gallery Gateshead UK (2012, 2011), Fundació Joan Miró, Barcelona (2010), Schirn,Kunsthalle, Frankfurt (2011), Daimler Art Collection, Berlin (2010) Forum d'Art Contemporain Luxemburg (2010) Bielefelder Kunstverein (2009), Momentum, Galleri F 15 Moss (2009) Turner Contemporary Margate UK (2009) 52nd Venice Biennale di Venezia (2007), P.S.1 Contemporary Art Center/MoMA, New York (2006) Kunsthalle Budapest (2006), October salon, Belgrade (2006) Moderna Museet, Stockholm (2006), Malmö Konsthall (2005), Tramway, Glasgow (2002)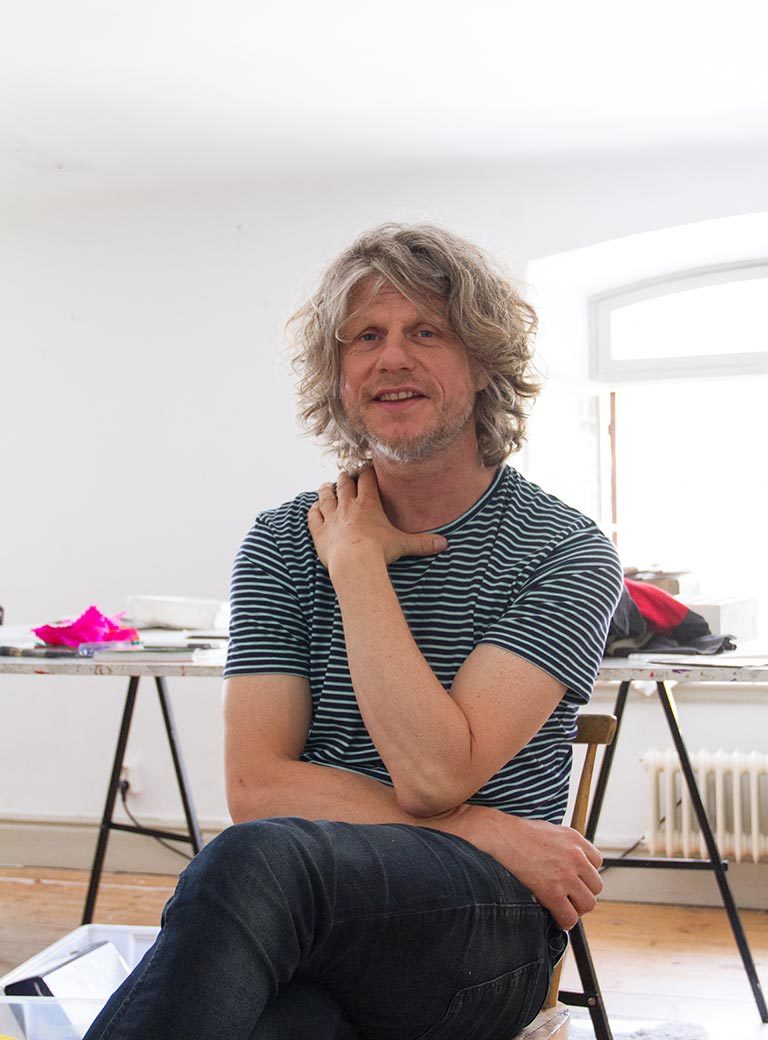 The works by Esther Stocker (*1974, Schlanders, South Tyrol) are pure abstractions, extracted from minimalist media such as the horizontal, the vertical, and the diagonal of space. Her interests involve complex visual systems, which follow along grids, whereby disorder or optical fractures within such geometric order systems form an important element in Esther Stocker's oeuvre. The reduction to a black and white scheme is distinctive and is a recurring concept in her paintings and installative works and spatial interventions, which the artist herself considers "participatory worlds of perception".
Stocker studied at the Akademie der Bildenden Künste in Wien, at the Accademia di Belle Arti di Brera in Milan and at the Art Center College of Design in Passadena, California. Since the end of the 90ies, her works have been widely exhibited in solo and group shows, both in Austria and internationally. Frequently, the artist is commissioned to create elaborate large-scale installations and remarkable artistic interventions in the public space. Esther Stocker lives and works in Vienna, where she ranks among the most renowned artists of her generation.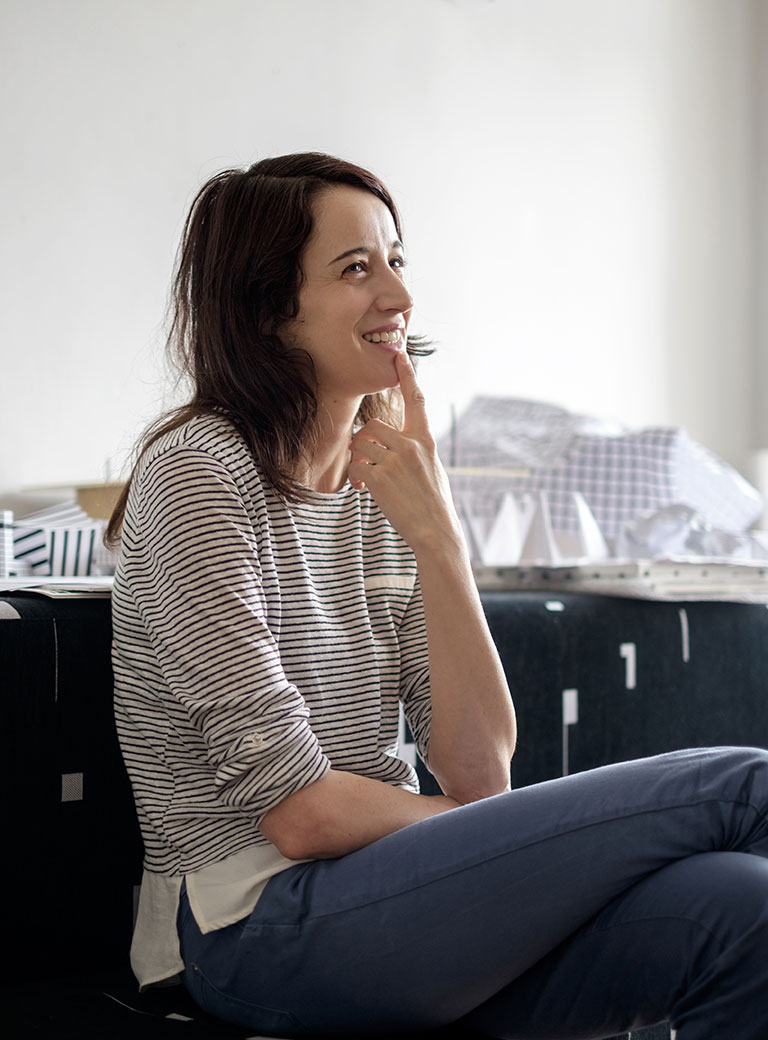 Curated by Florian Langhammer
Text: Dr. Sylvia Metz
Photos: Florian Langhammer