Clemens Hollerer's primary interests lie not only in the sudden, the pre-planned, or the unanticipated moments of destruction in the public space, but also in the subsequent phases of reconstruction and reorientation within such spaces. The events that can change urban environments and how people react to them is the focus of his artistic approach. With a sharp view on the vagaries of construction sites, architecture, and traffic patterns, Hollerer brings chaotic moments into order and translates them minimally into a new aesthetic language of form. What results is a confrontation with installations, sculptures, and collages that draw people out of their comfort zone and demand an in-depth examination into adaptation, limitation, and memory, in which the potential for change can be revealed.
How did you become an artist?
I first came into contact with photography in 1992 as an exchange student in Pittsburgh, Pennsylvania. Since 2001 I attended the Prague School of Photography in Upper Austria while working in the tourism industry. My approach to photography quickly developed in an experimental direction, and I soon began to paint over photographs, scratch slides, and subject polaroids to over exposure; at that time I had already developed an interest in the aspects of destruction.
In the process installative works developed from photography. What was the initial impetus for this?
As an artist, I began at first to work in an almost naïve and quite impartial way, an approach that is no longer possible today, since one is constantly confronted with the work of other artists. At one point, a good friend of mine, based on a response to my work at that time, introduced me to the work of Blinky Palermo; this opened new doors for my work. I was very impressed not only by his minimalist formal language, but also by his attentive regard towards architecture. For fifteen years now, I have been meeting with people who knew Palermo personally in order to learn more about the person behind the persona of the artist. In 2003, I began to paint murals in public spaces in Graz. While attending a postgraduate course at HISK – Higher Institute of Fine Arts in Antwerp, Belgium during 2006 and 2007, I created my first space-related installations and sculptures while also experimenting with painting and collage. This was followed by numerous large-scale international, installative projects, including the work How to disappear completely, at Palazzo Papadopoli, in Venice, which was shown as a collateral event in the Biennale in the context of the Future Generation Art Project, 2001. I then returned to live in Vienna. Coming back to Life in Vienne, France as Lyon Biennale Satellite 2013 was also an exciting project.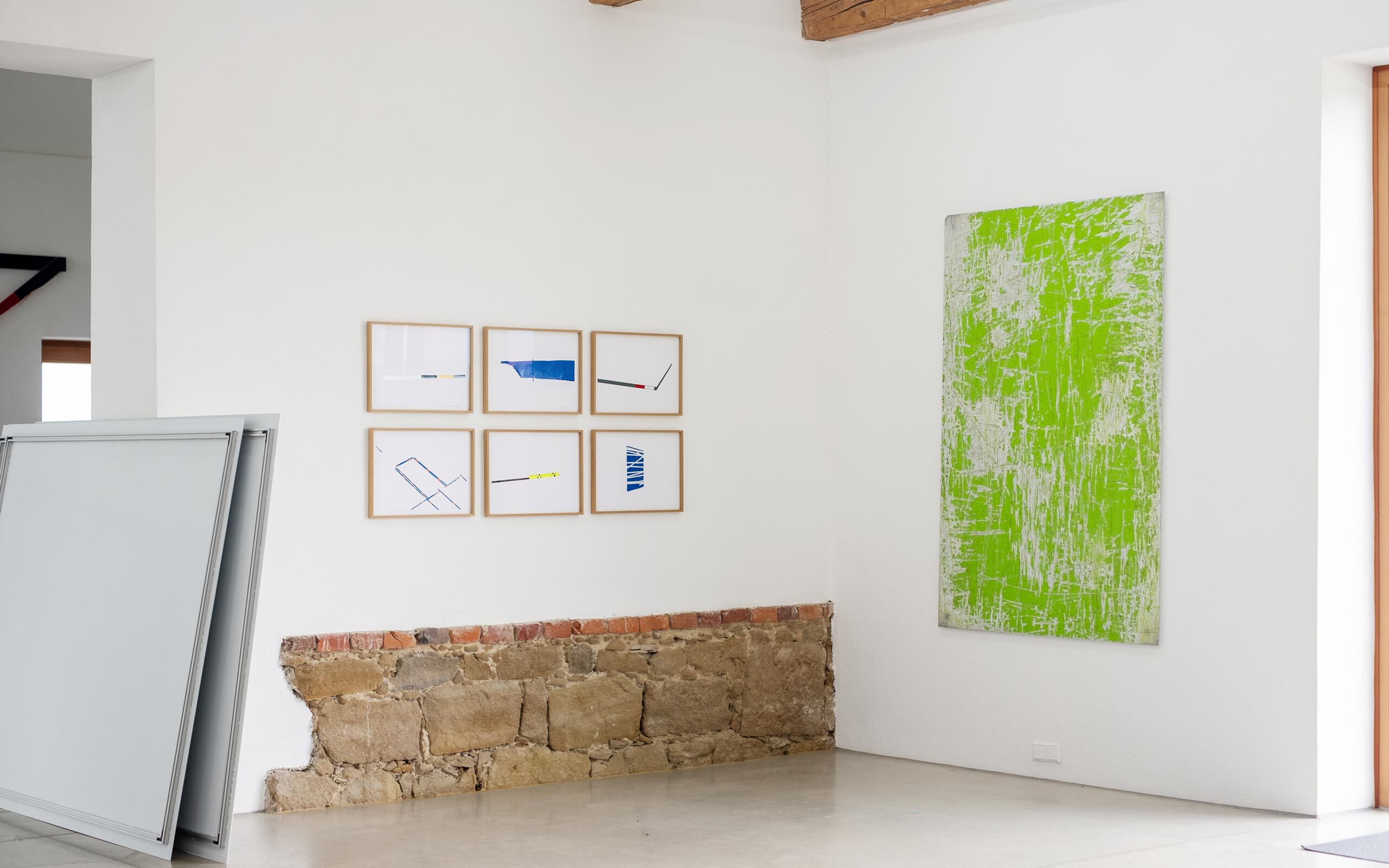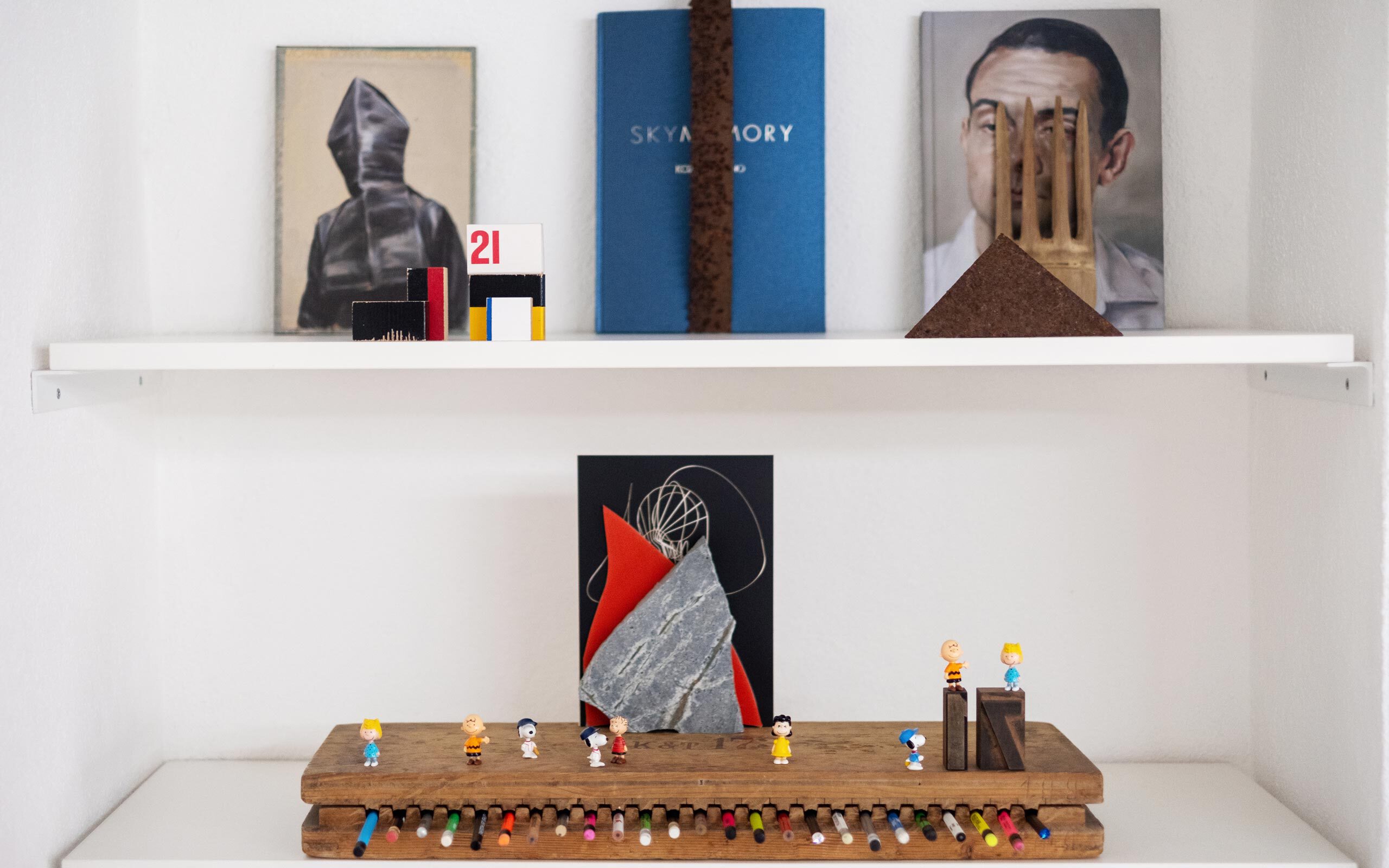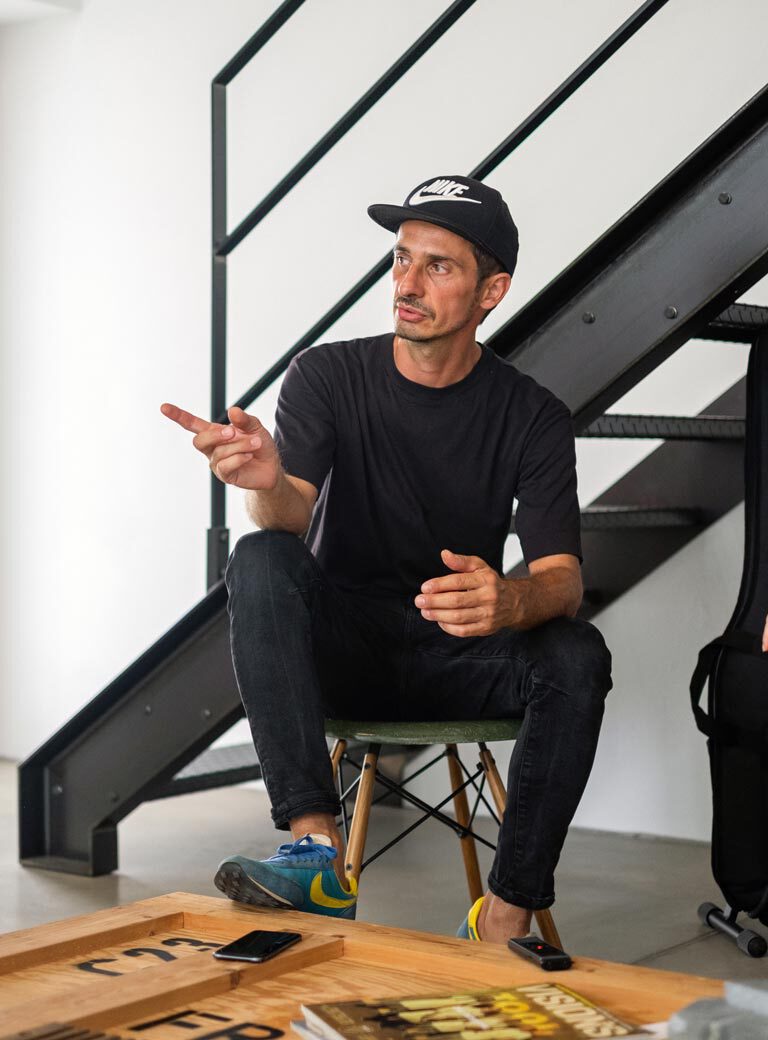 What are the thematic focuses of your artistic work?
I deal with destruction in all its forms, with spaces, cities, construction sites, and the behavior of people in the public space. I want to know how people deal with obstacles. It seems to me that nowadays we live within certain routines, which we both need and also appreciate, but the undertaking of these same routines require that we endure to a certain degree excessive demands on our everyday lives. With my installations, however, I try to interrupt and question these routines in order to displace people from their comfort zone. Natural disasters, accidents, and events such as 9/11 in which a landmark that had shaped and symbolized the city of New York was eradicated, often serve as sources of inspiration. Places, environments, and situations can change enormously within a very short time. With this approach, my works always maintain a connection with reality. I ask myself when an event occurs that interrupts the continuity of action, how people deal with the memory of the past.
So what procedure does it take to produce one of your works?
I always have to go out into the world to collect ideas. I travel a lot, observing and photographing situations and environments, visiting construction sites and big cities, seeing how differently diverse cultures deal with boundaries, build fences, or deal with natural disasters. I record this and bring it back to my studio and subsequently to my artistic work in the sense of a new aesthetic visual language. For large installation projects, I always build models to test a work in a room in advance and assess the necessary perspectives.
So photography has become a documentation tool?
Right. I gave up artistic photography many years ago. Photography now only serves me for documentary purposes. My photographs are my sources of inspiration, with which I build up an archive from which I can draw again and again to develop my work or rethink it.
Is there an example of a particular catastrophe or event that has concerned you very much?
New York is an important city for me, therefore 9/11 was an event that has preoccupied me. The eradication of the twin towers of the World Trade Center created a drastic alteration to the cityscape. Of even greater interest to me regarding this tragic event, was the concept of "ground zero" and the process of reconstruction on the site; I visited the site personally and have followed the process of its transformation over the years.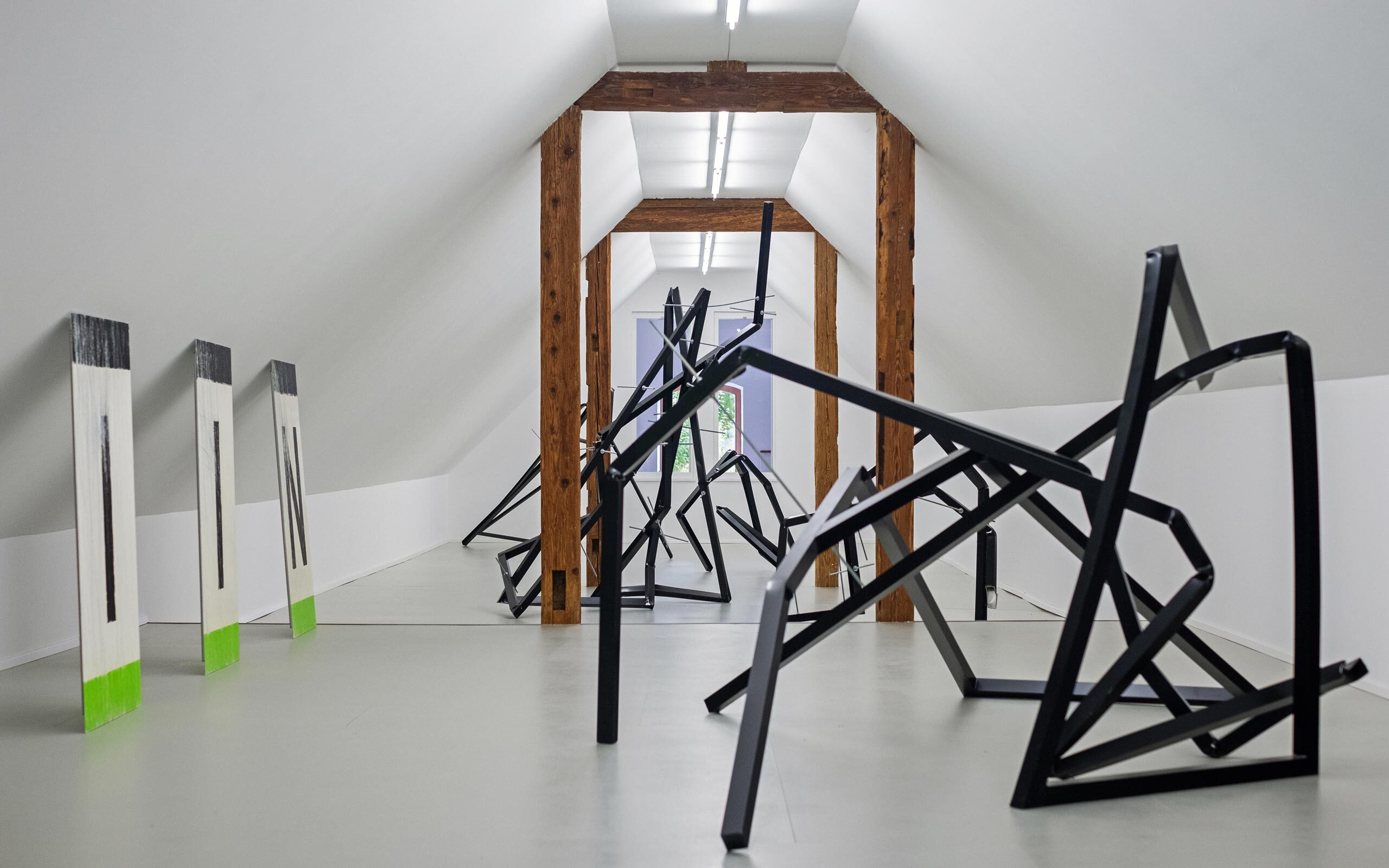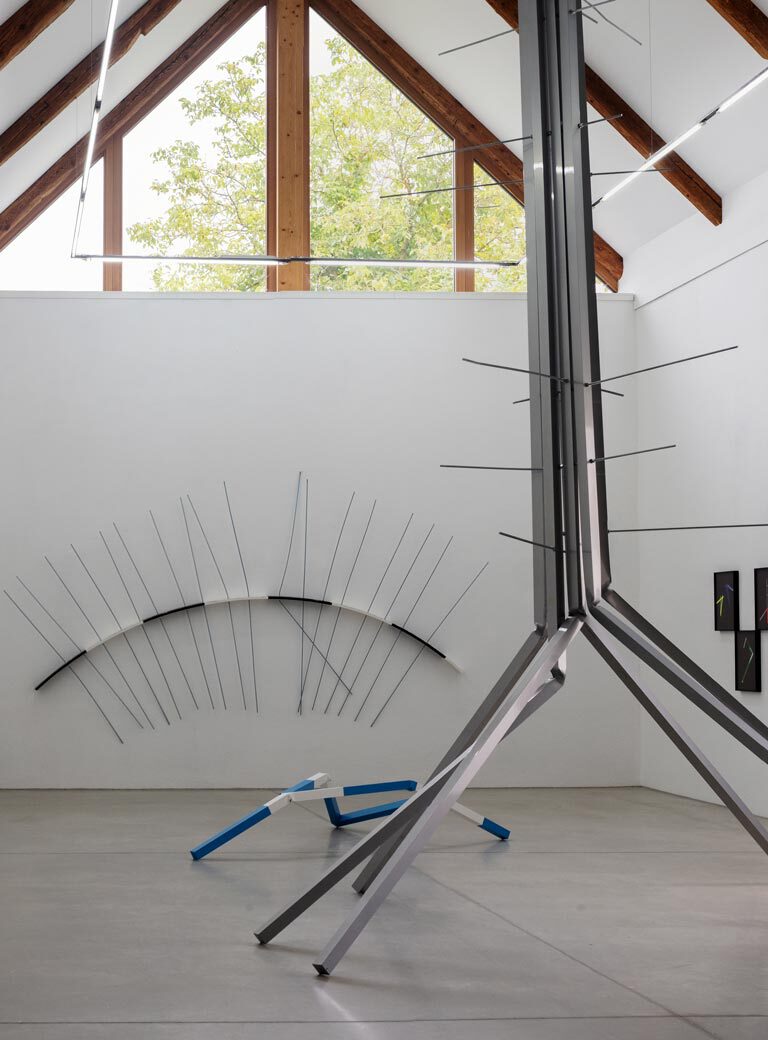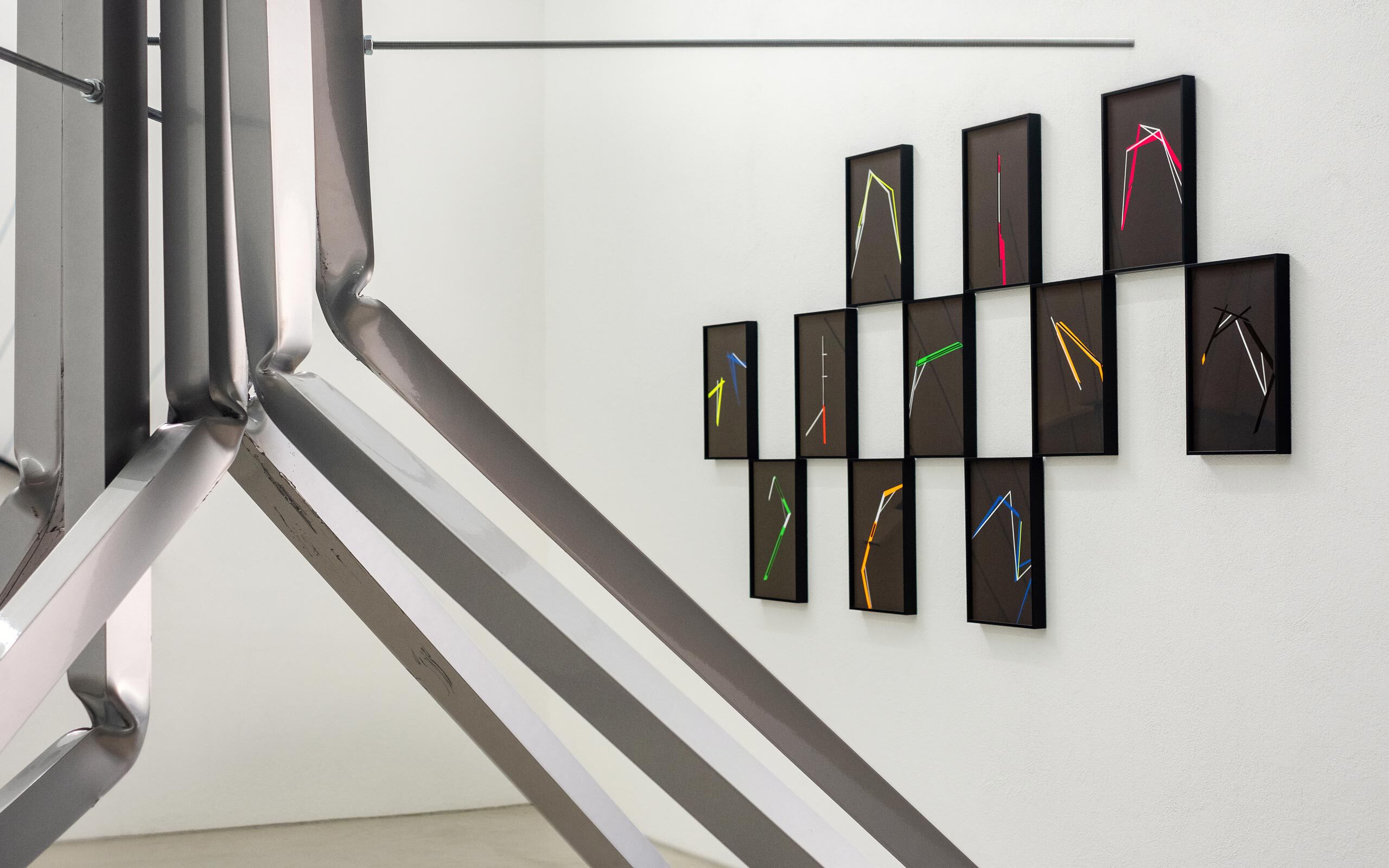 Which materials do you use for your installations?
I have been working with the basic element wood for a very long time, because I was very internationally active, worked in a room-related way and needed a material that is easily available everywhere. Wood is also easy to ship, whether by plane or by ship, it can be connected with screws and is basically a grateful material. Currently I work mainly with powder-coated or raw aluminum, because it is ideal for indoor and outdoor use, very durable and also noble.
How do you process your material for your sculptures? Can you describe the process?
In the past, it used to be high-gloss lacquered wooden planks at that were assembled into sculptures. Many works were cut out as fragments from huge, room-related installations and started their new existence as independent sculptures. More recent works are welded, powder-coated aluminum parts, often interpretations of maltreated urban structures or demarcations. These are deconstructed with the help of excavators or other construction machines and them processed into sculptures.
Can you introduce us to some recent work?
A new series of works I have been working on for about five years, are paintings on aluminum. In 2015, travelling throughout Asia for two exhibition projects, I observed that people in Taiwan, Japan, and the Philippines demarcate their property with wooden constructions upon which aluminum panels are affixed. The demarcation is opaque, it is often sloppily erected and in the humid climate the screws and fixtures rust quickly. New owners paint over the rusty spots, and this repetitive process is one that is interesting to me. Inspired by these experiences, I began to apply paint in layers on aluminum plates and then to scrape it off in a subsequent deconstruction process. Sometimes I try consciously to imitate the gestures of the original actors and translate them into my visual language. These "process-based paintings" have been further refined in recent years through many experiments.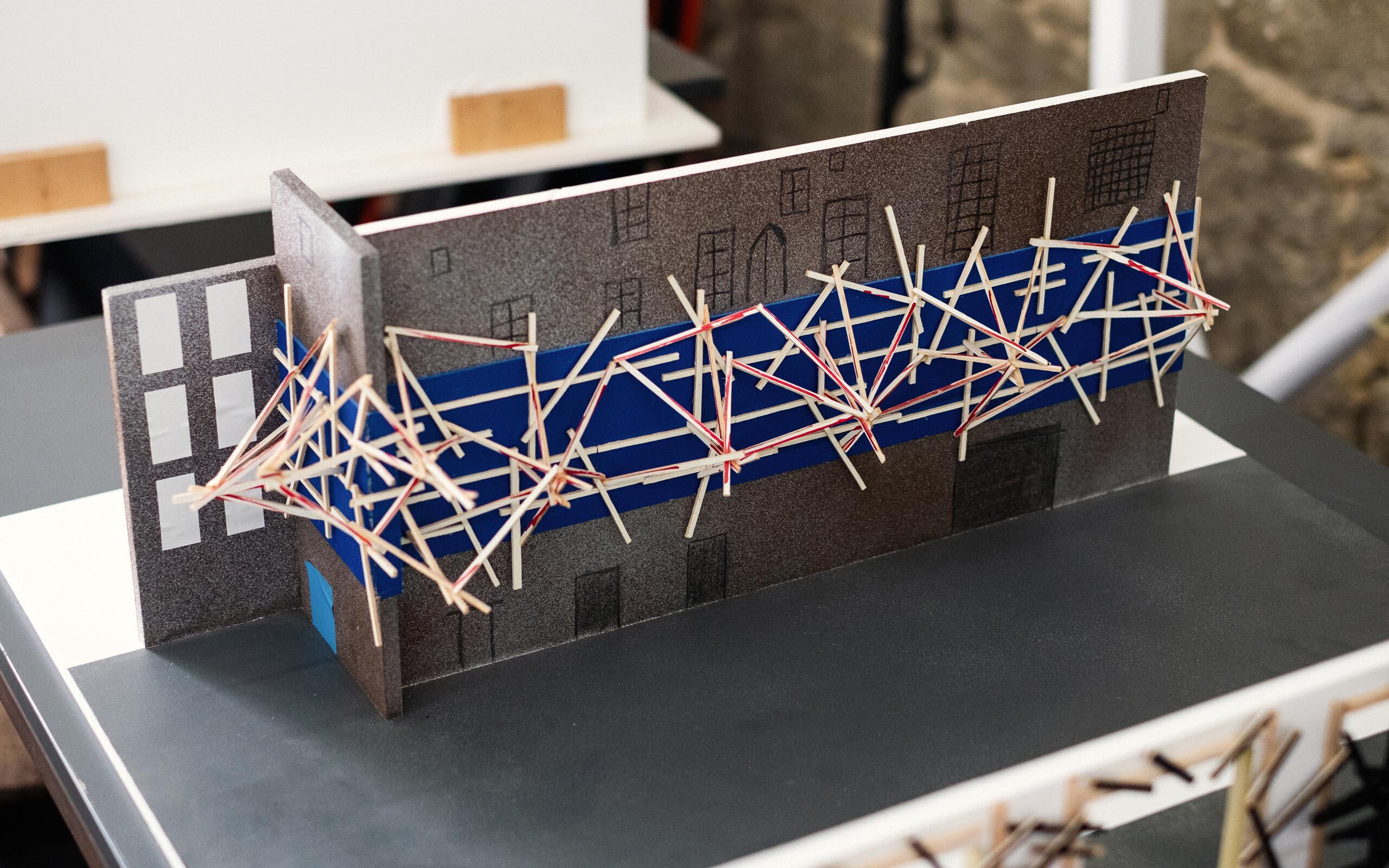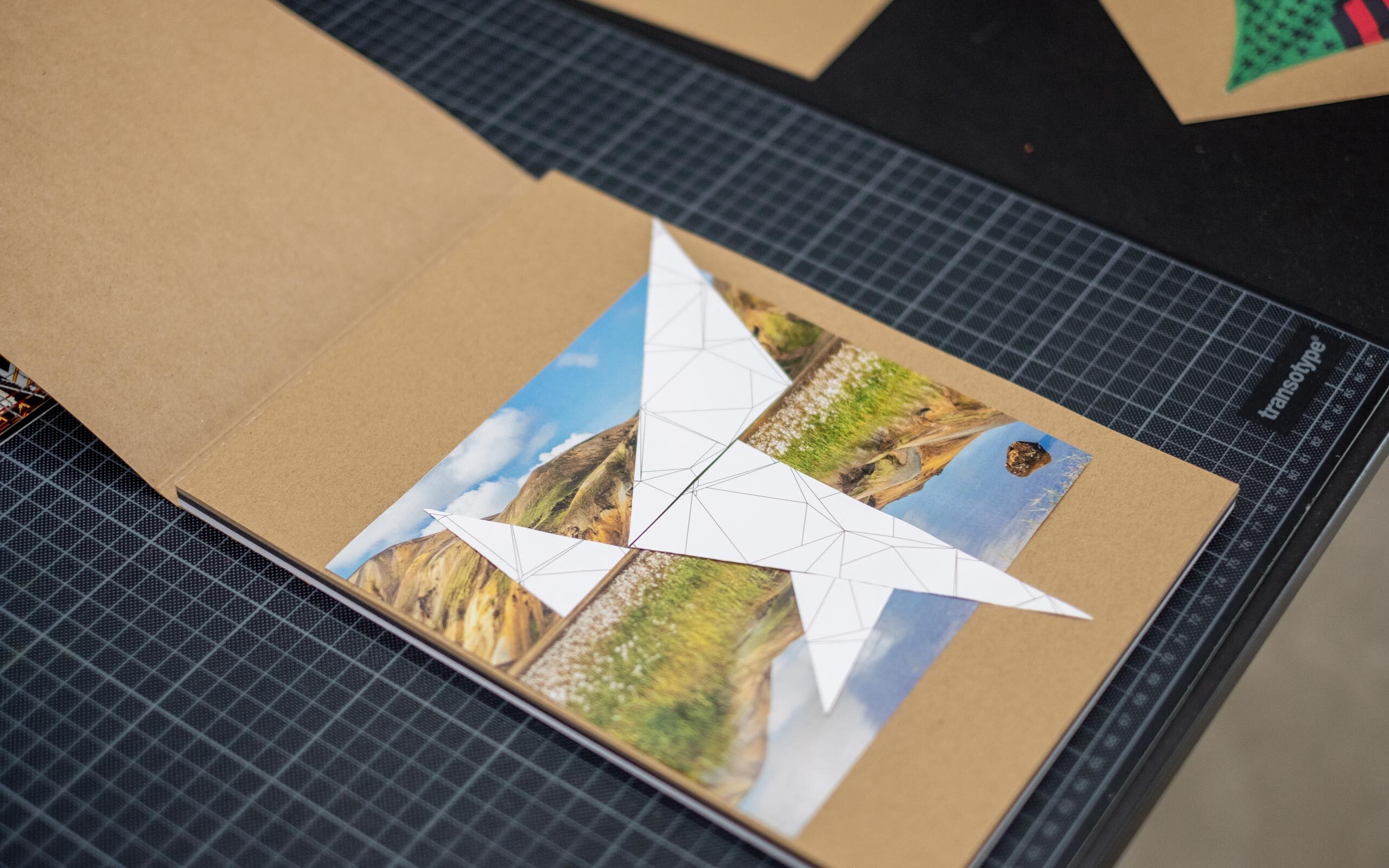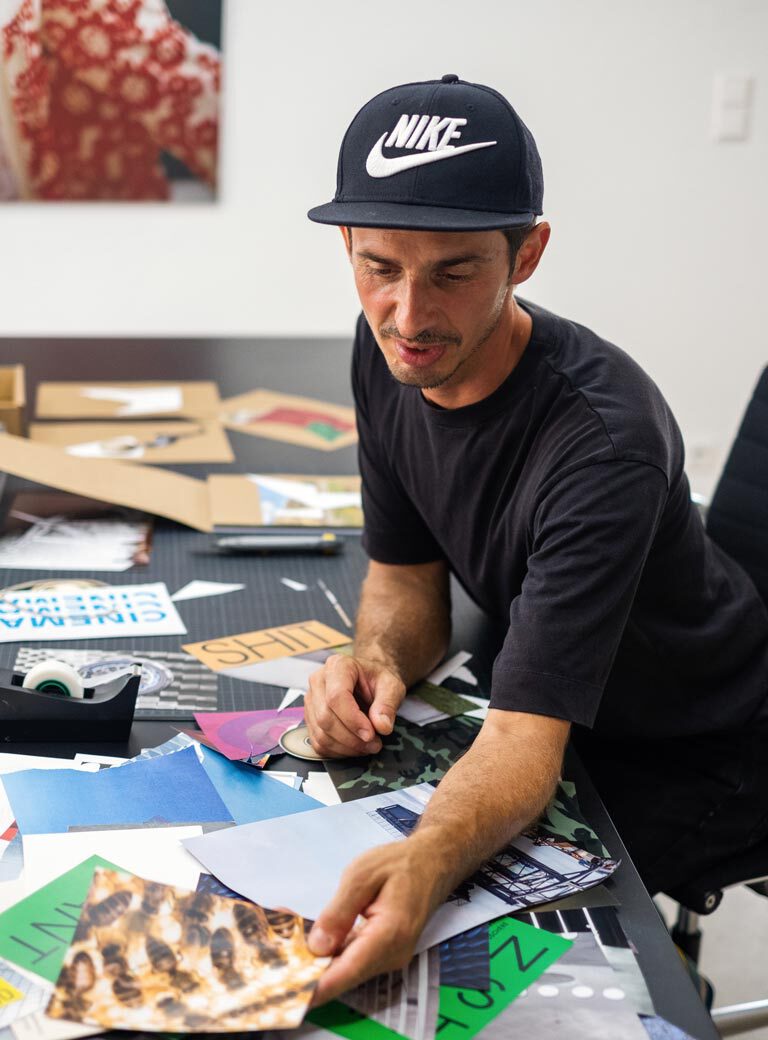 Besides sculptures and installations you also create collages. What can you tell us about that?
The first collages on graph paper were created in 2006 using photographs taken in Belgium and Holland. On display are very reduced details from the urban space. This was followed by the series Constraints, which dealt with restriction in urban zones. Once again, the starting point for each collage was a photograph. The series Regenerate and Transform followed. In Transform I abstracted 2,018 excavator arms and other construction equipment parts, which can be rapidly interchanged. In all cases the material I used was glossy adhesive foil and tape. The smooth surfaces were for me a logical material decision after high gloss, artificial lacquers, and coated aluminum surfaces. Brand new collages are currently being assembled from photos and newspaper clippings. The symbiotic relationship between the individual pieces as an impossible puzzle of reality leads to ever new, unexpected results. The work is done in reaction to current events.
Despite the approach of constantly addressing chaos, your work seems both "clean" and minimal.
I'm interested in the accumulation, but ultimately I value reductionism. My greatest artistic influences stem from 1960s American minimalist art. In addition, I have long followed the work of certain, mainly Japanese architects, all of whom adhere to a reductionist discipline.
Many of the titles of your work make use of musical pieces. What's that all about?
I've been a big music fan since the 1990s and regularly go to live concerts. Music – from singer-songwriter to post-hardcore – also plays a major role in the creation process of my work. It's a kind of mood transference that takes place here, from which this assumption of titles is derived. The audio-visual total artwork of the Californian band "Tool" particularly hits a nerve with me; I like to regard my art as I do my musical preferences, that is, with moments of surprise and with brute elements.
What do you want to convey to visitors with your work?
That beauty lies in the simplicity of things. Change does good and can also trigger hidden aesthetic stimuli in a vulnerable form. The experience of space is personal, because every person has different prerequisites based on their physical and visual requirements. Therefore it is a positive thing to observe that even people who may not have a particular affinity for art, can experience art works in their own way, uninfluenced and without instruction.