The scene for contemporary art in Europe's North is expanding and developing new dynamics as international collectors are watching the scene. With Nordic Notes we regularly cast the eye on the Nordic art and cultural scene, portraying its important actors.

Street artist Ines Stella, born in Helsinki and raised both there and in New York City, has emerged in the gallery business as part of a new generation of Finnish artists. It all started when she met two tattoo artists at senior high school who taught her both how to use a tattoo machine and the application of paint using aerosol spray cans. Her path from working as a street graffiti artist to spraying the walls of a white cube was an unexpected one...
Ines, you started as a street artist in the public space. Your path to becoming an artist represented by a major gallery came about, well, quite literally on the street. Can you recount for us how this occurred?
I was painting an electricity distribution box on Korkeavuorenkatu in downtown Helsinki (something many street artists in collaboration with the city have done for years). On the same day, Kaj Forsblom (founder of Galerie Forsblom, an art gallery in Helsinki) walked past and stopped. "Hey, that looks pretty cool. You should come to the gallery one day," he said and gave me his card. At this point, I had been painting for ten hours already since the early morning. I read the gallery name, but played it cool. I said I would come by the next week. The next day he drove by and found me in the same spot and wound his car window down. "Do you remember me?," he asked and simply said: "See you at the gallery next week." It was a crazy coincidence.
So then you had your first meeting with a gallery, how was that?
I told them I wanted to transform the gallery space. For me street art has always been about creating a wow effect, transforming the urban space and being able to make a statement. The public space is highly regulated. Stretching the rules and questioning norms is what I like to do.
Did taking street art indoors feel like entering unfamiliar territory?
The gallery space is very different from the street space. You can never bring street art into the gallery. The white walls did feel a bit intimidating in the beginning.
I asked if I would be allowed to paint on the walls, and Kaj Forsblom said he had never before allowed anyone to paint on the walls, so I asked if I could be the exception.

How do you start with a project for the streets?
When I'm walking on the street my eye fixates on little things that look interesting. It's about small objects and shapes and what I could do with them. I usually carry a tape measure, a camera, and a sketchbook with me. I document the location, return to the studio and create a piece that I then install at the site.
It's also different if it's something I do for myself or if it's a commissioned piece. For a commissioned piece, I think about the location, its history, and how the work is placed within it. I consider other colors in the immediate surroundings, the shapes I wish to introduce, and how and if the art can be playful on the wall or structure. If permission has been given to paint, this allows one to put more time into the artwork. You can enjoy the painting process and become acquainted with the neighborhood and its people; feedback from passersby is usually immediate.
You were partly raised in New York City, how does revisiting that city affect your artistry these days?
There are all these varied smells that trigger feelings and memories. Last time I was there and was walking through Central Park and I recognized a playground that we used to live pretty close to; my mother had told me that she took me there. Just the feeling of the rubber and the chains on the swings and the breeze circulating the smells gave me a major flashback. Going back there is an adventure into the past.
What kind of street art do you have on display in New York?
A few years ago I was invited to create a mural for a street art festival in Park Slope, Brooklyn. I've also made some other pieces around New York. The thing with street art is, that it has a life of its own. You never know what will happen to it. I don't mind the process. I actually enjoy seeing how it transforms into something else.
What's the usual fate of the murals?
It depends on the location. If it is a commissioned piece people usually look after it. Some of the electricity distribution boxes I've done get tagged pretty quickly. The culture among people who do street art is that if you see something cool, you leave it alone. Obviously peoples' opinions vary on what is good and what is not.
You have made significant contributions to the making of street art as a normal event in Helsinki, through both smaller artworks and larger murals, for example the one you did as a collaboration in the renowned concrete district of Pasila. What took the city so long to give permission in that instance?
The city has recently made it easier to get a license to make street art. I guess the city officials want to enliven the city. But still, the process of obtaining permission is a protracted and difficult one. I just want to paint. For me, the easiest way is to wait for a fissure to open a breach in the legal walls. These opportunities just kind of pop up spontaneously.
How is it elsewhere?
The larger cities have more street art partially because law enforcement is overextended. In Madrid I met incredible street artists. A city that is less controlling of the streets enables the making of art on them, and in the process, people become accustomed to the presence of street art, and it thus becomes more accepted.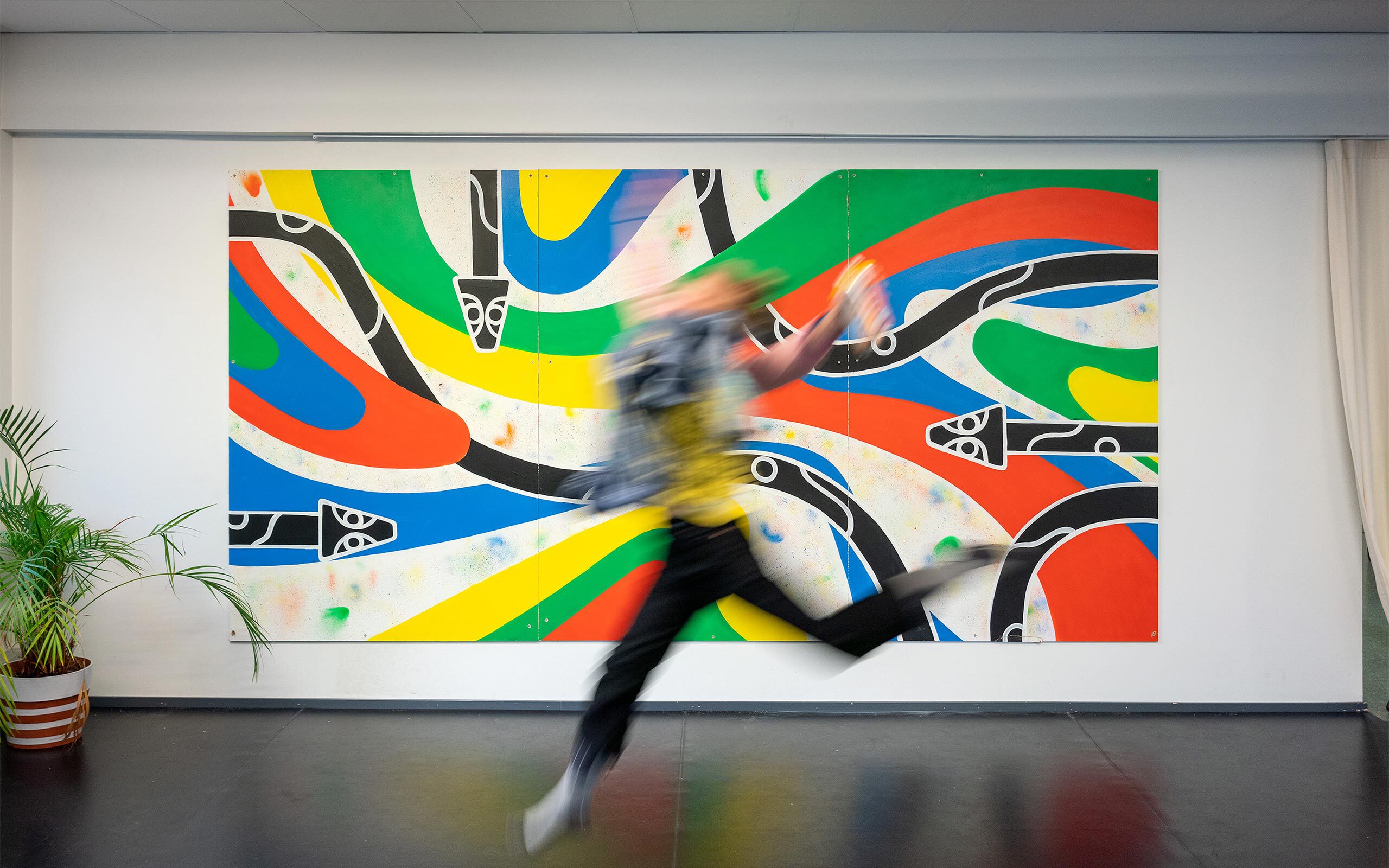 Do you think we are a bit behind when we are only now realizing how murals can elevate the environment?
We are pretty progressive in some things, but there's been a strong opinion that street art equates with 'töhry' (Finnish word for smear), and there have even been campaigns against it. I think the judgment of street art has been very one-sided. But thinking about it as just 'decorating' the streets is a pretty naive idea as well.
For me, it started off more as a way of bringing art to the street instead of advertisements. There is so much of the public space that is for all of us. We have a lot of imagery there, but mostly it's commercial. Why does this public space have commercial imagery that affects us? Why are these spaces being sold out to advertising companies when we could also put up art?
With the huge success of the new central library Oodi in Helsinki we can see that there is a need for more non-commercial public spaces. That need was why I co-established Sähinä (a cultural center in Helsinki) five years ago. When I came back from my trip abroad after high school I wanted to start painting. But where do I want to start painting? I wanted to work amongst a community of creatives and for our workspace to be open with also a possibility for passersby to pop in and share ideas. With a friend of mine we made this dream come true. (Stella designed the logo for the center.)
Is there a place that has made an impact on you with its street art?
I look for street art everywhere I go… I'm going to say New York because I grew up there and feel attached to the city. Melbourne is also amazing art wise
How come?
Different cities have their own individual take on street art. The various areas of Melbourne feel village-like with their small bars and cafes. A lot of artists have ended up in Melbourne and its streets and alleys are abundant with street art and murals.
You are well-traveled. One of your exhibitions was about your impressions of Samoa. What does home represent to your art?
Finland is my safe place. It is where I know a lot of people and how to sneak into places. Helsinki is easy to operate in. In bigger cities, it turns more into an adventure. For the past five years there's been a change that I'm awakening to now.
Now you are recognized by the art establishment. Does that detract from your credibility as an original street artist?
I put more thought to where and when I paint in the streets of Helsinki. When I go abroad, I'm more spontaneous.
The latest exhibition in Stockholm was about the environment and more precisely about the marine ecosystems. In the artwork you see on an abstract level, the shapes of plastic objects in the oceans. While their presence may be sensed, you go further to juxtapose them with the use of bright colors.
I love colors! I express through joy. But it does not restrict me from working with difficult subjects. People are attracted to colors and it's a way of opening up a discussion. The colors create a connection between a person and the artwork. Once you take a closer look, maybe it'll raise questions. When the work starts speaking to you, or illuminates a thought in your head – that's what I value in art.
This is my most favorite time when I'm between two exhibitions because I get to play around with techniques and ideas, different colors and shapes.
In both your street art and your art made for galleries you have the fauna as a theme. Do they represent something to you?
I have some figures I get attached to. I have probably just drawn them in my notebook and all of a sudden, they hop into my art and hang out there for a bit.