Berlin-based artist Simon Denny utilises installation, sculpture, print, painting, video, and NFTs to create projects unpacking the stories we're told about techno-logy. Simon Denny's interest centres on the devel-opment and contradictions of our mediatised society, dealing with national boundaries, legislation, business and entertainment.
Simon, how did you first become interested in art?
My father was a printer who mostly made books and small-run boutique publications for creatives in Auckland. Through this work, he introduced me to a lot of New Zealand-based conceptual artists such as Julian Dashper, who I got to meet in person. I found the work that my dad was doing, and his work with Julian in particular, fascinating. Julian had a series where he would go to openings, record ambient soundscapes, and then press them as LPs, which my dad would print the covers for. That was a big part of how I first became interested in conceptual art, and probably my first real contact with the contemporary art genre that I'm now working in.

When did you realise you wanted to pursue art professionally?
I really enjoyed art class in high school. I did well in it, so I was encouraged to continue to study art at university level. I did a degree at the Elam School of Fine Arts at the University of Auckland, and I was really impressed by the people that were teaching there—amazing artists like Michael Parekōwhai, Merilyn Tweedie, and Fiona Pardington. They helped me to understand what being a professional contemporary artist in New Zealand meant at that time. I have tried to follow in their footsteps.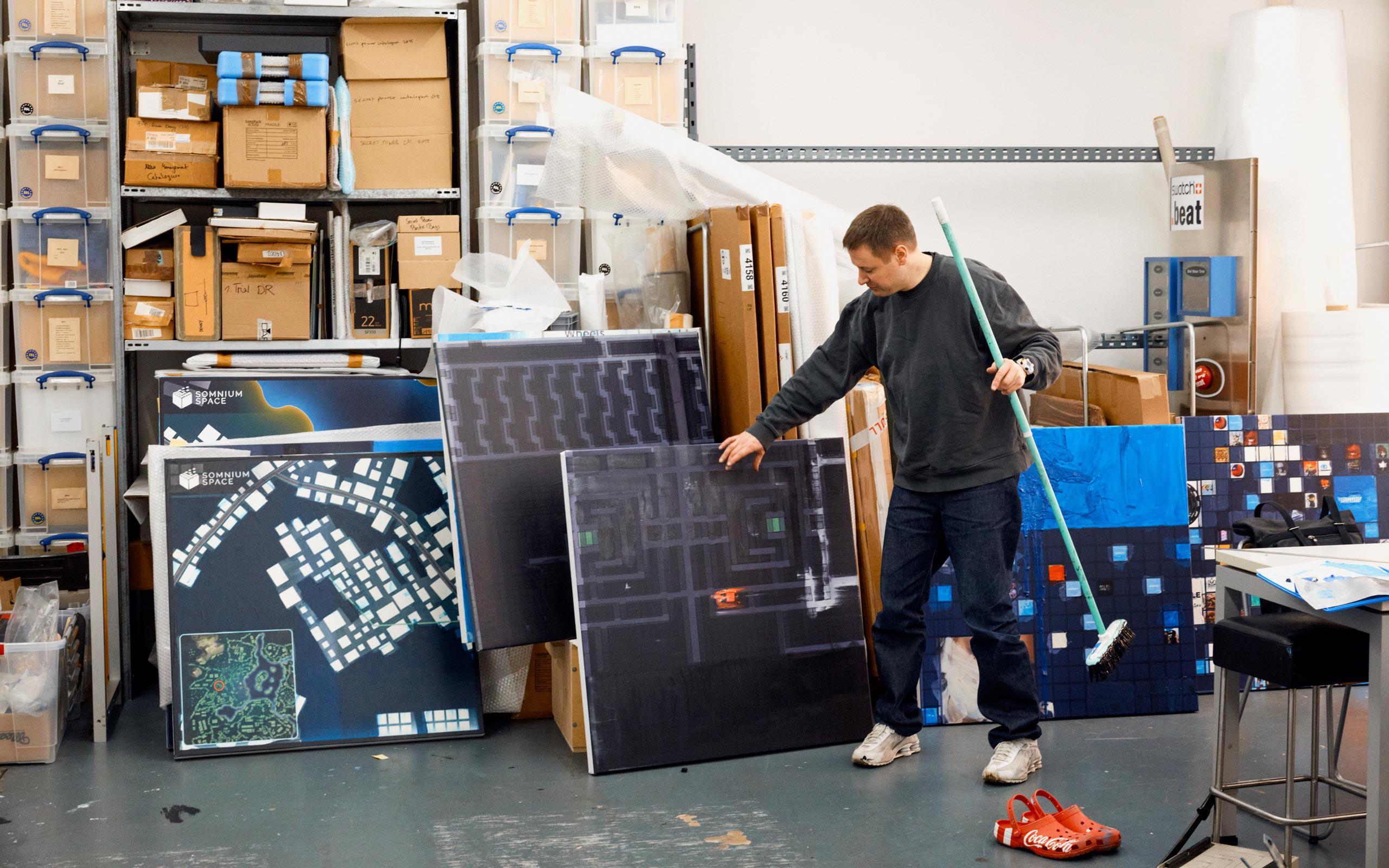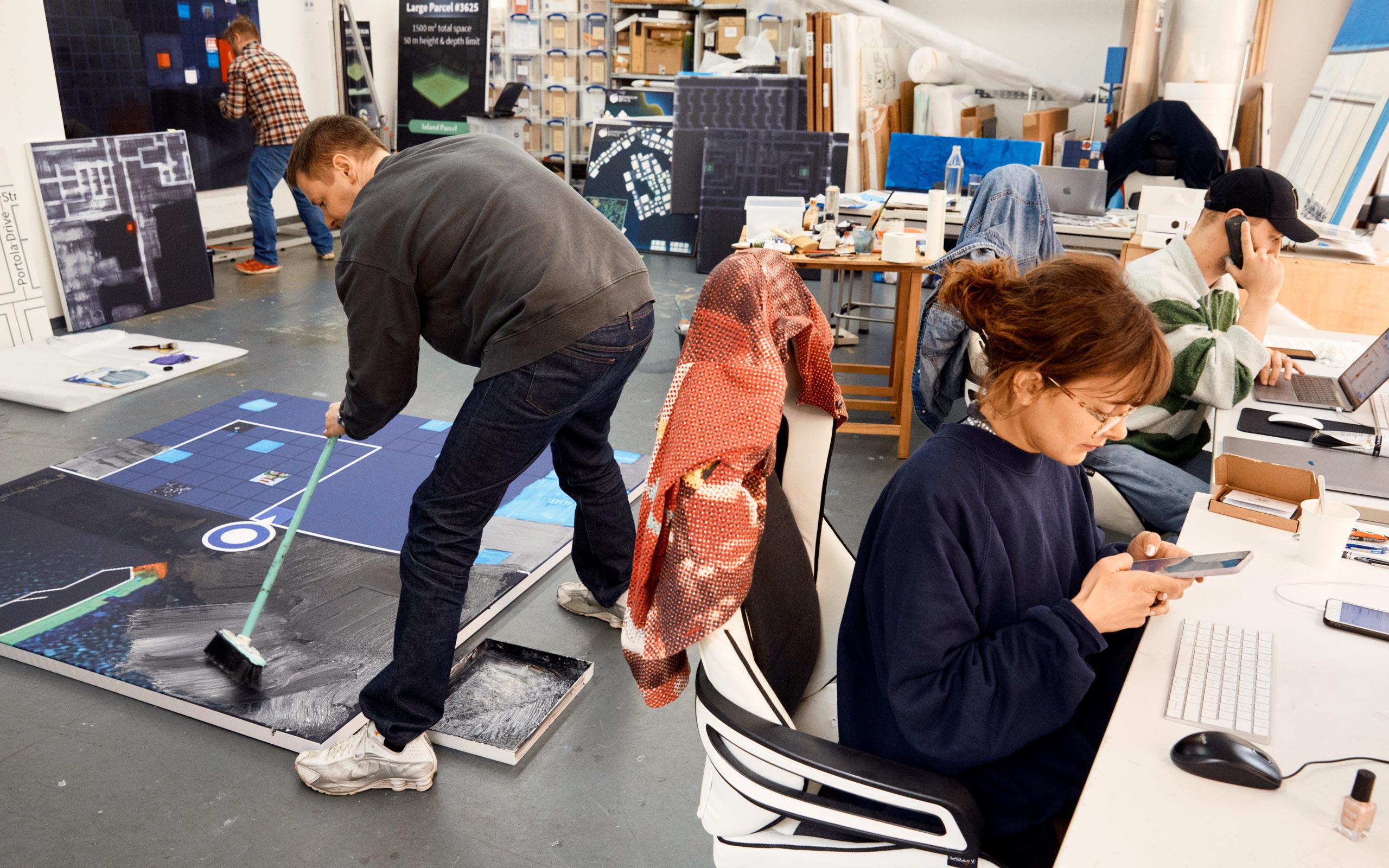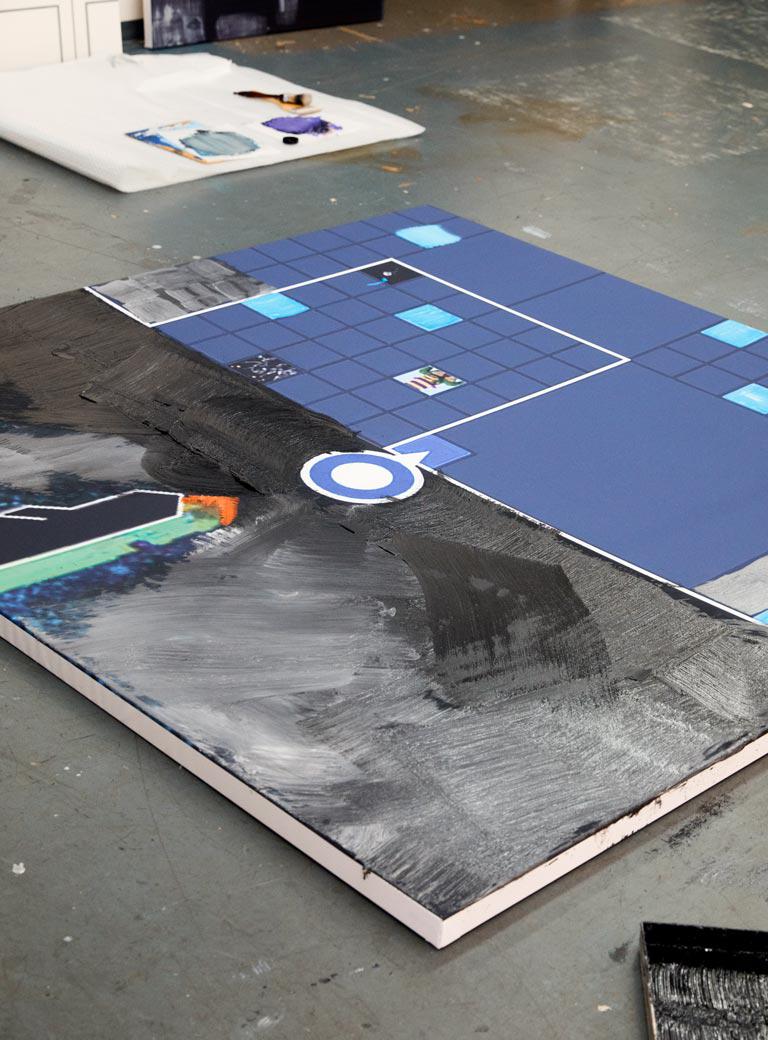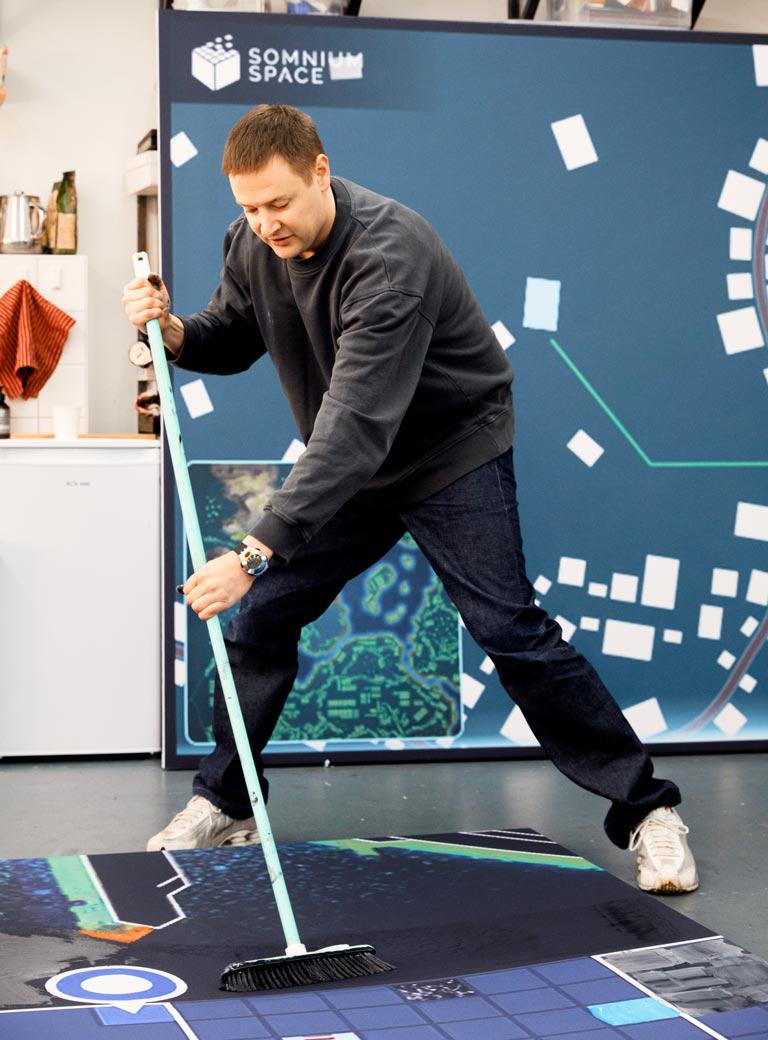 After studying in Auckland, you went to the Städelschule in Frankfurt, Germany. What were some of the biggest lessons you learnt at each school that contributed to the shaping of your career as an artist?
At the University of Auckland, I learned a lot about the canon of New Zealand's art history. I was also introduced to discourses around the interstices between conceptual art, painting, postcoloniality, and technology. I also learned how to behave like and "be" an artist. I met lots of other art professionals, curators, and gallerists. It was a formative moment of figuring out how to gather support, learn from my peers, and to create a context for my work. In Frankfurt, I learned a bit more about how that mechanism—the practice of being an artist—worked in Europe. New Zealand is connected to these conversations, but it's also very much its own context. At that time, the Städelschule was a very connected centre for international practice, and extremely tapped into what was happening in the European art world. Daniel Birnbaum was the director, as well as the director of the Venice Biennale, among other things. Luckily for us, he was intent on involving the school in all of his activities. The same was true of the professors. I studied with Willem de Rooij, who I went on to co-found the Berlin Program for Artists with, and which we still work together on today. I was also taught by Michael Krebber, Wolfgang Tillmans, Martha Rosler, Simon Starling, Isabelle Graw, and Mark Leckey. Frankfurt was also where I met the peers who I later showed alongside and framed my work in relation to. Daniel Keller, Nik Kosmas, Yngve Holen… these were the people who became the core of post-internet art. Through them, I met Oliver Laric, Aleksandra Domanović, and others, many of whom were based in Berlin. I was also in dialogue with artists like Jana Euler and Nicolas Ciccaldi.
You've been working as an artist for almost two decades now. Can you summarise the key themes and questions that have pervaded your practice?
I'm interested in what gets framed as technology, and how that framing gets leveraged in stories that change culture by shaping what we all do, buy, and think is important. I'm also interested in a 'pop' tradition of making art—meeting the contemporary world where it is and making artworks that reflect and reify new experiences and images. Where does that making meet networked art histories, such as art made for broadcast and web-based art? Where and how does thinking and practice from this more 'immaterial' art making tradition 're-enter' the gallery? With this in mind, I'm also interested in histories of painting, sculpture, and installation, and how these mediums and materials work in exhibition making today. I'm interested in elements of the past that re-emerge in contemporary innovations, like how computing and internet-based projects often repackage older tendencies and processes.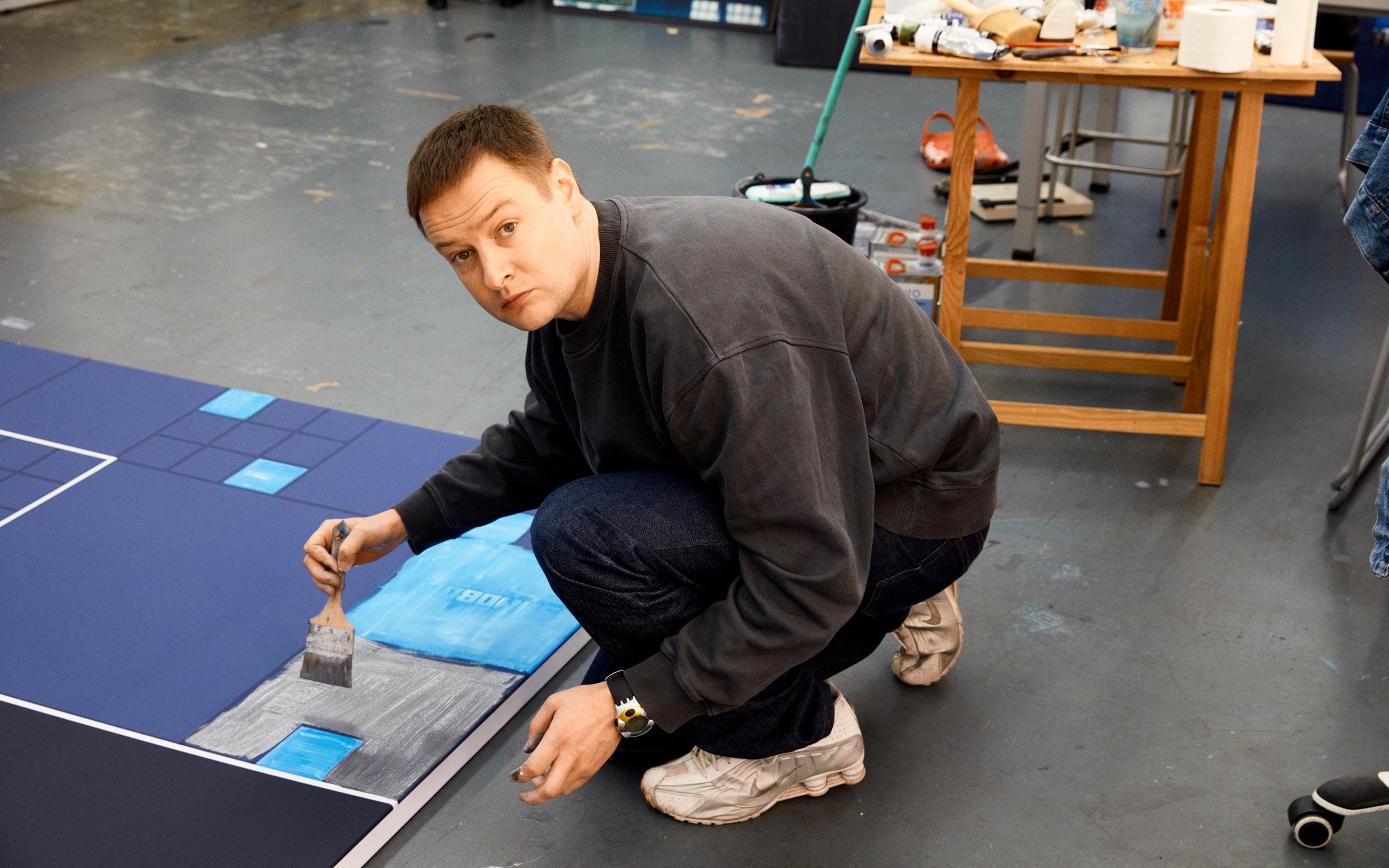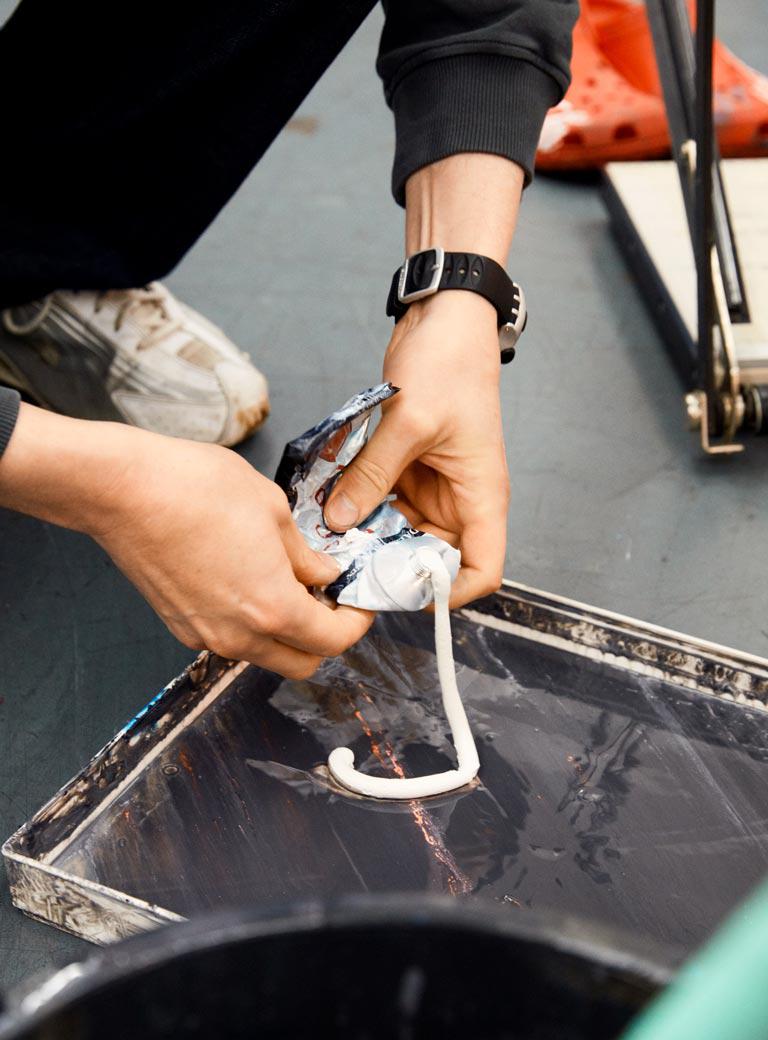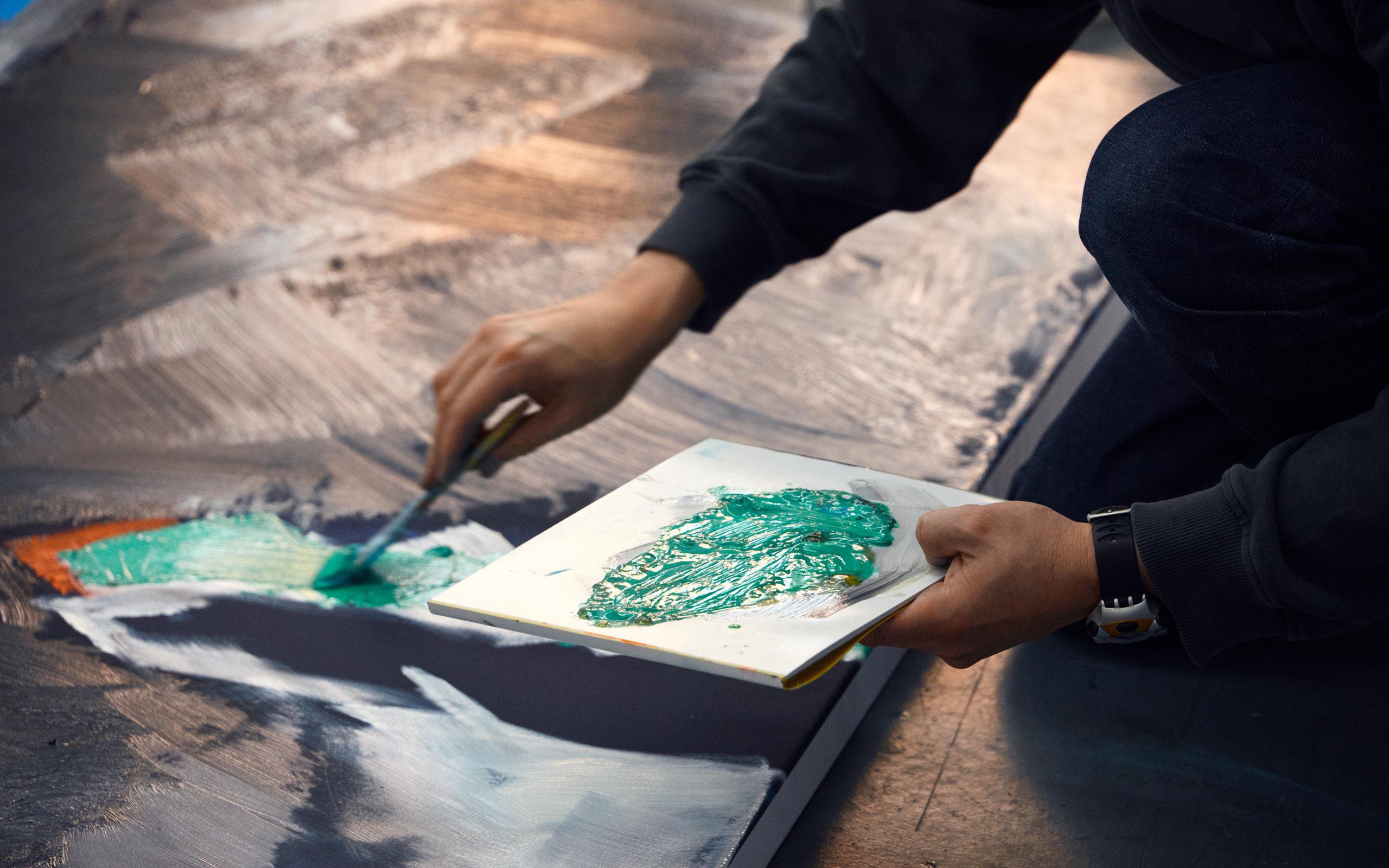 Let's focus on your interest in technology. When did you become preoccupied with this area of research?
I've always had an eye on the narratives coalescing around technology, and the stories told by people who make and sell it. They frame a much broader impression of what is possible and what is important in contemporary culture. Because I think this is so powerful, I've become more and more interested in tech founders and businesspeople in the tech world. Their imagination has immense culture-making potential.

How do you translate these stories into artistic installations, sculptures, print, paintings, and videos?
I try to find interesting moments, figures, relics, objects, people, and situations that these messages pass through. Then, I isolate these incidents and re-insert them into other networks to make them legible in new ways. This could mean working with a visual artefact, text, or an existing physical object, and then translating it into another form to underline what about it I find poignant or highlight some larger dimension of what's going on. I'm always browsing for objects that could be the starting points for new works. I try to stay open and scan around for artefacts where some dimension of the relationship between technology and culture is latent or ripe to be teased out.

You started making crypto art in 2021. How do you think crypto is impacting the art industry?
Crypto birthed a new genre of artmaking and brought more opportunities for existing artists to think about connected, financialised objects as an artistic medium. It's created a new environment featuring more voices from different contexts, which is really valuable. It's also foregrounded an idea that's important to me: making is always a networked practice. In general, crypto has underlined the importance of financial value, as well as the affordances that different infrastructures and economic factors can have on what is looked at and cared about. Crypto has also raised questions around sales and provenance. It's acting as a rhetorical challenge to ideas around royalties, for instance. It's putting these subjects on the table again, and reopening conversations about how an art world 'should' behave and operate.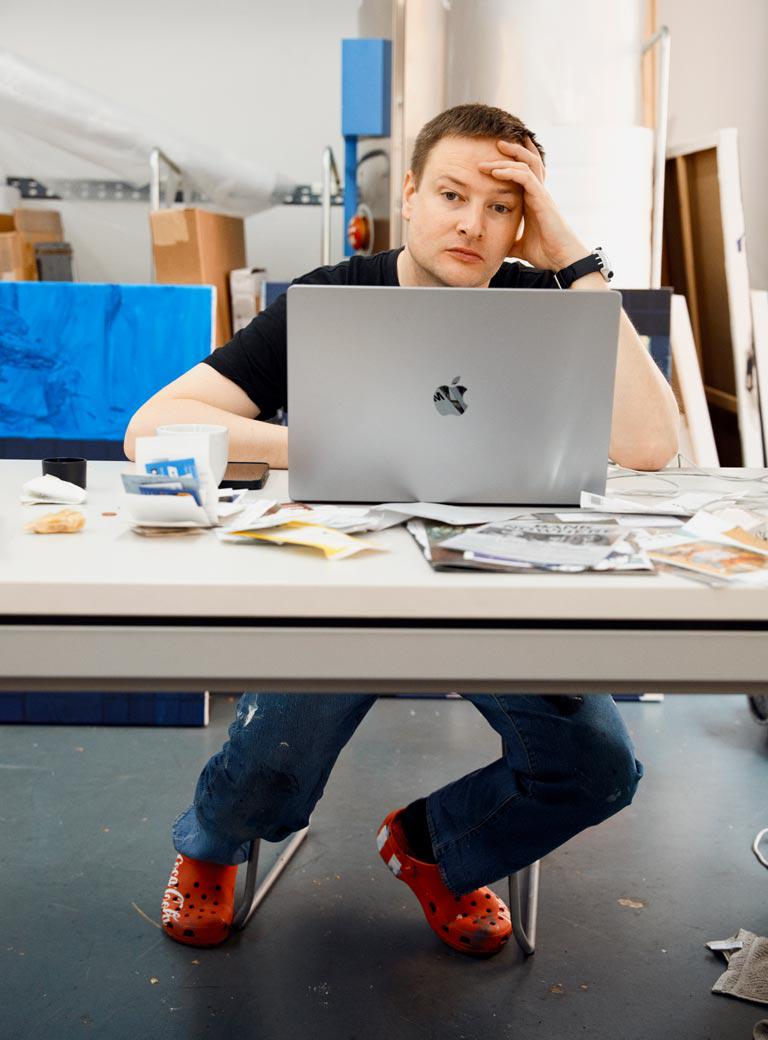 Your latest project, Metaverse Landscapes, interacts with crypto art: It's a series of oil and UV print paintings linked to NFTs.
The Metaverse Landscapes are a new kind of artistic asset hedge. Each painting depicts a land parcel from a different metaverse, such as Decentraland, Sandbox, or Somnium Space. They are all linked to their own dynamic NFTs, which detail the owner of the original metaverse land parcel token featured in the painting, as well as the owner of the physical painting and the holder of the NFT. Visually, the paintings' appearances are faithful to the way in which their respective metaverses style their land parcels, i.e., how they each depict a claim to a unit of digital land. This said, they also resonate with a number of interesting art historical antecedents in both modernism and landscape painting. Each of these movements had their own relationships to the legitimization of different kinds of property and ownership claims. While painting might be old and metaverses new, both are engaged in questions about dividing up land as property and ownership. I wanted to harmonise them in these works. The Metaverse Landscapes will be shown in May as a solo show at the Hannover Kunstverein, before being included in a group exhibition at HEK during Art Basel. They'll then have more solo shows at Frans Masereel Centrum in Kasterlee, Belgium, and at my galleries in San Francisco and New York—Altman Siegel and Petzel respectively. There's a lot of painting production and exhibition layouts happening in the studio right now!
Aside from crypto and NFTs, what do you think are some of the most interesting developments in the technology sector today?
It seems like, all of a sudden, the pendulum of attention in both the art world and popular media has shifted away from crypto towards AI. Maybe this is thanks to the sudden availability of consumer-grade tools, like DALL-E and Midjourney on the text-to-image front, or language models like ChatGPT. All of these programmes make outputs that are really stark and arresting, so it makes sense to me that they have captured people's attention. I see AI as a model for the networked nature of creative production. Text-to-image generators and large language models draw together a huge swathe of cultural inputs and distil them into outputs that become new forms of cultural knowledge. In that sense, they speak to the fact that value creation is always networked: meaning is always collectively processed and produced.

Do these developments excite you? Are you at all sceptical about them?
I find them very exciting! Beyond the fact that they foreground the networked nature of creativity, I think that they could unlock new efficiencies in terms of workflows. It'd be incredible if AI could free up artists' capacities so that they can do more of the higher-level dreaming, testing, and planning that drives artmaking. Tasks like writing emails take up so much of everyone's—not just artists'—time.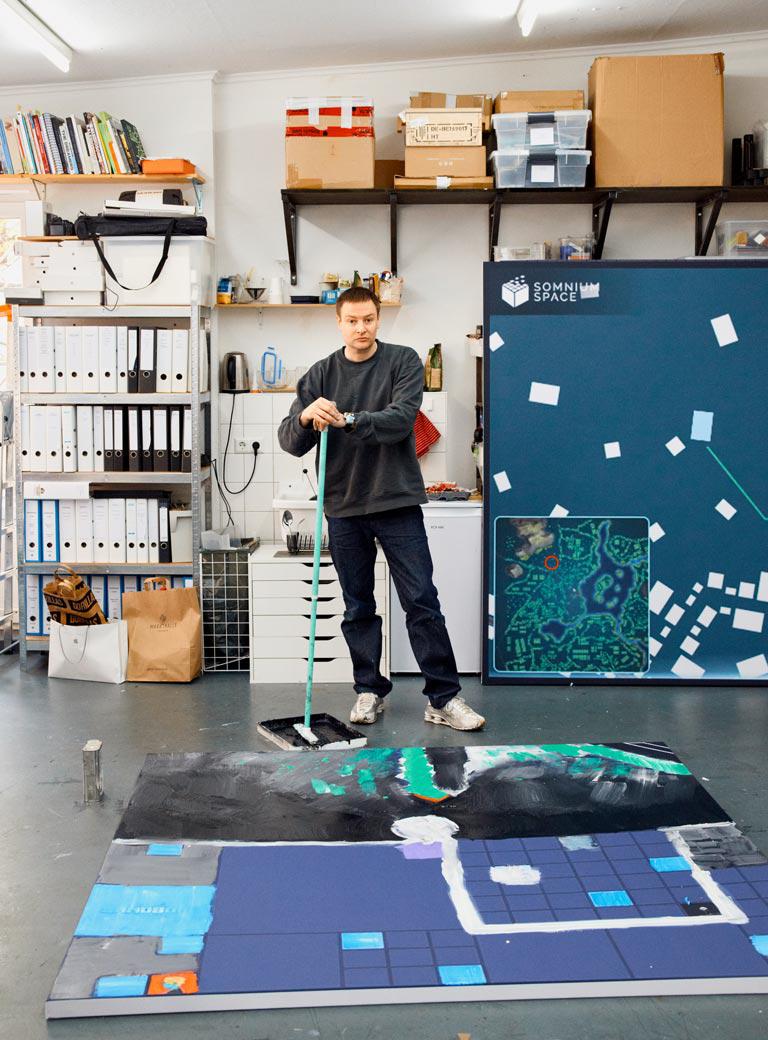 You're currently based in Berlin. When and why did you move to that city?
I moved to Berlin after I finished studying in Frankfurt, mainly because of the people I met who lived here. I was fortunate that I had a good infrastructure in place to support me in Berlin, even before I actually moved. There were people I knew from the Städelschule, friends, and lots of other interesting people to be around. It was also, logistically speaking, an easy move from Frankfurt. It just made sense.

In the city, you co-founded the Berlin Program for artists with Angela Bulloch and Willem de Rooij. It aims to facilitate exchange between emerging and experienced makers. Can you tell us more about the program, and why generating mentorship opportunities is important to you?
After studying at two different schools, teaching at another, and running this mentoring program, I am very aware of the importance of being involved in education and the social 'infrastructure' of the art process. Institutional frameworks are so helpful in nurturing new talent, forming new ideas, and enabling social bonds to grow. After realising how formative that structure was for my own development, it was important to me to play some kind of supportive role in that same system. I care about the whole art ecosystem, because I recognise the role that labour by people other than the celebrated artist plays in making the wonderful things artistic objects come to be.

What are your ambitions and hopes for the future? For yourself and the art world in general?
I hope that I can continue to create art as I have done, and that I can keep engaging with the wonderful people close to me in this context. I find this corner of the art world to be a very rich and rewarding place. In terms of the art world in general, I hope that it can continue to expand to serve the interests and perspectives of more and more people. It's always better when there are more conversations coming from different directions.